Artist 4
Free drawing and painting lessons. Paul Galyer. Wild impressions. Jean M. Baylis. Jonathan Tetley. Terence j charnley. Lucianne lassalle. Niborama. My plastic heart. Brock davis. Jean Wells. Postcard from Puniho. Sarah castle. Alan Brown. Artists and Artwork. Mary Horgan. Hi-Fructose Magazine. Frank Hyder Studios. Frances Galante. Surfstation - Inspiration becomes Innovation. Melissa Haslam. JONDO. Welcome to JONDO's new home at SnapBox.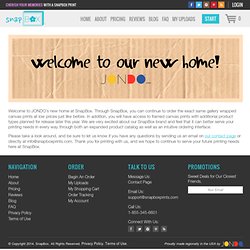 Through SnapBox, you can continue to order the exact same gallery wrapped canvas prints at low prices just like before. In addition, you will have access to framed canvas prints with additional product types planned for release later this year. We are very excited about our SnapBox brand and feel that it can better serve your printing needs in every way through both an expanded product catalog as well as an intuitive ordering interface. Please take a look around, and be sure to let us know if you have any questions by sending us an email on our contact page or directly at info@snapboxprints.com. Thank you for printing with us, and we hope to continue to serve your future printing needs here at SnapBox.
Dorothy. Spinning Madly On. Satsumabug's art blog. Sookyi Lee. Hendry Art. Christopher Pierce Studio. Recave. Nanamee® Pondly. Shahrzad Hazrati. Laurence Kell - Portrait Painter. Elizabeth Menges. Arts: Green Living. Recycle plastic for environment, Richmond Arts Center shows the way For long plastic bags and bottles have been our great friends in daily life, mindless of all the hazardous effect that plastic has on environment.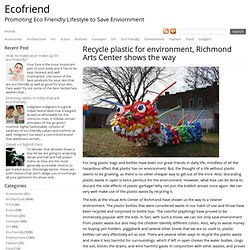 But, the thought of a life without plastic seems to be grueling, as there is no other cheaper way to get out of the mire. Also, discarding plastic waste in open is extra perilous for the environment. Art designs. Ecofriend: Green Living. Mixing Reality. You Should Take Care. SkotForeman. Christopher Pierce Studio. Rebecca G. Fagg - Paintings. Bruce Adams. The Art Workers Guild. Art Canyon. Royal College of Art | Welcome... House for an Art Lover.
Josh George Art Blog. Josh George. James Abbott McNeill Whistler. James Abbott McNeill Whistler (July 11, 1834 – July 17, 1903) was an American-born, British-based artist active during the American Gilded Age.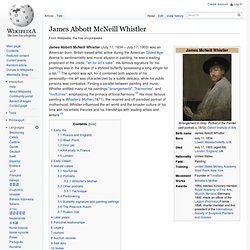 Averse to sentimentality and moral allusion in painting, he was a leading proponent of the credo, "art for art's sake". His famous signature for his paintings was in the shape of a stylized butterfly possessing a long stinger for a tail.[1] The symbol was apt, for it combined both aspects of his personality—his art was characterized by a subtle delicacy, while his public persona was combative.
Gallery. Baroque. The popularity and success of the Baroque style was encouraged by the Roman Catholic Church, which had decided at the time of the Council of Trent, in response to the Protestant Reformation, that the arts should communicate religious themes in direct and emotional involvement.[2] The aristocracy also saw the dramatic style of Baroque architecture and art as a means of impressing visitors and expressing triumph, power and control.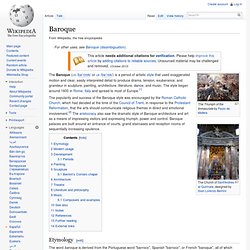 Baroque palaces are built around an entrance of courts, grand staircases and reception rooms of sequentially increasing opulence. Etymology[edit] Artist.
---