Artist 4
Get your art online, stress-free Website live within 3 days Easily update your own content
Free drawing and painting lessons
Paul Galyer
wild impressions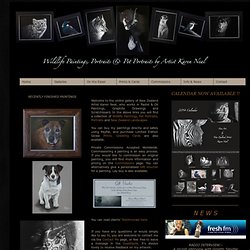 Welcome to the online gallery of New Zealand Artist Karen Neal, who works in Pastel & Oil Paintings, Graphite Drawings and Scratchboard. In the above links you will find a collection of Wildlife Paintings, Pet Portraits, Portraits and New Zealand Landscapes. You can buy my paintings directly and safely using PayPal, and purchase Limited Edition Giclee Prints. Greeting Cards are also available.
Jean M. Baylis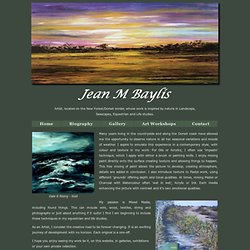 Gale 8 Rising - Sold Many years living in the countryside and along the Dorset coast have allowed me the opportunity to observe nature in all her seasonal variations and moods of weather. I aspire to emulate this experience in a contemporary style, with colour and texture in my work. For Oils or Acrylics, I often use 'impasto' technique, which I apply with either a brush or painting knife. I enjoy mixing paint directly onto the surface creating texture and allowing things to happen. This free mixing of paint allows the picture to develop, creating atmosphere, details are added in conclusion.
Jonathan Tetley
terence j charnley
lucianne lassalle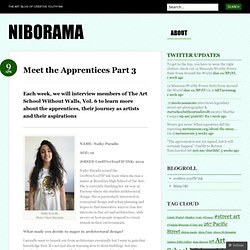 Photo courtesy Tim Schreier All the birds on the Lower East Side are tweeting about the crazy-looking flock that took up roost on Avenue D and 5th Street, on the side of the Lora Deli and Supermarket. Leading the pack is a giant, blazing-red cardinal, brandishing what looks to be a peacock's tail, perched on a pair of clouds amidst a tropical storm. Around him flutter candy-colored pipers, as though a bunch of Twitter avatars had gone rogue and resurfaced in the jungle. The mesmerizing menagerie was brought to life, via paintbrush, roller, and spray can, over the course of one sunny Sunday by an ebullient, efficient, and energized team—two experienced muralists, H Veng Smith and Sofia Maldonado, and nine young artists, all soon-to-be or recent graduates of Brooklyn High School of the Arts and Brooklyn Tech. Presiding over it all was Jerry Otero, aka Mista Oh!
niborama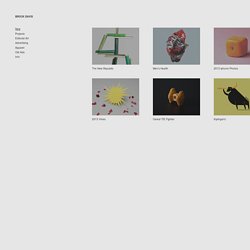 Photograph for The New Republic magazine.Art Direction, Editorial Design, Photography2014 Editorial photo for Men's health magazine.Art Direction, Fine Arts, Photography2014 Some of my favorite iphone photos of 2013Art Direction, Fine Arts, Photography2014 Some of the minimal, 6-second vines I made with my iphone this year.Animation, Directing, Film2013 Personal art made just for fun.Crafts, Culinary Arts, Sculpting2013 Illustration for Kiplinger's MagazineArt Direction, Editorial Design, Illustration2013
brock davis
Jean Wells
Postcard from Puniho
Peruvian Bird Whistle Oil on linen on MDF 120x120mm This is not a pipe.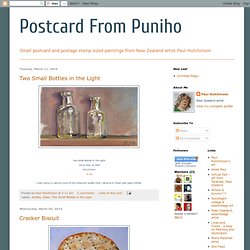 sarah castle
Alan Brown
Artists and Artwork
Mary Horgan
Mary Horgan's paintings demonstrate a love of life and light and colour. They celebrate the subject and the act of painting - joy and skill that invite the eye to regard afresh both painted object and painting action. She has had shows in the Lavit Gallery, the Private Collectors Gallery and the Guinness Gallery in Ireland - in France at La Galerie du Chevalier, Carcassonne. Current work can be seen at Le Cerf Gris, a residential art centre where she teaches six-day holiday courses in landscape painting, and still life painting. For further information on dates, cost and availability visit www.ArtHoliday.com
Conscious of the ways hyper-sexual imagery saturates our society — from advertising to art — Julia Randall provokes a conversation about eroticism through her symbolic drawings of a viscous, biomorphic substance: chewing gum. When I interviewed her for Hi-Fructose Vol. 25, Randall discussed the ways sexuality is often overly idealized, when in reality it can often be strange, humorous, embarrassing and, above all, imperfect and unique. Her chewing gum drawings are intended to inspire new ways to conceptualize carnal desire.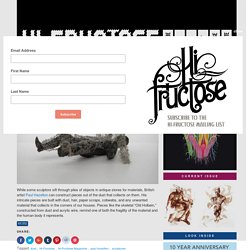 "Self-Portrait", 30"H x 22"W, charcoal and chalk on carved wood, 1980 and "Trayvon", 70"H x 72"W, acrylic on carved and reassembled wood, 2013. Two works in the MICA Then / Now exhibition at the Ethan Cohen Gallery in Chelsea, New York. Additional works will be exhibited at the Kunsthalle Beacon (KuBe) in Beacon, New York. About Frank Hyder. Frank Hyder has participated in more than 150 group shows and has had over 80 solo exhibitions throughout North, South and Central America, including 9 individual exhibitions in New York City.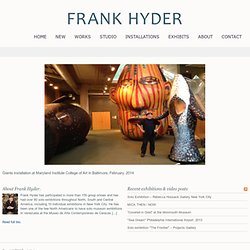 Frank Hyder Studios
Frances Galante
Melissa Haslam
JONDO
Spinning Madly On
Satsumabug's art blog
Sookyi Lee
Hendry Art
Christopher Pierce Studio
Video This is my first song upload and I really hope you enjoy it! Acid Rain is a techno song I composed inspired in the acid rain caused by emissions of sulfur dioxide and nitrogen oxide due to the human activity, among other reasons.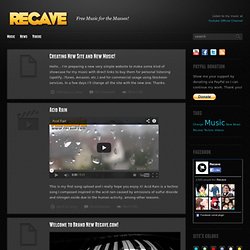 Shahrzad Hazrati
Laurence Kell - Portrait Painter
Elizabeth Menges
Arts: Green Living
Art designs
Mixing Reality
SkotForeman
Christopher Pierce Studio
Rebecca G. Fagg - Paintings
Bruce Adams
The Art Workers Guild
Art Canyon
Royal College of Art | Welcome...
House for an Art Lover
Josh George Art Blog
Josh George
James Abbott McNeill Whistler
Baroque