Artist 4
Get your art online, stress-free Website live within 3 days Easily update your own content
Free drawing and painting lessons
Paul Galyer
wild impressions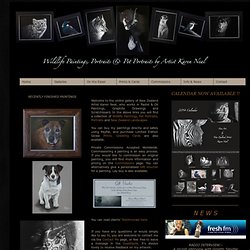 WORKS IN PROGRESS See what's currently on the easel (updated 16th April 2014) Molly the Tabby Ella the Australian Sheepdog Pet Portraits to be painted next....
Jean M. Baylis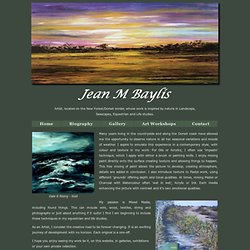 Gale 8 Rising - Sold Many years living in the countryside and along the Dorset coast have allowed me the opportunity to observe nature in all her seasonal variations and moods of weather. I aspire to emulate this experience in a contemporary style, with colour and texture in my work. For Oils or Acrylics, I often use 'impasto' technique, which I apply with either a brush or painting knife. I enjoy mixing paint directly onto the surface creating texture and allowing things to happen. This free mixing of paint allows the picture to develop, creating atmosphere, details are added in conclusion.
Jonathan Tetley
terence j charnley
lucianne lassalle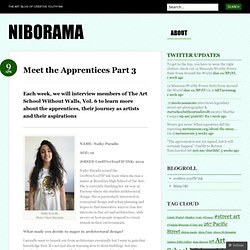 Martha Cooper discusses what led to her passion for photographing street art, how one of her photos was chosen for the Art School Without Walls Vol. 6 and why she thinks you should always chase what captivates you Martha Cooper taking and posing for pictures at our recent Open Studio Photo: Jazzmine Beaulieu Martha Cooper began documenting graffiti before the art world thought it was cool. Her now iconic photographs from Street Play, taken in the gritty New York City of the 1970s, immortalized the ingenuity of an overlooked and under-appreciated population–city kids making the most of their bleak environment. Through her growing relationship with the children she photographed, Cooper was introduced to the clandestine world of graffiti writing. She began to document the nascent phenomenon obsessively, waiting for phone calls at all hours of the day and night that would tip her off to privy information, such as which train station would debut the latest work.
niborama
my plastic heart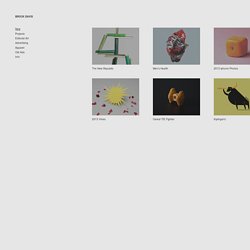 Photograph for The New Republic magazine.Art Direction, Editorial Design, Photography2014 Editorial photo for Men's health magazine.Art Direction, Fine Arts, Photography2014 Some of my favorite iphone photos of 2013Art Direction, Fine Arts, Photography2014 Some of the minimal, 6-second vines I made with my iphone this year.Animation, Directing, Film2013 Personal art made just for fun.Crafts, Culinary Arts, Sculpting2013 Illustration for Kiplinger's MagazineArt Direction, Editorial Design, Illustration2013
brock davis
Jean Wells
Postcard from Puniho
New World Banana Oil on aluminium panel A while ago New World Supermarket were running some scheme involving miniature reproductions of their products, presumably to indoctrinate children into growing up to be good little consumers. I was especially fascinated by the banana which although of rather modest proportions was still vastly out of scale with the other products.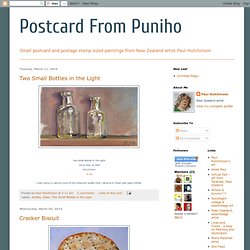 sarah castle
Alan Brown
Artists and Artwork
Mary Horgan
Mary Horgan's paintings demonstrate a love of life and light and colour. They celebrate the subject and the act of painting - joy and skill that invite the eye to regard afresh both painted object and painting action. She has had shows in the Lavit Gallery, the Private Collectors Gallery and the Guinness Gallery in Ireland - in France at La Galerie du Chevalier, Carcassonne. Current work can be seen at Le Cerf Gris, a residential art centre where she teaches six-day holiday courses in landscape painting, and still life painting. For further information on dates, cost and availability visit www.ArtHoliday.com
Conscious of the ways hyper-sexual imagery saturates our society — from advertising to art — Julia Randall provokes a conversation about eroticism through her symbolic drawings of a viscous, biomorphic substance: chewing gum. When I interviewed her for Hi-Fructose Vol. 25, Randall discussed the ways sexuality is often overly idealized, when in reality it can often be strange, humorous, embarrassing and, above all, imperfect and unique. Her chewing gum drawings are intended to inspire new ways to conceptualize carnal desire.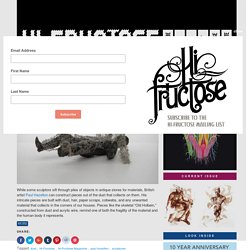 Hi-Fructose Magazine
Frank Hyder Studios
Frances Galante
Surfstation - Inspiration becomes Innovation
Melissa Haslam
Welcome to JONDO's new home at SnapBox. Through SnapBox, you can continue to order the exact same gallery wrapped canvas prints at low prices just like before. In addition, you will have access to framed canvas prints with additional product types planned for release later this year. We are very excited about our SnapBox brand and feel that it can better serve your printing needs in every way through both an expanded product catalog as well as an intuitive ordering interface. We do understand however that change can be difficult. In order to ease your transition over to SnapBox, we would like to offer this promotional code "JONDOSWITCH" good for $10 off and free shipping on your next SnapBox order of $25 or higher.
JONDO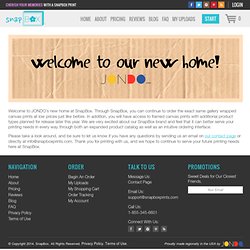 Dorothy
Spinning Madly On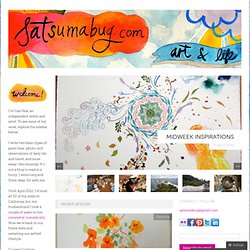 Painted outside, on our back deck, entirely freehand (no pencil sketch), in just under an hour, while wearing sunglasses. I liked it and then I didn't and then I did […] Read Article → In my high school newspaper there was a regular list called Roses and Raspberries, with the roses going to good things like three-day weekends or Valentine crushes, and raspberries to things […]
Satsumabug's art blog
Sookyi Lee
Hendry Art
Christopher Pierce Studio
Recave
Post Hello… I'm preparing a new very simple website to make some kind of showcase for my music with direct links to buy them for personal listening (spotify, iTunes, Amazon, etc.) and for commercial usage using Stockeon services. In a few days I'll change all the site with the new one.
Nanamee®
Pondly
Shahrzad Hazrati
Laurence Kell - Portrait Painter
Elizabeth Menges
Arts: Green Living
Art designs
Ecofriend: Green Living
Mixing Reality
You Should Take Care
SkotForeman
Christopher Pierce Studio
Rebecca G. Fagg - Paintings
Bruce Adams
The Art Workers Guild
Art Canyon
Royal College of Art | Welcome...
House for an Art Lover
Josh George Art Blog
Josh George
James Abbott McNeill Whistler
Baroque