Anxiety
Encyclopedia. Outline Glossary Avoidant Personality Disorder: Chronic and longstanding fear of negative evaluation and tendency to avoid interpersonal situations without a guarantee of acceptance and support, accompanied by significant fears of embarrassment and shame in social interaction.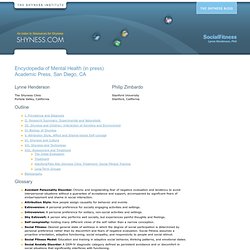 Attribution Style: How people assign causality for behavior and events. Extroversion: A personal preference for socially engaging activities and settings. Shyness.com. Walking-Wounded.Net - Christian website helping the emotionally hurt. OAIM. Open Arms Internet Ministry was a volunteer-built, biblical counseling cyber ministry formed to bring Jesus' love to the brokenhearted and to bind up their wounds (Psalms 147:3), to minister to those who were searching for answers on the Internet.
We sought to bring God's love to those who were hurting, God's wisdom to those who were seeking, and God's salvation to those who were lost. OAIM believes the best way to accomplish these things is to help people better understand who God is through the teaching of sound doctrine. On this site, we provide articles on the sufficiency of God's written word, clarifying doctrinally confusing issues, and exposing false beliefs that are prevalent in our churches today. Mark Rothko. Mark Rothko (Latvian: Markus Rotkovičs, Russian: Марк Ро́тко; born Ма́ркус Я́ковлевич Ротко́вич; Marcus Yakovlevich Rothkowitz; September 25, 1903 – February 25, 1970) was an American painter of Russian Jewish descent.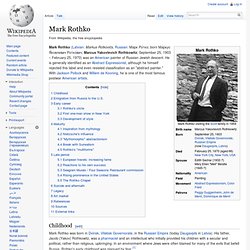 He is generally identified as an Abstract Expressionist, although he himself rejected this label and even resisted classification as an "abstract painter. " With Jackson Pollock and Willem de Kooning, he is one of the most famous postwar American artists. Childhood[edit] Mark Rothko was born in Dvinsk, Vitebsk Governorate, in the Russian Empire (today Daugavpils in Latvia). Quest for Balance.
---