Music
Come see us on Tour! http://smarturl.it/tpgtourSign up for our TPG Insider! http://thepianoguys.com/newsDownload song here: http://smarturl.it/Audio_Mi...Sheet Music!
Desert Symphony (Southern Utah's Landscape) - ThePianoGuys
Awesome 80s Playlist
Progressive Rock | Cracked.com
Rakes of Kildare Hammered Dulcimer
Irish Songs | segv2 | 58 listens
The Dubliners - The Rocky Road to Dublin (typography)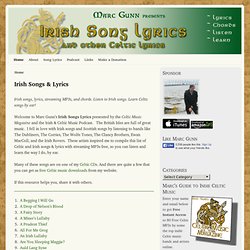 Irish songs, lyrics, streaming MP3s, and chords. Listen to Irish songs. Learn Celtic songs by ear! Welcome to Marc Gunn's Irish Songs Lyrics presented by the Celtic Music Magazine and the Irish & Celtic Music Podcast. The British Isles are full of great music. I fell in love with Irish songs and Scottish songs by listening to bands like The Dubliners, The Corries, The Wolfe Tones, The Clancy Brothers, Ewan MacColl, and the Irish Rovers.
Orthodox Celts - Star Of The County Down