HTML5
Crime data is frequently presented using "heat maps". See, for example: One of the reasons why heat maps are used to visualise crime data is that crimes are typically recorded as individual incidents, occurring at one particular location, yet we tend to want to think of areas at high- or low- risk of crime. We therefore need some way of aggregating those individual crime occurrences into regions that can be analysed. It doesn't necessarily make sense to create a thematic map of crimes based on geographic or administrative divisions – a burglar probably does not have much regard for whether he commits a crime in one polling district/ward/street of a city or another, for example, and we should not attempt to fit the distribution of crimes to such arbitrary regions.
Heat Mapping Crime Data with Bing Maps and HTML5 Canvas | Alastair Aitchison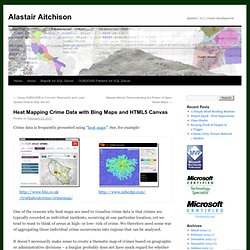 Recently I blogged about using GeoJSON to create a very lean application for serving dynamic maps. To date, all of my posts have related in some way to Microsoft technologies because that is my environment, day-in, day-out, but I thought it would be interesting to create a similar solution to the last blog post using technologies I haven't used before - why? - because it's good to learn something new, and these libraries are really cool!
Node.js + Express + Leaflet + PostGIS = Awesome Maps | boomphisto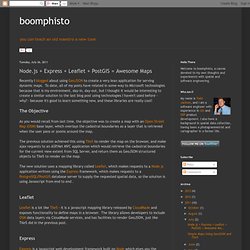 We are excited to be releasing a brand new developer system. It's a significant overhaul of the functionality of our DevZone and we hope you like it. This new developer system is designed to enable you to quickly build your location based applications with maps, routing, geocoding, and other advanced LBS features that can be deployed across multiple mobile operating systems and browsers for mobile phones, tablets, desktops and other location-enabled devices.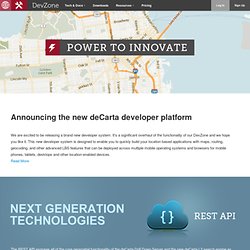 deCarta devZone
An Open-Source JavaScript Library for Mobile-Friendly Interactive Maps November 18, 2013 — Leaflet 0.7 Release, MapBox & Plans for Future (Blog Post) Leaflet is a modern open-source JavaScript library for mobile-friendly interactive maps.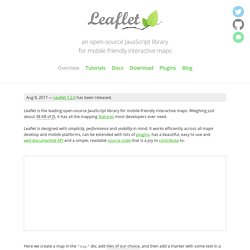 An example: Webserver This simple web server written in Node responds with "Hello World" for every request. To run the server, put the code into a file example.js and execute it with the node program from the command line: % node example.js Server running at http://127.0.0.1:1337/ Here is an example of a simple TCP server which listens on port 1337 and echoes whatever you send it: var net = require('net'); var server = net.createServer(function (socket) { socket.write('Echo server\r\n'); socket.pipe(socket);}); server.listen(1337, '127.0.0.1');
Tile5 is an opensource HTML5 mapping javascript library that gives developers the ability to use existing mapping engines and provide a rich HTML5 experience. Tile5 can also be used to create more generic HTML5 tiling interfaces. Made for Mobile