Lesson/resources
http://www.cal.org/projects/archive/nlpreports/executive_summary.pdf
Wordia - help students to learn subject vocabulary through free learning games and video
Digital Dialects language learning games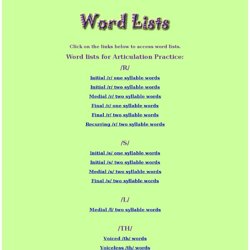 Word Lists
Click on the links below to access word lists. Word lists for Articulation Practice: Initial /r/ one syllable words Initial /r/ two syllable words
50 really useful iPad 2 tips and tricks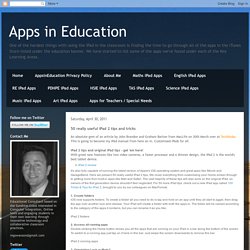 An absolute gem of an article by John Brandon and Graham Barlow from MacLife on 30th March over at TechRadar. This is going to become my iPad manual from here on in. Customised iPads for all iPad 2 tips and original iPad tips - get 'em here! With great new features like two video cameras, a faster processor and a thinner design, the iPad 2 is the world's best tablet device.
Mommy Speech Therapy
strategies for auditory comprehension
Just Free Books - A search engine to find only free ebooks.
I haven't used it yet but it looks like a good resource by cee Mar 19
Jill Kuzma's SLP Social & Emotional Skill Sharing Site
Translate this page into your language Powered by Translate a collection of resources by Judith Maginnis Kuster The following is one section of Judith Kuster's Net Connections for Communication Disorders and Sciences (www.communicationdisorders.com).
Therapy materials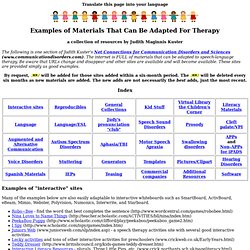 Braidy Lesson Ideas
Storyline Online
Hiyah.net
Do2Learn: Educational Resources for Special Needs
Download the PDF Form: Note: This activity is best conducted with part assistance to ensure that family values, rules, and expectations of social and communication behaviors are incorporated. Purpose: To help students understand the boundaries of their conversational behavior with different classifications of people.
Therapy materials
Translate this page into your language Fourni par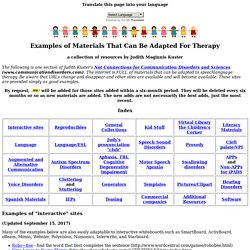 • ASL • American Sign Language
Do2Learn: Educational Resources for Special Needs
IEP Goal Bank
This IEP GOAL BANK is the place where you can "deposit" your own IEP goals/objectives and "withdraw" the goals/objectives contributed by others. Few things cause more angst in our profession than writing IEP goals/objectives! One way to simplify the process is to use the template below. If all sections of this template are filled in, then your goal/objective is measurable. IEP Goal/Objective Template: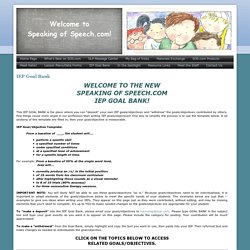 Writing Objectives Using Bloom's Taxonomy | Center for Teaching & Learning
Various researchers have summarized how to use Bloom's Taxonomy. Following are four interpretations that you can use as guides in helping to write objectives using Bloom's Taxonomy. From: KC Metro [old link, no longer functioning?] Bloom's Taxonomy divides the way people learn into three domains.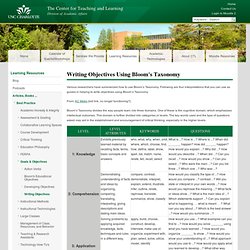 Disabilities -Special Needs
Response to Intervention
Reviews conducted in this area focus on interventions for students with special needs or who have been classified using the categories identified in the Individuals with Disabilities Education and Improvement Act of 2004. Specifically, the WWC reviews studies that examine the impact of interventions on the following outcomes: Grade/Age Range: PreK–12 Review Area(s): Children Classified as Having an Emotional Disturbance (ED), Early Childhood Education for Children with Disabilities, Students with Learning Disabilities
Special Needs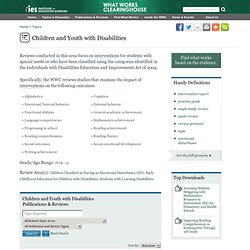 What Works Clearinghouse
mcrel language arts lessons
PediaStaff (pediastaff) on Pinterest