Vidéo
This video is currently unavailable. Sorry, this video is not available on this device. Video player is too small. Watch Later as __user_name__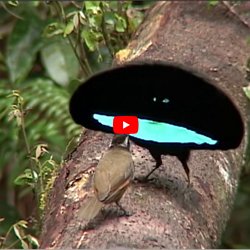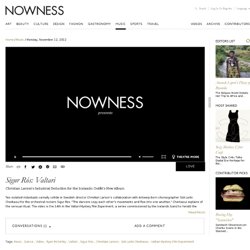 The Restaurateur Makes His London Debut With a New Sex Shop Fronted Mexican Joint Chorizo, lobster and lime reveal their unexpectedly lascivious side in still life photographers Metz + Racine's saucy homage to London's newest hotspot, La Bodega Negra. Using a color palette and mini-sets inspired by the Mexican architect Luis Barragán, Metz + Racine enlisted ingredients from the eatery's menu.
Adventure Is Calling on Vimeo
Monolation on Vimeo
Best Slow motion Ever – La stupidité capturée à 2500 frames par seconde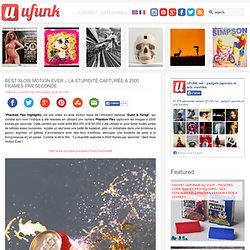 Best Slow motion Ever – La stupidité capturée à 2500 frames par seconde "Phantom Flex Highlights" est une vidéo en slow motion issue de l'émission danoise "Dumt & Farligt", qui comme son nom l'indique a été réalisée en utilisant une caméra Phantom Flex capturant les images à 2500 frames par seconde. Cette caméra qui coûte entre $50.000 et $150.000 a été utilisée ici pour filmer toutes sortes de bêtises assez jouissives : éclater un œuf avec une batte de baseball, jeter un milkshake dans une tondeuse à gazon, exploser un gâteau d'anniversaire avec des feux d'artifices, découper une bouteille de soda à la tronçonneuse et j'en passe.
Ocean Requiem
Goldman Sachs : Les nouveaux maîtres du monde - une vidéo Actu et Politique
Documentary - AMAZING ANIMALS (1/5)
enfant de 4 ans plonge avec les baleines, magique !!!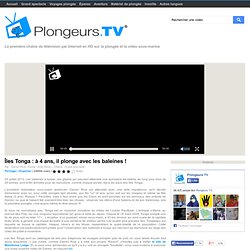 25 juillet 2010. Les baleines à bosse, ces géants qui peuvent atteindre une quinzaine de mètres de long pour plus de 25 tonnes, sont enfin arrivées pour se reproduire, comme chaque année, dans les eaux des îles Tonga. L'excellent réalisateur sous-marin américain Darren Rice les attendait avec une telle impatience, qu'il décide d'emmener avec lui, pour cette plongée tant désirée, son fils "JJ" (4 ans, qu'on voit sur les images) et même sa fille Abbie (3 ans). Risqué ? Peut-être, mais il faut croire que les Dieux se sont penchés sur les berceaux des enfants de Darren, ou que le hasard fait vraiment très bien les choses : observer les câlins d'une baleine et de son baleineau, dès la première plongée, c'est quand même le rêve absolu !!! Si vous ne connaissez pas, Tonga est un royaume miniature au milieu de l'océan Pacifique.
Merci! ( Bodhisattva in metro)
Criatividade dá Vida!
films, community, calls for entries
Big waves vs. Ship ----
Flying Elephants Presents Part I
101 Meters World Record Dive - William Trubridge
Mardis de 4D - 28 juin 2011 on Vimeo
Joffe & Associés | Carte de voeux 2011
White Blood Cell Chases Bacteria
Paris vu du Ciel de Yann Arthus-Bertrand - une vidéo Actu et Politique