Weird Places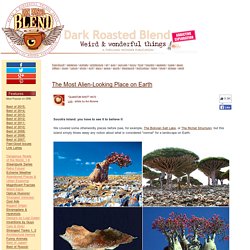 "QUANTUM SHOT" #470 Link - article by Avi Abrams Socotra Island: you have to see it to believe it We covered some otherwordly places before (see, for example, The Bolivian Salt Lake , or The Richat Structure ), but this island simply blows away any notion about what is considered "normal" for a landscape on Earth. (images credit: Jan Vandorpe , socotra ) Imagine waking up on the Socotra Island and taking a good look around you (let's say your buddies pulled a prank on you and delivered you there, and lets also assume that you don't have any hangover from abuse of any substances).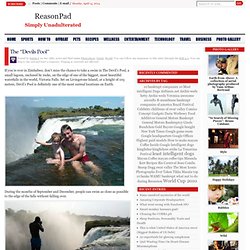 If you're ever in Zimbabwe, don't miss the chance to take a swim in The Devil's Pool, a small lagoon, enclosed by rocks, on the edge of one of the biggest, most beautiful waterfalls in the world, Victoria Falls. Set on Livingstone Island, at a height of 103 meters, Devil's Pool is definitely one of the most surreal locations on Earth. During the months of September and December, people can swim as close as possible to the edge of the falls without falling over.
The "Devils Pool" | ReasonPad
Ferdinand Cheval Cheval's Palais idéal Ferdinand Cheval (born 1836 in Charmes-sur-l'Herbasse , Drôme, France; died 19 August 1924) was a French postman who spent thirty-three years of his life building Le Palais idéal (the "Ideal Palace") in Hauterives . [ 1 ] [ 2 ] [ 3 ] The Palace is regarded as an extraordinary example of naïve art architecture. [ edit ] Origins Ferdinand Cheval lived in Châteauneuf-de-Galaure , in the Drôme département of France. He had left school at the age of 13 to become a baker's apprentice, but eventually became a postman . [ 1 ] [ 2 ] [ 3 ]
Ferdinand Cheval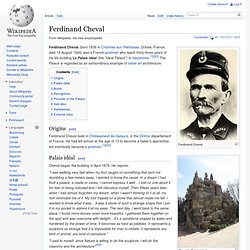 Piedmont Region is in Italy . [ edit ] Colletto Fava What is it? A 5,000 foot hill in Italy's Piedmont region.
Colletto Fava travel guide