Architecture
Dream Bedrooms. 321, GO!!! Slide 3 Stories Down 2 Sides of a 1-Family Home. While it is far for the first time a family has indulged its children with such a whimsical addition, this may be one of the most well-integrated (and longest) at-home slides yet created.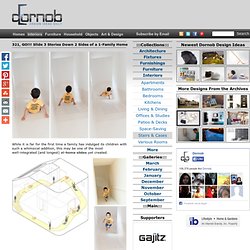 The long slide down (designed, ironically, by Level Architects)? Completes a circuit that starts with a staircase running along two walls of the home – one could endlessly move in a circle, effectively, running up and sliding down (definitely a good way to tire the kids out before bedtime!). While this core circulation wrapping the edges of the interior is certainly a great first step, there are many other child-oriented design strategies to be found throughout the house. Other kid-friendly spaces include include ball-fillable playrooms, art spaces and copious shelves for kids books and coloring supplies. Space Saving Tiny Apartment, New York.
This tiny but highly sophisticated studio apartment in the East Village of NYC has made us very proud, thanks to JPDA.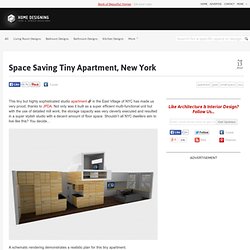 Not only was it built as a super efficient multi-functional unit but with the use of detailed mill work, the storage capacity was very cleverly executed and resulted in a super stylish studio with a decent amount of floor space. Shouldn't all NYC dwellers aim to live like this? You decide… A schematic rendering demonstrates a realistic plan for this tiny apartment. Old Garage turned Mini Dream Home! | Hello there!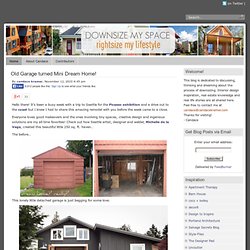 It's been a busy week with a trip to Seattle for the Picasso exhibition and a drive out to the coast but I knew I had to share this amazing remodel with you before the week came to a close. Everyone loves good makeovers and the ones involving tiny spaces, creative design and ingenious solutions are my all time favorites! Check Out This 'Alice In Wonderland' Themed Restaurant! » MTV Geek. Ever wished you take that hot date on trip to Wonderland?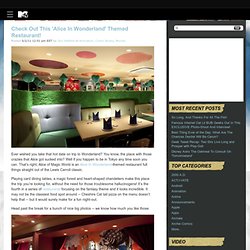 You know, the place with those crazies that Alice got sucked into? Well if you happen to be in Tokyo any time soon you can. That's right; Alice of Magic World is an Alice In Wonderland-themed restaurant full things straight out of the Lewis Carroll classic. The Great Geek Manual » The World's Most Beautiful Libraries. I make no secret of the fact that I'm a hardcore bibliophile, but we're a common enough lot these day.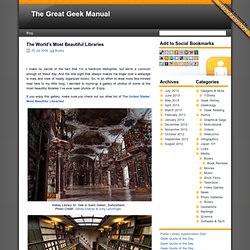 And the one sight that always makes me linger over a webpage is rows and rows of neatly organized books. So, in an effort to draw more like-minded read here to my little blog, I decided to round-up a gallery of photos of some of the most beautiful libraries I've ever seen photos of. Lofted Forest Home: Organic Curves & Natural Materials. Good things come to those who wait – particularly in a work of uniquely detailed and highly curved architecture.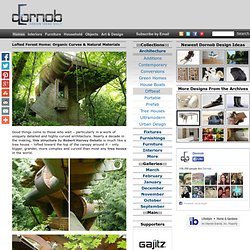 Nearly a decade in the making, this structure by Robert Harvey Oshatz is much like a tree house – lofted toward the top of the canopy around it – only bigger, grander, more complex and curved than most any tree house in the world. The perimeter of the structure is pushed out into the forest around it, curving in and out to create views as well as a sense of intimacy with the coniferous and deciduous tree cover. The wood and metal detailing is incredible in its variety and customization – each piece designed to fit a particular form and function.
The World's Scariest Architecture. Most expensive apartment in the UK sold for $221 million dollars! « blah blah blah… Most expensive apartment in the UK sold for $221 million dollars!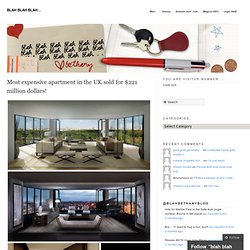 Got a quarter billion dollars laying around? You're in luck. There are a few apartments left at One Hyde Park in the UK. The penthouse just sold for $221 million dollars. YEP, you hear me. $221 MILLION! I'm obsessed with…THIS PIRATE BEDROOM! « blah blah blah… I'm obsessed with…THIS PIRATE BEDROOM!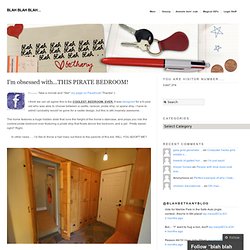 <——– Take a minute and *like* my page on Facebook! Thanks! :) I think we can all agree this is the COOLEST. Cozy book nook. 15-render-FG.jpg (1000×750) A former Cement Factory is now the workspace and residence of Ricardo Bofill | Yatzer™ Image Courtesy of Ricardo Bofill Architect: Ricardo BofillProgram: Architectural offices /archives /model laboratory /exhibition space /Bofill's-apartment /guest rooms /gardensLocation: Barcelona, SpainTotal floor area: 3,100 square meters and gardensHouse area: 500 square metersDate Completed: 1975 There is nothing as good as an aged bottle of wine; and in this case the aged bottle of wine is a project which was completed in 1975, but is still worth mentioning!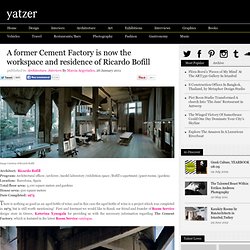 First and foremost we would like to thank our friend and founder of Room Service design store in Greece, Katerina Xynogala for providing us with the necessary information regarding The Cement Factory, which is featured in the latest Room Service catalogue. The Cement Factory was discovered in 1973, it was an abandoned cement factory and partially in ruins, comprised of over 30 silos, underground galleries and huge engine rooms; Ricardo Bofill bought it and began renovation works.
---