Fossil Fuels & Mining
Greens urge govt to block Pilbara uranium. The Greens have vowed to fight a Canadian company's bid to mine uranium in Western Australia but hope the federal government will reject the proposal on environmental grounds.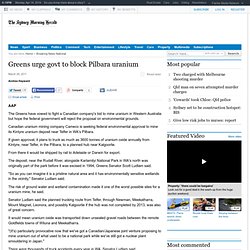 Canadian uranium mining company Cameco is seeking federal environmental approval to mine its Kintyre uranium deposit near Telfer in WA's Pilbara. If given approval, it plans to truck as much as 3600 tonnes of uranium oxide annually from Kintyre, near Telfer, in the Pilbara, to a planned hub near Kalgoorlie. From there it would be shipped by rail to Adelaide or Darwin for export. The F Word: Oil Prices: Gouge Us Baby One More Time.
Gas prices have been edging up since February, reaching $4 a gallon this Easter, and Republicans are gearing up to make a stink about it.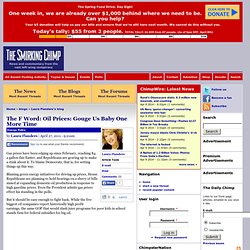 To blame Democrats, that is, for setting things up this way. Blaming green energy initiatives for driving up prices, House Republicans are planning to hold hearings on a slurry of bills aimed at expanding domestic oil production in response to high gasoline prices. Even the President admits gas prices effect his standing in the polls. But it should be easy enough to fight back. While the five biggest oil companies report historically high profit earnings, the same GOP that would slash juice programs for poor kids in school stands firm for federal subsidies for big oil. Post Carbon Institute | Leading the transition to a resilient world.
Tanna attacks coal-seam gas critics over inaccurate claims. Catherine Tanna says critics of coal-seam gas should substantiate their claims.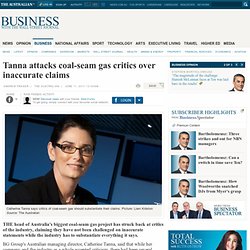 Picture: Liam Kidston Source: The Australian THE head of Australia's biggest coal-seam gas project has struck back at critics of the industry, claiming they have not been challenged on inaccurate statements while the industry has to substantiate everything it says.
Nuclear & Radioactive Issues
Chernobyl Reclaimed: An Animal Takeover.
---