CSS
What are CSS Shaders? - destroy/dstorey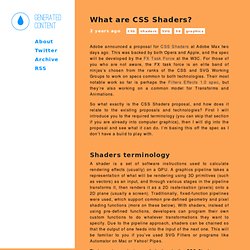 Adobe announced a proposal for CSS Shaders at Adobe Max two days ago. This was backed by both Opera and Apple, and the spec will be developed by the FX Task Force at the W3C. For those of you who are not aware, the FX task force is an elite band of ninjas's chosen from the ranks of the CSS and SVG Working Groups to work on specs common to both technologies. Their most notable work so far is perhaps the Filters Effects 1.0 spec, but they're also working on a common model for Transforms and Animations. So what exactly is the CSS Shaders proposal, and how does it relate to the existing proposals and technologies?
The Multi Column Layout Module has been introduced to help us create columns quickly and easily using CSS3 only. In this tut I'm going to be taking a look at some of its properties and demonstrate them through a series of examples. Introduction Anyone who has tried to create multiple columns in the past using CSS will already know that this type of layout has been achievable for a long time. However, this has often resulted in the use of hacky techniques and floats.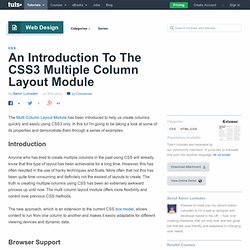 An Introduction To The CSS3 Multiple Column Layout Module
lab
Flick Scrolling An idea of a new gesture that extends scrolling content on a touch-screen. Instead of letting momentum stop the scrolling, you can decide exactly where it should stop. It stops at the point where you flicked it.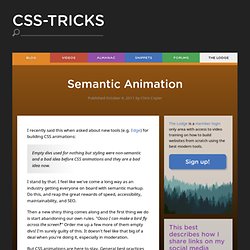 Semantic Animation
Published by Chris Coyier I recently said this when asked about new tools (e.g. Edge) for building CSS animations: Empty divs used for nothing but styling were non-semantic and a bad idea before CSS animations and they are a bad idea now. I stand by that. I feel like we've come a long way as an industry getting everyone on board with semantic markup.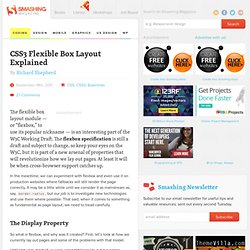 Advertisement The flexible box layout module — or "flexbox," to use its popular nickname — is an interesting part of the W3C Working Draft. The flexbox specification is still a draft and subject to change, so keep your eyes on the W3C, but it is part of a new arsenal of properties that will revolutionize how we lay out pages. At least it will be when cross-browser support catches up. In the meantime, we can experiment with flexbox and even use it on production websites where fallbacks will still render the page correctly.
CSS Techniques for Horizontal Rules