CSS
build your CSS framework
Gallery.css est une ressource développée uniquement en HTML/CSS qui permet de réaliser une galerie d'images simple et responsive, avec une seule et unique transition de type « fade » et des ancres de contrôle de navigation, le tout sans la moindre ligne de JS. Du HTML, du CSS, mais pas de JS La galerie fonctionne sans aucune ligne de JavaScript , uniquement avec une mise en page structurée et des propriétés CSS : transitions CSS3, animations CSS3 ( keyframe ) et sélécteurs CSS avancés ( :nth-of-type() , :target ,etc). La feuille de style est disponible avec ou sans préfixe CSS ( -moz , -webkit , -o ) et en version « classique » ou SASS. Un thème CSS est également fourni avec la ressource, thème que vous pouvez bien sûr modifier à votre convenance.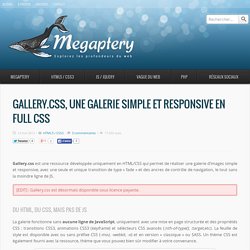 Gallery.css, une galerie simple et responsive en full CSS
Menu effet jQuery en CSS - Réaliser une animation sur un menu sans Javascript
What are CSS Shaders? - destroy/dstorey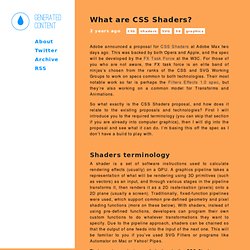 Adobe announced a proposal for CSS Shaders at Adobe Max two days ago. This was backed by both Opera and Apple, and the spec will be developed by the FX Task Force at the W3C. For those of you who are not aware, the FX task force is an elite band of ninjas's chosen from the ranks of the CSS and SVG Working Groups to work on specs common to both technologies. Their most notable work so far is perhaps the Filters Effects 1.0 spec , but they're also working on a common model for Transforms and Animations. So what exactly is the CSS Shaders proposal, and how does it relate to the existing proposals and technologies?
Instant CSS Documentation Search
The Multi Column Layout Module has been introduced to help us create columns quickly and easily using CSS3 only. In this tut I'm going to be taking a look at some of its properties and demonstrate them through a series of examples. Introduction Anyone who has tried to create multiple columns in the past using CSS will already know that this type of layout has been achievable for a long time. However, this has often resulted in the use of hacky techniques and floats.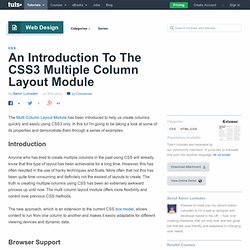 An Introduction To The CSS3 Multiple Column Layout Module
lab
Flick Scrolling An idea of a new gesture that extends scrolling content on a touch-screen. Instead of letting momentum stop the scrolling, you can decide exactly where it should stop. It stops at the point where you flicked it .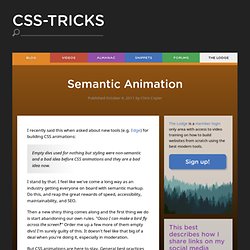 Semantic Animation
Published by Chris Coyier I recently said this when asked about new tools (e.g. Edge ) for building CSS animations: Empty divs used for nothing but styling were non-semantic and a bad idea before CSS animations and they are a bad idea now. I stand by that. I feel like we've come a long way as an industry getting everyone on board with semantic markup.
CSS3 Flexible Box Layout Explained - Smashing Coding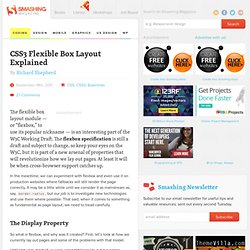 The flexible box layout module — or "flexbox," to use its popular nickname — is an interesting part of the W3C Working Draft. The flexbox specification is still a draft and subject to change, so keep your eyes on the W3C, but it is part of a new arsenal of properties that will revolutionize how we lay out pages. At least it will be when cross-browser support catches up. In the meantime, we can experiment with flexbox and even use it on production websites where fallbacks will still render the page correctly. It may be a little while until we consider it as mainstream as, say, border-radius , but our job is to investigate new technologies and use them where possible.
Ressources - Un slider CSS3 3D avec navigation au clavier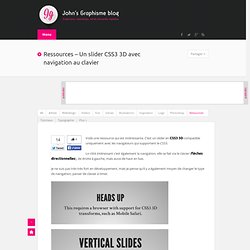 Voilà une ressource qui est intéressante. C'est un slider en CSS3 3D compatible uniquement avec les navigateurs qui supportent le CSS3. Le côté intéressant c'est également la navigation, elle se fait via le clavier ( flèches directionnelles ), de droite à gauche, mais aussi de haut en bas. Je ne suis pas très très fort en développement, mais je pense qu'il y a également moyen de changer le type de navigation, passer de clavier à timer. Voir la démo.
Today we introduce you how to edit the inserted audio file in your flash banner with the same application which making the banner itself Here is the result: Steps: 1. Run IncrediFlash Xtreme 4.0
FlashAnimTricks.com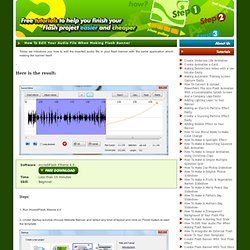 < div id = "nav_wrapper" > < span id = "menu_start" >< a class = "home" href = "#" >Home</ a ></ span > < ul id = "topnav" > < li class = "liSub" > < a href = "#" >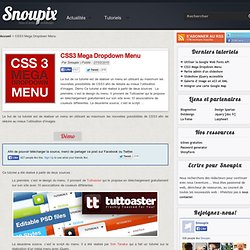 Les sprites CSS - Optimiser le chargement de vos pages ! | CreatiQ | Tutoriel
Although CSS3 @font-face is supported by most major browsers (IE, Firefox, Chrome, and Safari), but not all. When it doesn't, your custom fonts might break the layout or come out with undesired results. In this article, I will explain the common issues with using custom fonts, picking the matching fallback web safe fonts, and how to create a perfect fallback font style with Modernizr . Common Mistake One common mistake that most people make when implementing custom fonts is not specifying the fallback fonts or picking the wrong fallback fonts.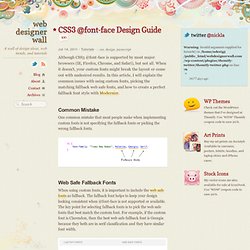 The demand for the usage of internets has been increasing day-to-day and many businessmen are opening many websites to develop their business. The early version of CSS2 which had many limitations has been replaced with extraordinary features of CSS3 web design and the CSS stands for Cascading Style Sheets. With the help of HTML code, the CSS styles are used to form a website layout and the latest trend is using the CSS3 styles or designs. The new styles of CSS3 include easy introduction of paragraphs, 1px clicks, change of text color, box shadow with RGBA on hover and the gradually changing links. There are many creative and attractive ideas which have no boundaries in this type of web design.
CSS3 Web Design Examples for Your Inspiration
ZONE CSS | Définition css text-align (feuille de style css) et compatiblité navigateurs | text-align et sa relation avec les balises
I have always been envious of graphic designer for their ability of using every font they want in their projects, playing with typography and creating beautiful design while I had to limit myself to a few web-safe font families. Although with the appearance of and the difference between print typography and web typography didn't change much, this is still a big step towards the future when, I hope, we can replace all the fonts on a site without overloading the server that's hosting it or the computer you are using. There were previous tools with which you could use various fonts on web, tools like sIFR or FLIR but they were pretty difficult to implement, comparing to Cufón or @font-face, and they were loading pretty slow. It's hard to tell at the moment if another tool like these presented in the article will be invented in the near future and overcome them, but for the moment we can use Cufón and @font-face to make better web typography and I find that a blessing. Cufón
Typography On Web: Cufon And @font-face Resources And Guides
Vous prétendez maîtriser le CSS et pourtant vous n'utilisez que les sélecteurs de base du genre #mon_id , .ma_classe , #mon_id div li . Remettez-vous en question. Dans ce guide, vous découvrirez enfin les sélecteurs avancés qui vous sont obscurs et pourtant oh, combien Awesome! Des sélecteurs CSS à consommer sans modération. 2. margin : 0 ;
CSS Techniques for Horizontal Rules
CSS Crush - Une classe PHP pour optimiser ses feuilles de styles CSS
CSS Pivot