Not only Sql
Pour le premier billet de web-tambouille, rien de mieux qu'un retour de la journée WebWorkersCamp10 , un Barcamp orienté Web et Javascript, organisé à La Cantine par af83 . Cet évènement s'est déroulé hier, samedi 30 octobre, et nous a tenu en haleine toute la journée avec des sessions toutes plus intéressantes les unes que les autres.
Node.js
Présentation de Node.js
a stupid twitter implementation using redis + Python
import time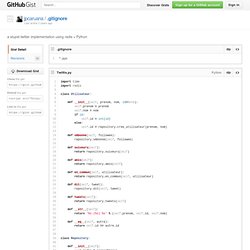 Server backed sessions (where the browser is given a random cookie value which is then associated with a larger chunk of serialized data on the server) are a very poor fit for relational databases. They are often created for every visitor, even those who stumble in from Google and then leave, never to return again.
Redis tutorial, April 2010 - by Simon Willison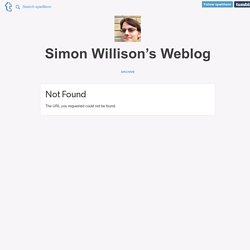 Posted: March 23rd, 2010 | Author: Adam | Filed under: NoSQL , programming , Python , Redis | 6 Comments »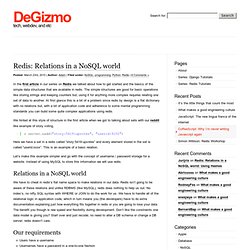 Blog Archive » Redis: Relations in a NoSQL world
Une courte introduction à Redis | Barre Verte !
Quand il s'agit de faire persister ses données, la seule option qui semble disponible est d'utiliser un SGBDR (une base de données relationnelle, telle que MySQL ou Oracle). Mais on se rend parfois compte qu'un seul outil ne peut résoudre tous les problèmes. Ainsi, si on ne dispose que de marteaux, on aura tendance à voir des clous partout.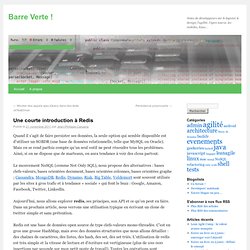 afterSQL by af83 - Performance Extrême avec le NoSQL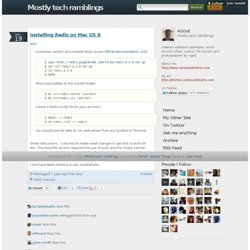 Installing Redis on Mac OS X - Mostly tech ramblings
jaryl :
Redis - (nosqlfr meetup #2)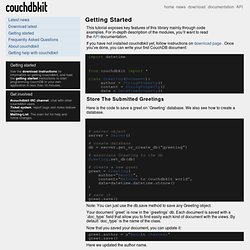 This tutorial exposes key features of this library mainly through code examples.
Getting started
Couchapp : créer votre première application CouchDB (Partie 2) - Le petit coin de Nicolas
What the HTTP is CouchApp? - CouchApp.org
This blog post is in response to a lot of well-deserved confusion in the community around CouchApps.
Step by step to setup HyperTable. Here I just share my installation experience. 1.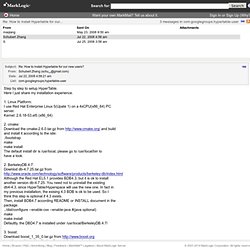 Re: How to install Hypertable for our new users? - Schubert Zhang - com.googlegroups.hypertable-user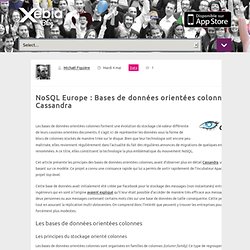 NoSQL Europe : Bases de données orientées colonnes et Cassandra
Les bases de données orientées colonnes forment une évolution du stockage clé-valeur différente de leurs cousines orientées documents.
21 February, 2013: release 0.11.0 available This release includes hundreds of bug fixes and many new features including DateType datatype, RANK, CUBE and ROLLUP operators, Groovy UDFs, pluggable reducer estimation logic, additional UDF features, schema-based tuples and HCatalog DDL integration. Note
Pig Releases
MongoEngine
Nous avons beaucoup entendu parler au cours de cette année 2010 de la technologie émergente NoSQL .
MongoDB en pratique
Getting started with mongoDB and Python
Today I'm going to cover getting started with mongoDB using Python .
Video - mongosv2010/intro
mangodb
Ça y est?
Accéder à une base CouchDB via l'interface REST - Chicoree
CouchDBX — The one-click CouchDB Package for your Mac
Introduction - CouchDB France
Qu'est-ce que CouchDB ? CouchDB est un serveur de base de données : Orienté Document , accessible via une API REST HTTP /JSON.
Christophe Jacquet — SQLite et Python
Installation dans VirtualBox - CouchDB France
Installer et utiliser Apache Cassandra 0.6.x (Mac OS X) – Partie 1 « Stanislas Chollet