Aspergers
ASPERGER'S DISORDER HOMEPAGE
Asperger syndrome (AS) is an autism spectrum disorder (ASD), one of a distinct group of complex neurodevelopment disorders characterized by social impairment, communication difficulties, and restrictive, repetitive, and stereotyped patterns of behavior. Other ASDs include autistic disorder, childhood disintegrative disorder, and pervasive developmental disorder not otherwise specified (usually referred to as PDD-NOS). ASDs are considered neurodevelopmental disorders and are present from infancy or early childhood.
Asperger Syndrome Fact Sheet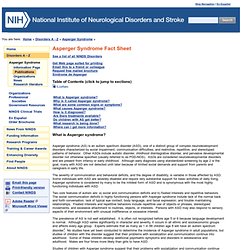 Asperger's Syndrome Symptoms in Children, Teens, Adults
Autism and vaccines: It's the link that just won't die. The American Academy of Pediatrics, the CDC, the World Health Organization, and the Institute of Medicine all agree that there's probably no relationship between autism and vaccines. But if the case is that solid, why do so many people remain unconvinced, from actress Jenny McCarthy, who went on Oprah to say she believes that a vaccination caused her son's autism and wrote a book about it, to Sen. John McCain, who, at a campaign event...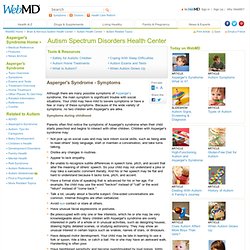 Free E-newsletter Subscribe to Housecall
Asperger's syndrome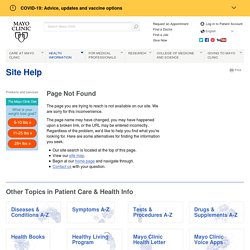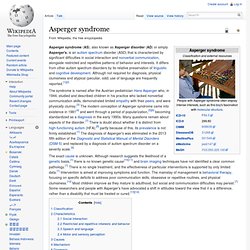 Asperger syndrome ( AS ), also known as Asperger's syndrome or Asperger disorder ( AD ), is an autism spectrum disorder (ASD) that is characterized by significant difficulties in social interaction, alongside restricted and repetitive patterns of behavior and interests. It differs from other autism spectrum disorders by its relative preservation of linguistic and cognitive development . Although not required for diagnosis, physical clumsiness and atypical (peculiar, odd) use of language are frequently reported. [ 1 ] [ 2 ] The syndrome is named after the Austrian pediatrician Hans Asperger who, in 1944, studied and described children in his practice who lacked nonverbal communication skills, demonstrated limited empathy with their peers , and were physically clumsy. [ 3 ] The modern conception of Asperger syndrome came into existence in 1981 [ 4 ] and went through a period of popularization, [ 5 ] [ 6 ] becoming standardized as a diagnosis in the early 1990s.