LMS Blogs
The Information Dark Ages...Again
Years ago I asked my grandmother questions about her early life, and she put me off, saying her life wasn't interesting at all. But I kept asking, and she finally told me some stories that blew my socks off. I was shocked to learn that as a very young girl, she and her family came to Texas in two covered wagons. That was one of many stories she told me about her not so interesting life, but what astonished me the most was that during her short lifetime, man went from traveling in covered wagons to walking on the moon. How could that happen so fast? The role of librarians and information-handling has made just as wide a leap in progression this past century-- from the manual organization and processing of books within the physical shelves and four walls of the library with the librarian as the gatekeeper of information... evolving to instant and virtual access to books and unfathomable amounts of information via the World Wide Web.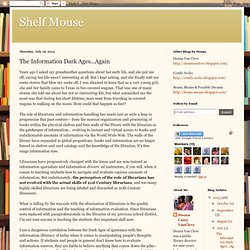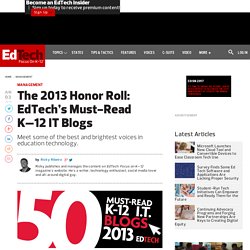 If it takes a village to raise a child, how many people does it take to train an educator? It's hard to say, but 50 helping hands seems like a good place to start. In the spirit of community, collaboration and information sharing, EdTech: Focus on K–12 has rounded up 50 ed-tech blogs that we deem must-reads for the K–12 community. We launched our first Must-Read IT list last year to great response so we hope that you all enjoy this year's batch of blogs as well.
The Ten Blogs I Read First
friEdTechnology
I think it is really important to keep yourself and your classroom organized. I was not a born organized person, but had to work hard to develop routines and systems to keep myself organized. As a teacher nothing makes me happier than coming into a clean classroom with everything in its place.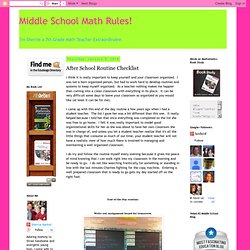 After School Routine Checklist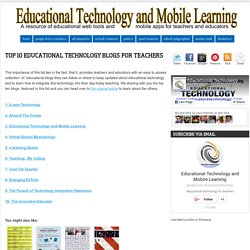 Today we received some good news from Teacher Certification website.
Lifelong Learning for School Librarians
100 Helpful Blogs For School Librarians (And Teachers)
We love librarians. They're the gatekeepers of knowledge and always looking to explore new ways to enhance the learning experience .
School Library Monthly/Volume XXIX, Number 1/September-October 2012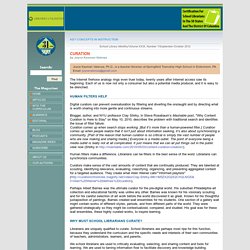 School Library Monthly - Curation
The Newbery Project
Watch. Connect. Read.
Librarians are go
Library Grits
Lucacept – intercepting the Web | A teacher learning about the web and sharing it with others
Readers in the Mist
Librarian by Day by Bobbi Newman
Cynsations
Van Meter Library Voice
100 Best Blogs for School Librarians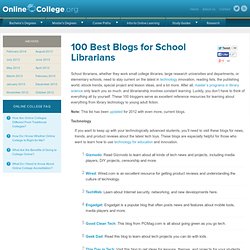 School librarians, whether they work small college libraries, large research universities and departments, or elementary schools, need to stay current on the latest in technology innovation, reading lists, the publishing world, ebook trends, special project and lesson ideas, and a lot more. After all, master's programs in library science only teach you so much, and librarianship involves constant learning.
NeverEndingSearch
Tom March | Working the Web for Education