LMS Blogs
Original photo by Buffy Hamilton Earlier this month, my colleague Jennifer Lund and I attended a half day workshop sponsored by our Gwinnett County School District. We spent a Saturday morning with the smart and funny Harvey "Smokey" Daniels, who engaged us in a variety of strategies for helping learners transact with text more deeply while building writing fluency.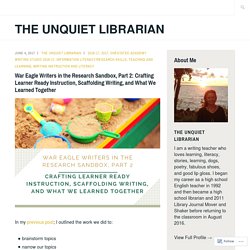 The Information Dark Ages...Again
Years ago I asked my grandmother questions about her early life, and she put me off, saying her life wasn't interesting at all. But I kept asking, and she finally told me some stories that blew my socks off. I was shocked to learn that as a very young girl, she and her family came to Texas in two covered wagons. That was one of many stories she told me about her not so interesting life, but what astonished me the most was that during her short lifetime, man went from traveling in covered wagons to walking on the moon. How could that happen so fast? The role of librarians and information-handling has made just as wide a leap in progression this past century-- from the manual organization and processing of books within the physical shelves and four walls of the library with the librarian as the gatekeeper of information... evolving to instant and virtual access to books and unfathomable amounts of information via the World Wide Web.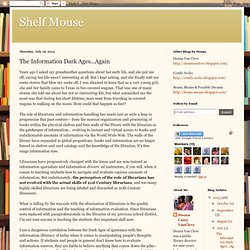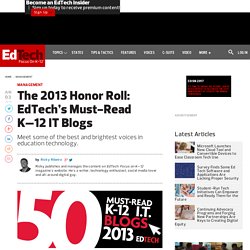 If it takes a village to raise a child, how many people does it take to train an educator? It's hard to say, but 50 helping hands seems like a good place to start. In the spirit of community, collaboration and information sharing, EdTech: Focus on K–12 has rounded up 50 ed-tech blogs that we deem must-reads for the K–12 community. We launched our first Must-Read IT list last year to great response so we hope that you all enjoy this year's batch of blogs as well.
The Ten Blogs I Read First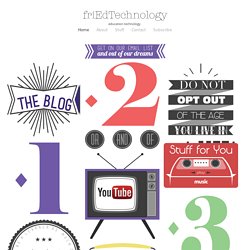 friEdTechnology
I heard a significant amount of talk this week at TCEA14 (Texas Computer Education Association 2014 conference) about what I would describe as poor etiquette (self-promotion, self-aggrandizing) among EdTech gurus. I've got to admit. It really made me reflect.
I think it is really important to keep yourself and your classroom organized. I was not a born organized person, but had to work hard to develop routines and systems to keep myself organized. As a teacher nothing makes me happier than coming into a clean classroom with everything in its place.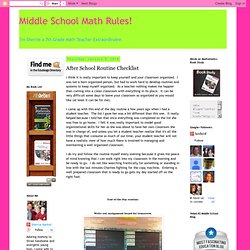 After School Routine Checklist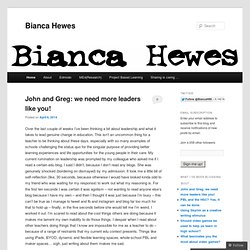 So yesterday was amazing… I know I overuse that word and Orwell would lament my failure to create a unique and interesting image to describe something, however, it truly was AMAZING! Why? Because my colleagues and my PLN continue to surprise me and astonish me – that's how google defines amazing, lol. If you're not sure what VoicEd2014 is (was?) you can read my blog post about it here.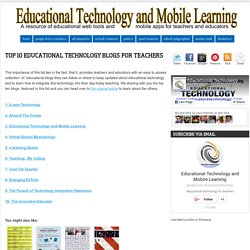 Today we received some good news from Teacher Certification website. They have published a list of the Top 50 School Technology blogs and our blog Educational Technology and Mobile Learning was featured in the third spot in that list. We are really so honored to be in this list and we are even happier to realize that our voice gets across to educators from all around the world. All thanks and gratitude go back to you , our readers, for your encouragement and support.
Lifelong Learning for School Librarians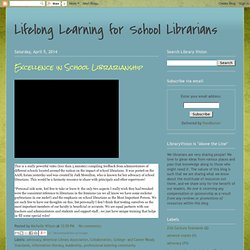 *This post was written by Meg Brooke, Supervisor of School Librarians for Jefferson County. Twenty three years ago I interviewed for a library position in the system where I was moving my family. In preparing for the interview, I got my interview outfit ready (Ok…hate to say it, but this was my first thought!).
100 Helpful Blogs For School Librarians (And Teachers)
We love librarians. They're the gatekeepers of knowledge and always looking to explore new ways to enhance the learning experience . I learned about the latest trends in libraries at this year's CALICON in San Diego and love the move toward open source, cross-library sharing, and going digital. But what if you weren't able to attend CALICON or simply want to get a regular update on all the fun stuff happening with libraries? Lucky for you, our friends at Online College shared the following post with us. It details 100 great blogs librarians around the world should add to their RSS reader.
School Library Monthly/Volume XXIX, Number 1/September-October 2012 Curation by Joyce Kasman Valenza Joyce Kasman Valenza, Ph.D., is a teacher librarian at Springfield Township High School in Erdenheim, PA. Email: joycevalenza@gmail.com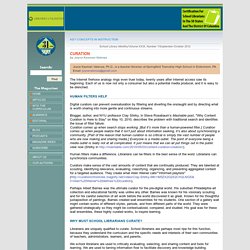 School Library Monthly - Curation
This is a guest post from Samantha Morra of EdTechTeacher.org, an advertiser on Free Technology for Teachers. Many of us using technology in the classroom find ourselves caught between two worlds: Apple and Google. Apple's iPad is a fantastic tool in the classroom which provides students with various opportunities to consume, create, and communicate.
by Elizabeth George Speare,read by Mary Beth Hurt Sixteen-year-old Katherine "Kit" Tyler, an orphan since age two, must leave her beloved Barbados when her grandfather dies. She surprises her aunt (her mother's sister) and uncle and their two daughters, her only living relatives, in the town of Wethersfield in the Connecticut Colony. The year is 1687.
The Newbery Project
I love when I teach classes right after an author visit because it allows me to get immediate feedback from my students. According to my first and second graders... *Andy Griffiths is a really fun guy. * He traveled far to visit our school. I'm happy I got to meet him.
Watch. Connect. Read.
Librarians are go
Library Grits
Last week I presented at the IB Asia Pacific Conference to an audience that was quite different to the audience I usually present to. This audience was made up of School Principals, PYP, MYP & DP co-ordinators, teachers of classes and subjects across the K-13 range, and a few school librarians. I was way out of my comfort zone, and felt highly stressed in the build up.
This year our school has adopted Google Apps for Education. Sounds simple, huh? Not so. Decisions to move your staff and students into Cloud Computing solutions are complex and in my view, require thoughtful planning and consideration. When I became Director of ICT and eLearning at the start of 2013, my first job was to implement a new Learning Management System. That was pretty big and was the main focus for much of 2013, but the early stages of that project coincided with planning starting around the possibility of a move into the Google Apps space.
Lucacept – intercepting the Web | A teacher learning about the web and sharing it with others
Readers in the Mist
Cynsations
Van Meter Library Voice
100 Best Blogs for School Librarians
Tom March | Working the Web for Education