Innovation International
Nike: The No. 1 Most Innovative Company Of 2013 | Fast Company | Business + Innovation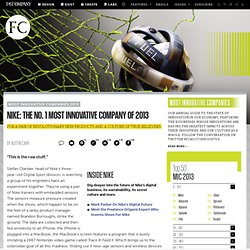 "This is the raw stuff."
The Best Practices of Technology Brokers - HBS Working Knowledge
Companies that are best at developing out-of-the-box thinking on new products employ four successful work practices. An excerpt from the new book, How Breakthroughs Happen . by Andrew Hargadon Technology brokers have discovered how to bridge the disparate worlds they move among outside their boundaries, and how to build new ventures from the technologies and people they come across. In the process, they have developed four intertwined work practices that help them do this: capturing good ideas, keeping ideas alive, imagining new uses for old ideas, and putting promising concepts to the test.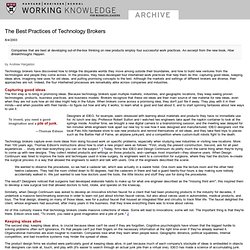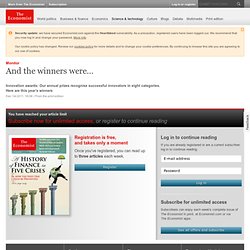 Monitor: And the winners were…
THIS newspaper was established in 1843 to take part in "a severe contest between intelligence, which presses forward, and an unworthy, timid ignorance obstructing our progress." One of the chief ways in which intelligence presses forward is through innovation, which is now recognised as one of the most important contributors to economic growth. Innovation, in turn, depends on the creative individuals who dream up new ideas and turn them into reality. The Economist recognises these talented people through its annual Innovation Awards, presented in eight fields: bioscience, computing and telecommunications, energy and the environment, social and economic innovation, business-process innovation, consumer products, a flexible "no boundaries" category, and the corporate use of innovation.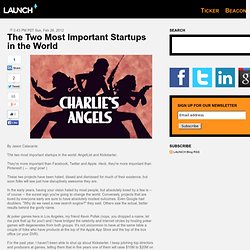 By Jason Calacanis The two most important startups in the world: AngelList and Kickstarter. They're more important than Facebook, Twitter and Apple.
The Two Most Important Startups in the World
My Starbucks Idea
WELCOME TO ADDICTLAB
Den Haag - Het InnovatiefondsMKB+ stelt €8 miljoen beschikbaar voor private investeringsfondsen die willen investeren in de topsector creatieve industrie. Dat heeft minister Verhagen van Economische Zaken, Landbouw en Innovatie (EL&I) maandag bekendgemaakt. "Het InnovatiefondsMKB+ zorgt dat creatieve starters in deze snelgroeiende topsector toegang krijgen tot risicokapitaal", zegt minister Verhagen. "Op deze manier kunnen meer vernieuwende producten in architectuur, mode, design, gaming en nieuwe media op de markt komen."
8 miljoen voor topsector creatieve industrie [Blik op Nieuws.nl - Economie]
Kickstarted: How one company is revolutionizing product development
170 in Share Jump To Close Kickstarter is funding an era of product development uncompromised by focus groups and committees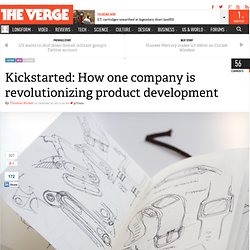 BCG's experts represent a rich and diverse group whose experience encompasses the key issues faced by companies around the world. For every focus area, we also have local experts who provide key insights into the dynamics of each individual market. Our integrated network of experts allows us to share best practices and leverage crucial information on the latest trends.
Innovation - Experts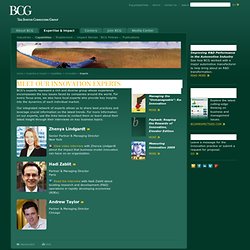 A major new study has highlighted the key skills that innovative and creative entrepreneurs need to develop. According to Hal Gregersen, an INSEAD professor and co-author of a six-year-long study into disruptive innovation involving some 3,500 executives, there are five 'discovery' skills you need but, he says, you don't have to be 'great in everything. A major new study involving some 3,500 executives has highlighted the key skills that innovative and creative entrepreneurs need to develop. The six-year-long research into disruptive innovation by INSEAD professor Hal Gregersen , Jeffrey Dyer of Brigham Young University and Clayton Christensen of Harvard, outlines five 'discovery' skills you need. But, says Gregersen, you don't have to be 'great in everything.' Some well-known business leaders such as Apple's Steve Jobs and Amazon's Jeff Bezos rely on their own particular strengths since innovative entrepreneurs rarely excel at all five discovery skills.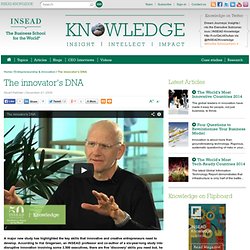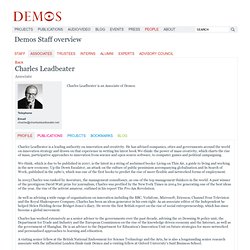 Charles Leadbeater is a leading authority on innovation and creativity. He has advised companies, cities and governments around the world on innovation strategy and drawn on that experience in writing his latest book We-think: the power of mass creativity, which charts the rise of mass, participative approaches to innovation from science and open source software, to computer games and political campaigning. We-think, which is due to be published in 2007, is the latest in a string of acclaimed books: Living on Thin Air, a guide to living and working in the new economy; Up the Down Escalator, an attack on the culture of public pessimism accompanying globalisation and In Search of Work, published in the 1980's, which was one of the first books to predict the rise of more flexible and networked forms of employment. In 2005 Charles was ranked by Accenture, the management consultancy, as one of the top management thinkers in the world.
Demos | People
The Atlas of Ideas In May 2007, the United Arab Emirates launched a $10bn foundation to create research centres in Arab univerisities. In Brazil, a consortium of 80 organisations has teamed up to invest $3 billion in biotechnology. In Qatar, a gleaming 2,500 acre 'Education City' is now home to international campuses of five of the world's top universities. Wherever in the world you look, new enrants are reshaping the landscape for science and technology-based innovation.
Demos | Projects
Idea Connection