Industrial Design
GUIDE TO MILAN DESIGN WEEK 2014. Today marks the start of milan design week 2014. i'm working on a very special project (more on that soon!)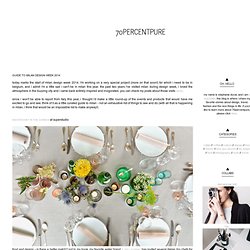 For which i need to be in belgium, and i admit i'm a little sad i can't be in milan this year. the past two years i've visited milan during design week, i loved the atmosphere in the buzzing city and i came back entirely inspired and invigorated. you can check my posts about those visits HERE. since i won't be able to report from italy this year, i thought i'd make a little round-up of the events and products that would have me excited to go and see. think of it as a little curated guide to milan - not an exhaustive list of things to see and do (with all that is happening in milan, i think that would be an impossible list to make anyway!)
MASTERCHEF IN THE GARDEN at superstudio food and design - is there a better match? Not in my book. my favorite water brand S. Shanzhai | Patterns from IDEO. 'Shiny points' stand out One of the key design principles of Shanzhai is to make the assets of the product stand out.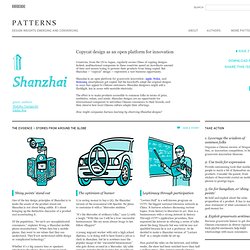 Shanzhai is not about being subtle. Smart, Practical Tips for Building a More Comfortable Subway Car - Eric Jaffe. I've long assumed that most New Yorkers, if not most city residents in general, have a particular spot they prefer on the subway.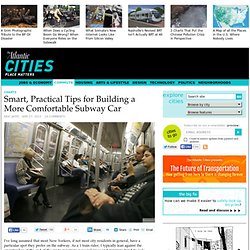 As a 1 train rider, I typically lean against the operator box at the end of the car to maximize personal space and minimize hand-to-pole interaction. Circumstances can change things — in empty trains it's almost creepy not to sit, and in full trains I stand as far away from the door as possible — but on a normal ride that's where you'll find me. Turns out that assumption was a safe one. A History of Braun Timepieces. A Sponsored Post on the History of Braun Design Every student of industrial design ought study Braun's line of timepieces.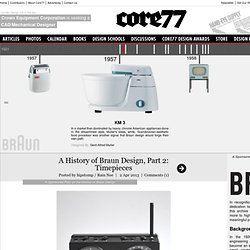 The sheer variety and innovation, on both the design and technical fronts, that the company was able to inject into something as simple as a time-telling device is staggering; Braun was obsessing over minute bevels and visual clarity years before smartphone manufacturers sought to differentiate one glass rectangle from another. Dieter Rams On Good Design As A Key Business Advantage. Dieter Rams is best-known for his work at Braun--where he revolutionized the design of electronics--and his indelible influence on Apple's Jony Ive.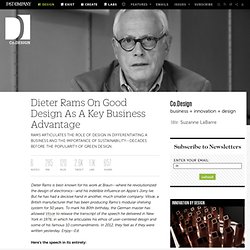 But he has had a decisive hand in another, much smaller company: Vitsœ, a British manufacturer that has been producing Rams's modular shelving system for 50 years. To mark his 80th birthday, the German master has allowed Vitsœ to release the transcript of the speech he delivered in New York in 1976, in which he articulates his ethos of user-centered design and some of his famous 10 commandments.
In 2012, they feel as if they were written yesterday. Lunar Rethinks Rock Climbing Walls, Making Them Slicker And Smarter. Few things say filthy rich more succinctly than an indoor rock-climbing wall.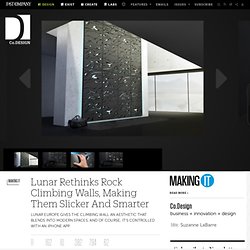 But even those lucky enough to have them, must contend that the hulking structures don't match their surrounding décor. As Lunar Europe puts it, "Pro gear is out of place. Since it lived in the gym, no one has re-considered the design." That is, until the Munich-based design studio decided to put its spin on the climbing wall, transforming the standard pebble-like holds into a wall art comprised of indented ripples. The concept, called Nova, is the second in Lunar Europe's series of home-gym upgrades. An Espresso Machine That Exudes Warmth Instead Of Industrial Cool. I'm an incorrigible caffeine addict and a hopeless collector of all coffee accoutrements--from French presses and stovetop espresso makers to percolators and milk steamers.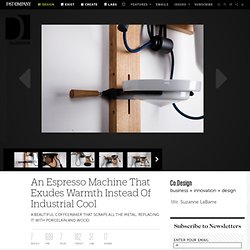 So when I saw this porcelain wall-mounted espresso machine, I found myself wiping away some coffee-tinged drool. Arvid Häusser, a 23-year-old German design student at Bauhaus-Universität Weimar, has revamped the industrial-looking espresso machine, with its metal body and plastic knobs, and made it friendlier, adding warm wood tones and creamy ceramic. But the improvements extend beyond mere aesthetics: Porcelain is a good insulator and doesn't impart a metallic taste. And by adhering the appliance to the wall, Häusser has managed to free up valuable counter space and even create a place for resting a few mugs securely on top. Note the height-adjustable drip tray, which accommodates a latte glass as easily as an espresso cup. Design Ideas and Tech Concepts - Toxel.com. Collection of Cool Umbrella Designs. Today we showcase our favorite examples of creative umbrella designs.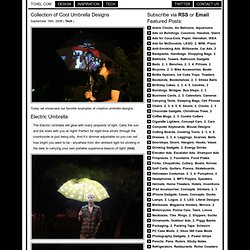 Electric Umbrella The Electric Umbrella will glow with many pinpoints of light. Carry the sun and the stars with you at night! Perfect for night-time strolls through the countryside or just being silly. And it's dimmer adjustable so you can set how bright you want to be - anywhere from dim ambient light for strolling in the dark to carrying your own portable supernova beacon of light! 10 Futuristic Cell Phone Concepts. Collection of the most creative and interesting cell phone concepts designed by talented people from all over the globe.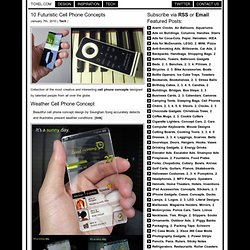 Weather Cell Phone Concept Beautiful cell phone concept design by Seunghan Song accurately detects and illustrates present weather conditions. [link] Mobile Script Cell Phone Concept. 30 Bizarre and Creative Packaging Design Examples. Inspiration November 1, 2010 One of the things that identifies the image of a product is its packaging.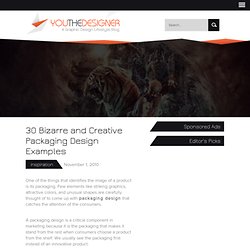 Few elements like striking graphics, attractive colors, and unusual shapes are carefully thought of to come up with packaging design that catches the attention of the consumers. A packaging design is a critical component in marketing because it is the packaging that makes it stand from the rest when consumers choose a product from the shelf. We usually see the packaging first instead of an innovative product. This post presents the clever and innovative ideas of some of the company manufacturers around the world. Yanko Design - Modern Industrial Design News. Served. 1960s Braun Products Hold the Secrets to Apple's Future. Braun electrical - Audio. Dieter Rams and the products he designed for Braun and Vitsœ.
Dieter Rams was born in Wiesbaden, Germany, in 1932. He was strongly influenced by the presence of his grandfather who was a carpenter. Rams's early awards for carpentry led to him training as an architect as Germany was rebuilt in the early 1950s. Prompted by an eagle-eyed friend, Rams applied for a job at the German electrical products company, Braun, in 1955. He was recruited by Erwin and Artur Braun following the death of their father and his job was to modernise the interiors of the company that was launching revolutionary electrical products.
---