Gamification
Jesse Schell: When games invade real life. DICE 2010: "Design Outside the Box" Presentation Videos. Seth Priebatsch: The game layer on top of the world. SCVNGR's Secret Game Mechanics Playdeck. Some companies keep a playbook of product tips, tricks and trade secrets.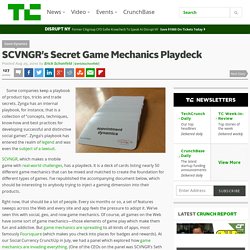 Zynga has an internal playbook, for instance, that is a collection of "concepts, techniques, know-how and best practices for developing successful and distinctive social games". Zynga's playbook has entered the realm of legend and was even the subject of a lawsuit. SCVNGR, which makes a mobile game with real-world challenges, has a playdeck. SCVNGR. Can HighScore House Actually Help Your Kids Do Their Chores? Fitocracy. Paper Towel Problem Solved. I had a problem.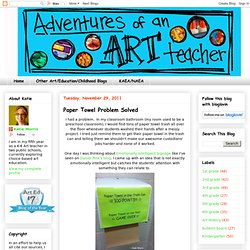 In my classroom bathroom (my room used to be a preschool classroom), I would find tons of paper towel trash all over the floor whenever students washed their hands after a messy project. I tried just remind them to get their paper towel in the trash can and telling them we shouldn't make our awesome custodians' jobs harder and none of it worked.
I printed a really simple sign (shown above) that says: Paper Towel in the Trash Can 100 POINTS!!! Design principles. Defeating an enemy; overcoming an obstacle; surviving in the face of adversity: success and failure are at the very core of the game-player's experience.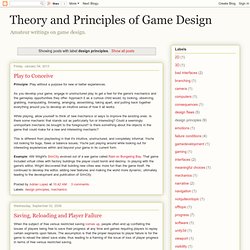 Games offer players a number of choices, some of which lead to success and some of which lead to failure or non-success. Together with the challenges presented to the player, the fact that the player might fail lends significance to the player's choices and actions. Although failure can be a negative experience, it is also the very thing that makes success meaningful. Gamification as umbrella for social media. Game Dynamics +10 | Eric Friedman - Marketing.fm. Over the weekend I watched a great 30 minute presentation about past, present, and future game dynamics and points systems the exist (and will exist) within our world.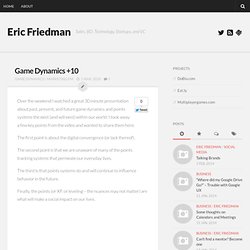 I took away a few key points from the video and wanted to share them here. The first point is about the digital convergence (or lack thereof). How to Use Game Mechanics to Reward Your Customers. There's a green card.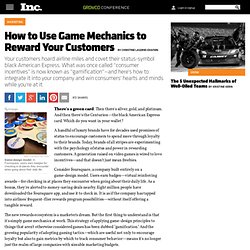 Then there's silver, gold, and platinum. And then there's the Centurion—the black American Express card. Gamification. Veerle Van der Sluys. Game Design, Psychology, Flow, and Mastery - Playing to Win Inde. Playing to WinBecoming the Champion In the year 2000, I wrote my first article about Playing to Win and it has since become an internet phenomenon, at least in the gaming circles.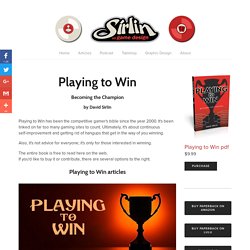 The article and its sequels are linked to across countless gaming sites and forums, often for games I've never even heard of. The central premise is that playing competitive games is one way to walk the path of continuous self-improvement. After the huge response to the articles, I wrote the book Playing to Win.
I polished the language from the articles, clarified the reasoning, provided more examples, and added many new concepts. 'Gamification brengt structuur in innovatie' NUzakelijk onderzoekt de potentie van de trend 'gamification' en stelt de komende weken vragen aan bedrijven, onderzoekers en zelfstandige ondernemers.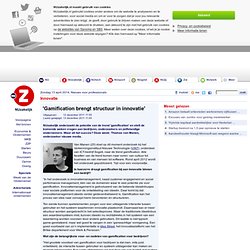 Waar zit het succes? Deze week: Thomas van Manen, onderzoeker nieuwe media. Van Manen (25) doet op dit moment onderzoek bij het Verkenningsinstituut Nieuwe Technologie (ViNT), onderdeel van ICT-bedrijf Sogeti, naar de trend gamification. Alle facetten van de trend komen naar voren: van cultuur tot business en van mensen tot software. Idea Street | Spark Showcase | Discover & Share Innovation. Idea Street is an online ideas-management platform that encourages employees to share their innovative ideas for change with a community of likeminded colleagues, and work with those colleagues to help make their ideas a reality.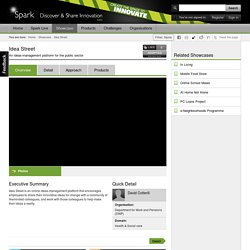 Instead of submitting an idea to a closed suggestion box, like a typical staff suggestion scheme, Idea Street puts ideas out in the open, so that other people within an organization can vote and comment on the suggestions of others. In this way ideas can be refined by the collective expertise within the community and the most promising suggestions can be brought to the attention of relevant decision makers. Idea Street encourages employees of all grades, roles and locations across an organisation to take part in what becomes essentially a decentralised innovation process. Staff are free to submit ideas on anything that may improve their day to day working lives, how their organization operates or serves its customers, stakeholders or suppliers.
---