Creative Thinking
Thinking Methods. Creative problem solving. Creative problem-solving, a type of problem solving, is the mental process of searching for a new and novel creative solution to a problem, a solution which is novel, original and not obvious.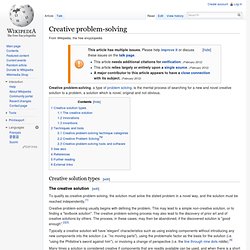 Creative solution types[edit] The creative solution[edit] To qualify as creative problem-solving, the solution must solve the stated problem in a novel way, and the solution must be reached independently.[1] Thinking Methods: Creative Problem Solving. They further divided the six stages into three phases, as follows: 1.
Exploring the Challenge (Objective Finding, Fact Finding, and Problem Finding), Generating Ideas (Idea Finding), and Preparing for Action (Solution Finding and Acceptance Finding). Description: Since the arrival of the now classical Osborn-Parnes structure, any number of academic and business entities have re-sorted and renamed the stages and phases of what we now call the Creative Problem Solving Process (CPS). Learn How to Think Different(ly) - Jeff Dyer and Hal Gregersen. By Jeff Dyer and Hal Gregersen | 10:24 AM September 27, 2011 In the Economist review of our book, The Innovator's DNA, the reviewer wondered whether genius-level innovators such as Marc Benioff, Jeff Bezos, and Steve Jobs challenge the idea that working adults can really learn how to think differently and become innovators. We don't think so. Remember, it was Steve Jobs who jump-started the now-famous "Think Different" advertising campaign as a way to inspire consumers and recharge Apple's innovation efforts. It worked. Reflecting back on the campaign, Jobs said "The whole purpose of the 'Think Different' campaign was that people had forgotten what Apple stood for, including the employees."
---