Design
Page67_Lynette Jackson's Photostream
COMMONstudio - ABOUT
Designer_Visits
Monday, 24 June 2013 by Irene Hoofs An illustrator and publisher of 'Kleursprookjes' (Colour Fairy Tales) Caroline Ellerbeck lives with Gilles and her three children Luuk (9), Fien (5), Flores (2) on a ground floor apartment (from the nineteen twenties) in Rotterdam West. Seven years ago Caroline and Gilles bought this ground floor apartment in the New West part of Rotterdam. An apartment in this case doesn't mean one floor ... no there are three floors, and the back is bordering a surprisingly large garden. She has a nice view of her garden from her office located on the ground floor. Also Gilles works from home.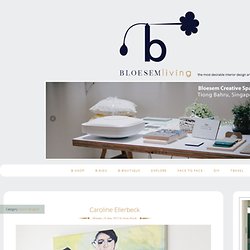 This post is also available in: Chinese (Traditional) No one would ever think of enjoying the space within construction scaffolding (or sidewalk sheds). But, in New York City, they are so prevalent (stretching 189 miles if lined end to end), that students from the Parsons School of Design created Soft Walks - simple DIY kits with chair pieces, a counter, a light fixture, a planter, and a green trellis that anyone can pick up and install onto the beams of their nearest scaffolded area. The initiative aims to transform nearly 6,000 construction sites, equaling 189 miles of covered sidewalk. Soft Walks transform construction scaffolding from a dark, covered walkway into a rest stop for busy city dwellers to stop and have a seat, or even eat and socialize.
Converting Construction Sites into Public Spaces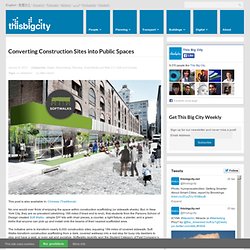 © Eva Prats and Ricardo Flore In 1996, Barcelona architects Eva Prats and Ricardo Flores built their wonderful Casa En Una Maleta, or House in a Suitcase, in a 293 square foot apartment. They wrote: The project investigates minimum space in our daily activities; the pieces of furniture open according to each moment of the day.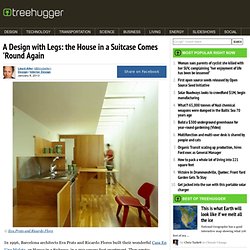 A Design with Legs: the House in a Suitcase Comes 'Round Again
Luminair is a UK design and manufacturing studio founded in 2005 by industrial designer Jason Thawley. Dedicated to instilling a sustainable and eco-friendly approach to product design and manufacturing Luminair offers unique, innovative and durable product concepts that utilise energy efficient manufacturing processes along with recycled and sustainable materials. Services include idea and concept development, industrial design, research, product strategy, product identity, product design and detailing, manufacturing support, bespoke builds and eco-conscious instillations. Specialising in lighting design, from Luminairs own range of unique products to commissions for other like minded companies, projects also vary from interior products, small domestic appliances and packaging to consumer electronics, professional audio equipment and project furniture.
LUMINAIR LTD - ECO-FRIENDLY, SUSTAINABLE LIGHTING, INSTALLATIONS & PRODUCT DESIGN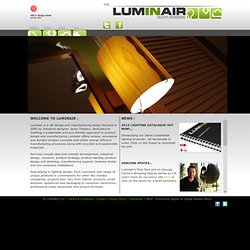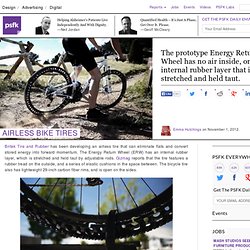 Airless Bike Tires Mean Cyclists Will Never Get A Flat Again
Britek Tire and Rubber has been developing an airless tire that can eliminate flats and convert stored energy into forward momentum. The Energy Return Wheel (ERW) has an internal rubber layer, which is stretched and held taut by adjustable rods. Gizmag reports that the tire features a rubber tread on the outside, and a series of elastic cushions in the space between.
visualism | design & direction
The 20 Most Popular Homes in Dwell
The 22 Best Maps of the Year - Design
Over at TreeHugger, a curated collection of the best maps they saw all year: Maps. They make everything a little bit better.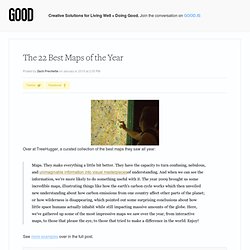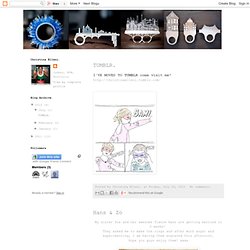 Christina Elleni.
So in between working days and staying up waaaaay too late at night (re) reading The Hunger Games Trilogy (I'm so scared for Peeta even though I've read the books before!), I managed to pull myself together and get some creative work done! Well.... Zab came over today to eat mangoes, lollies and De'lights (ok so Zab ate half a mango and I ate EVERYTHING else) ...and to take some photos for my Etsy store!
Christina Elleni.'s Photostream
March 23, 2014 January 13, 2014 CATEGORIES: (0) Comments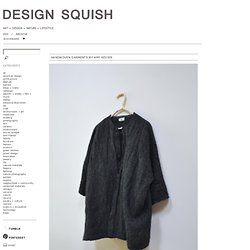 Design Squish Blog: SUMMER FLOWERS - botanic illustration, flowers, nature, sustainable lifestyle, do-it-yourself, creative environmental options, craft, organics, gardening, planting, flower pots, reusing, old and vintage, nature, environmental news, rec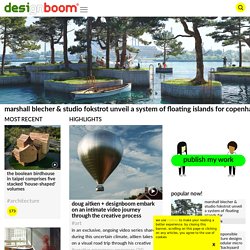 apr 04, 2014 WATCH: naoto fukasawa elaborates on the company's attention to craftsmanship, and his own approach to » 0 shares last week designboom attended the inaugural mextropoli architecture festival in mexico city.
As you may or may not know, The Best Part is celebrating its 3rd anniversary of finding and publishing the best of art + design on the web. It's been an amazing experience, I've met or spoken to some of the most incredible artists in the world and learned a ton in the process. The numbers continue to grow, and my readers have been incredibly loyal. You guys really are a testament to how far this blog has come in the last three years. If you have any doubts of the intelligence of the blogosphere and its readers, simply go through my Twitter followers' list sometime and you'll see what I mean.
The Best Part - A Daily Art and Design Blog