Freelance this shit
Synonym Finder » Find synonyms, antonyms & definition for (almost) any word
Naomi Klein - The Shock Doctrine - Part 1 of 6
How Can I Get Paid to Travel - Travel Writing Tips | The Lost Girls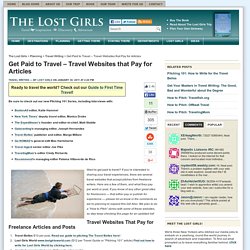 Travel Writing — By Lost Girls on January 30, 2011 at 2:20 pm Be sure to check out our new Pitching 101 Series, including interviews with: BootsnAll editor, Katie HammelNew York Times' deputy travel editor, Monica DrakeThe Expeditioner's founder and editor-in-chief, Matt StabileGalavanting's managing editor, Joseph HernandezTravel Belles' publisher and editor, Margo MillureGo NOMAD's general edit Max HartshorneTravel Agent senior editor Joe PikeTravelingMom's editor Cindy RichardsRecommend's managing editor Paloma Villaverde de Rico Want to get paid to travel? If you're interested in sharing your travel experiences, there are several travel websites that accept pitches from freelance writers.
It's only an appendix to a richly practical and inspiring book, but it certainly got my attention. I'm referring to Jeff VanderMeer's . What does novelist and nonfiction author VanderMeer have to say in the appendix he named "How to Write a Novel in Two Months"? After laboring on my first novel for a couple of long years (not counting the year-long journal I kept a few years previously that I mined heavily, nor the notes gathered over years in my writer's notebook that I was now able to use, and certainly not counting the very long time to sell the book), I wondered if it would be possible to write a novel more efficiently.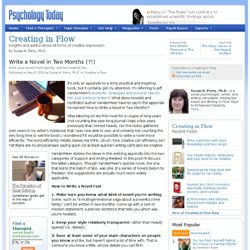 Write a Novel in Two Months (?!)
Section I - Useful Phrases
Since 1907, United Press International (UPI) has been a leading provider of critical information to media outlets, businesses, governments and researchers worldwide. UPI is a global operation with offices in Beirut, Hong Kong, London, Santiago, Seoul and Tokyo. Our headquarters is located in downtown Washington, DC, surrounded by major international policy-making governmental and non-governmental organizations. UPI licenses content directly to print outlets, online media and institutions of all types.
About United Press International | About UPI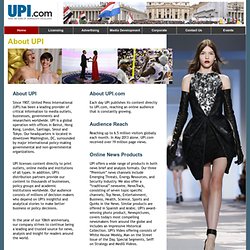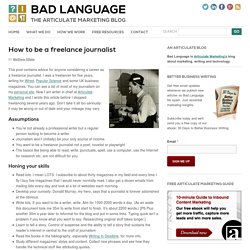 Freelance journalist: start a career in journalism
This post contains advice for anyone considering a career as a freelance journalist. I was a freelancer for five years, writing for Wired, Popular Science and some UK business magazines. You can see a list of most of my journalism on my personal site. Now I am writer in chief at Articulate Marketing and I wrote this article before I stopped freelancing several years ago. Don't take it all too seriously: it may be wrong or out of date and your mileage may vary.
Journalist Directory | Freelance Journalist Directory
IJNet | A World of Opportunities in News Media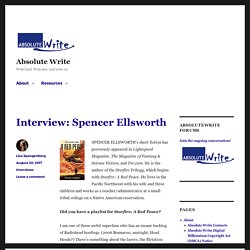 Absolute Write
Guest Post by Francesca StaAna Wondering why your articles aren't getting a lot of views or clicks? Stressing about the fact that you're not getting enough repeat clients? You might be committing these deadly freelance writing mistakes: Silence (Not following up) – Contrary to what some might think, just because a prospect doesn't immediately respond to your first call or email, it doesn't necessarily mean that they're not interested.
Pew Research Center for the People & the Press
The New Yorker
Reporters Sans Fronti?res
The Seven Myths of Being a Travel Writer By Tim Leffel Updated 2013 A few weeks ago I received an interesting piece of mail. It said, "Launch your dream career as a travel writer today and get paid to travel the world."
The Seven Myths of Being a Travel Writer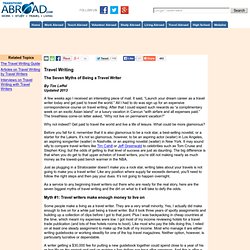 Balboa Island, Newport Beach, CA|Lanora S. Mueller Becoming a travel writer takes a bit more than the ability to string sentences together. It also requires a fair amount of chutzpah and a strong ego to support the notion that there is room for one more point of view in an already crowded market. For a writer breaking into this arena, it might seem already full to capacity of folks who have been writing about their travels since long before airlines stopped serving complimentary hot meals in domestic coach. The times are changing, however, with the advent of Web 2.0 social networks and newly accessible self-publishing options.
Getting Started as a Freelance Travel Journalist: Career Helps and Support for Aspiring Travel Writers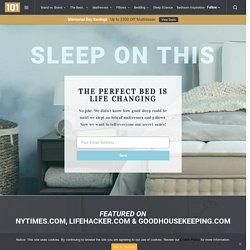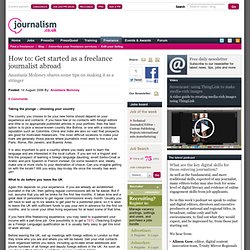 Taking the plunge – choosing your country The country you choose to be your new home should depend on your experience and contacts. If you have few or no contacts with foreign editors and little or no appropriate published articles in your portfolio, then the best option is to pick a lesser-known country like Bolivia, or one with a notorious reputation such as Colombia. China and India are also so vast that prospects are good for motivated freelancers.
How to: Get started as a freelance journalist abroad