Web 2.0
Opt out of global data surveillance programs like PRISM, XKeyscore, and Tempora - PRISM Break - PRISM Break. Cleverlize - Mobile Learning made by YOU. Fundación Telefónica - Curalia: Red educativa de selección, curación y compartición de contenidos. Fundación Telefónica - Curalia: Red educativa de selección, curación y compartición de contenidos. Herramientas 2.0 » XarxaTIC.
Cada vez hay más herramientas disponibles para el uso por parte de docentes y alumnos, además de existir numerosísimos sitios en la red donde existen excelentes repositorios de las mismas.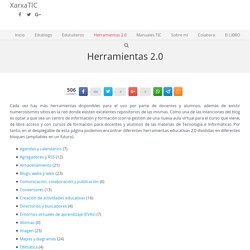 Como una de las intenciones del blog es optar a que sea un centro de información y formación (con la gestión de una nueva aula virtual para el curso que viene, de libre acceso y con cursos de formación para docentes y alumnos de las materias de Tecnología e Informática). Por tanto, en el desplegable de esta página podemos encontrar diferentes herramientas educativas 2.0 divididas en diferentes bloques (ampliables en un futuro). Agradecería también, contar con vuestra aportación de nuevas herramientas y, si pudieráis hacérmelas llegar en el mismo formato que se ha utilizado en este repositorio:
Sharable Content Object Reference Model. SCORM is a specification of the Advanced Distributed Learning (ADL) Initiative, which comes out of the Office of the United States Secretary of Defense.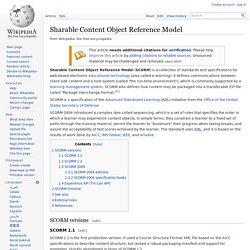 SCORM versions[edit] SCORM 1.1[edit] SCORM 1.1 is the first production version. It used a Course Structure Format XML file based on the AICC specifications to describe content structure, but lacked a robust packaging manifest and support for metadata. Quickly abandoned in favor of SCORM 1.2. Blog2Print - Print your Blog. Save your Blog. Love your Blog Book.
Login trouble?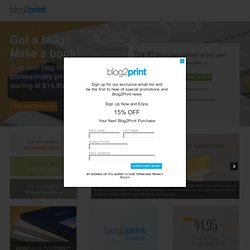 The Blog2Print platform makes use of data fed to us directly from WordPress. Your login information is required by WordPress in order to send us the data. If you are having difficulty logging in, or have forgotten your user name and/or password, the WordPress site is the best place to retrieve it. PRESENTACIONES Web 2.0. Actualmente existen distintos sitios Web2.0 que nos permiten compartir presentaciones y todo tipo de documentos ofimáticos en diferentes formatos.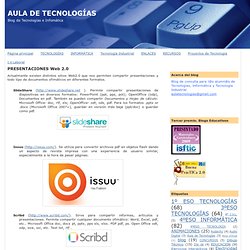 SlideShare ( ). Permite compartir presentaciones de diapositivas en diversos formatos: PowerPoint (ppt, pps, pot); OpenOffice (odp), Documentos en pdf. También se pueden compartir Documentos y Hojas de cálculo: Microsoft Office- doc, rtf, xls; OpenOffice- odt, ods, pdf. Download Mockups.
Create interactive charts and infographics - Infogr.am. F | Annotated Items. Trabajo en colaboración apoyado en la red. : ITE eXe: Lista de ficheros. Project Filelist Below is a list of all files of the project.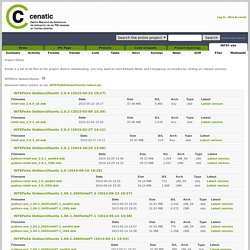 Before downloading, you may want to read Release Notes and ChangeLog (accessible by clicking on release version). INTEFeXe Debian/Ubuntu Download latest release as zip: INTEFeXeDebianUbuntu-latest.zip INTEFeXe Debian/Ubuntu 1.04.1.3605intef7.2 (2013-09-23 19:27) Web 2.0 Tools for Schools. Home - Mahara.
---