Web 2.0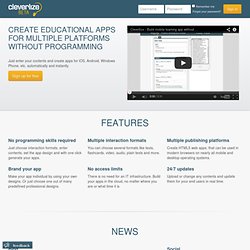 Akademie für Start-Ups in München "Im September ziehen erstmals Gründer nach München. Mit dabei ist Lukas Steinbacher. Der 31-jährige Österreicher hat gemeinsam mit seinem 28-jährigen vietnamesischen Partner An Tran eine Software entwickelt, mit der Lehrer, Professoren oder Trainer Lern-Apps für Smartphones erstellen können - ganz ohne Programmierkenntnisse, sagt Steinbacher. "Wir wollen es so einfach wie möglich machen, damit jeder sein Unterrichtsmaterial auf mobile Geräte übertragen kann.""
Fundación Telefónica - Curalia: Red educativa de selección, curación y compartición de contenidos
Laboratorios de investigación educativa y competencias del S. XXI. Espacio de Fundación Telefónica en el que se desarrollan y validan propuestas didácticas que promueven la adquisición de CS21, implicando, de modo efectivo, al alumnado en su propio aprendizaje. Permite, de forma transparente, realizar un seguimiento de las actividades de las aulas innovadoras y del trabajo de sus docentes, evaluando y cuantificando los resultados obtenidos en colaboración con agentes académicos externos al proyecto. El fin último es poder adaptar y adoptar la innovación aplicada por cualquier docente en su propia aula.
Fundación Telefónica - Curalia: Red educativa de selección, curación y compartición de contenidos
Cada vez hay más herramientas disponibles para el uso por parte de docentes y alumnos, además de existir numerosísimos sitios en la red donde existen excelentes repositorios de las mismas. Como una de las intenciones del blog es optar a que sea un centro de información y formación (con la gestión de una nueva aula virtual para el curso que viene, de libre acceso y con cursos de formación para docentes y alumnos de las materias de Tecnología e Informática). Por tanto, en el desplegable de esta página podemos encontrar diferentes herramientas educativas 2.0 divididas en diferentes bloques (ampliables en un futuro). Agradecería también, contar con vuestra aportación de nuevas herramientas y, si pudieráis hacérmelas llegar en el mismo formato que se ha utilizado en este repositorio: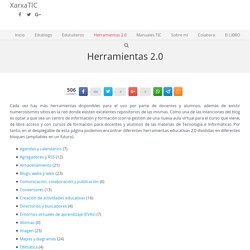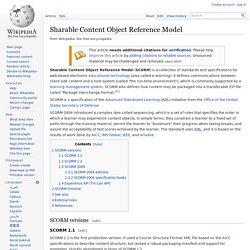 SCORM is a specification of the Advanced Distributed Learning (ADL) Initiative, which comes out of the Office of the United States Secretary of Defense. SCORM versions[edit] SCORM 1.1[edit] SCORM 1.1 is the first production version. It used a Course Structure Format XML file based on the AICC specifications to describe content structure, but lacked a robust packaging manifest and support for metadata. Quickly abandoned in favor of SCORM 1.2.
Login trouble? The Blog2Print platform makes use of data fed to us directly from WordPress. Your login information is required by WordPress in order to send us the data. If you are having difficulty logging in, or have forgotten your user name and/or password, the WordPress site is the best place to retrieve it.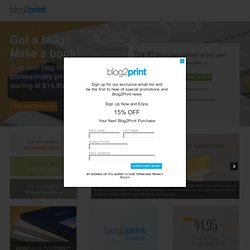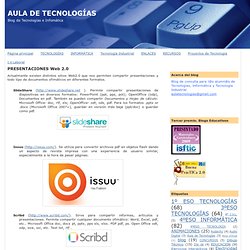 PRESENTACIONES Web 2.0
Actualmente existen distintos sitios Web2.0 que nos permiten compartir presentaciones y todo tipo de documentos ofimáticos en diferentes formatos. SlideShare (http://www.slideshare.net ). Permite compartir presentaciones de diapositivas en diversos formatos: PowerPoint (ppt, pps, pot); OpenOffice (odp), Documentos en pdf. También se pueden compartir Documentos y Hojas de cálculo: Microsoft Office- doc, rtf, xls; OpenOffice- odt, ods, pdf.
f | Annotated Items
Trabajo en colaboración apoyado en la red
: ITE eXe: Lista de ficheros
Web 2.0 Tools for Schools
Mahara is a fully featured web application to build your electronic portfolio. You can create blogs, upload files, embed third-party resources from the web and collaborate with other users in groups. This site runs Mahara 1.9, which was released in April 2014. Please refer to the Mahara user manual to learn more about the Mahara features and how it works. This site will reset itself once a day at 7 a.m. GMT