Web 2.0
Fundación Telefónica - Curalia: Red educativa de selección, curación y compartición de contenidos
Fundación Telefónica - Curalia: Red educativa de selección, curación y compartición de contenidos
Cada vez hay más herramientas disponibles para el uso por parte de docentes y alumnos, además de existir numerosísimos sitios en la red donde existen excelentes repositorios de las mismas.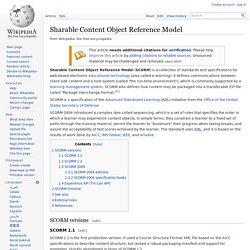 Sharable Content Object Reference Model ( SCORM ) is a collection of standards and specifications for web-based e-learning . It defines communications between client side content and a host system called the run-time environment, which is commonly supported by a learning management system .
Why do you ask for my TypePad User Name and Password?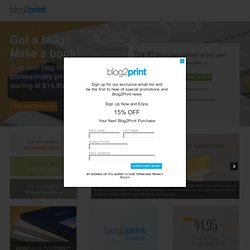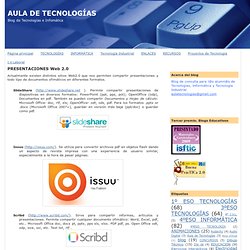 PRESENTACIONES Web 2.0
Actualmente existen distintos sitios Web2.0 que nos permiten compartir presentaciones y todo tipo de documentos ofimáticos en diferentes formatos.
Trabajo en colaboración apoyado en la red
: ITE eXe: Lista de ficheros
Web 2.0 Tools for Schools