Web 2.0
Fundación Telefónica - Curalia: Red educativa de selección, curación y compartición de contenidos
Fundación Telefónica - Curalia: Red educativa de selección, curación y compartición de contenidos
Cada vez hay más herramientas disponibles para el uso por parte de docentes y alumnos, además de existir numerosísimos sitios en la red donde existen excelentes repositorios de las mismas.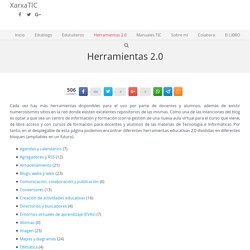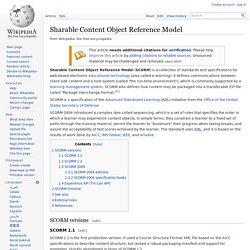 SCORM is a specification of the Advanced Distributed Learning (ADL) Initiative, which comes out of the Office of the United States Secretary of Defense. SCORM versions[edit]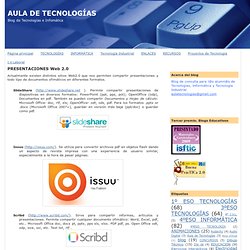 PRESENTACIONES Web 2.0
Actualmente existen distintos sitios Web2.0 que nos permiten compartir presentaciones y todo tipo de documentos ofimáticos en diferentes formatos.
Download Mockups
Trabajo en colaboración apoyado en la red
: ITE eXe: Lista de ficheros
Web 2.0 Tools for Schools