Foods
Facial Exercises. Image by mod as hell via FlickrFacial exercises promote a smooth and wrinkle free skin.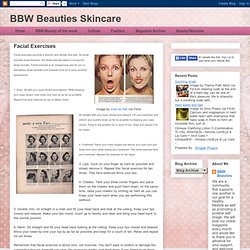 As facial muscles loose firmness, the facial exercise helps in toning the facial muscles. Facial exercise is an inexpensive way for you to strengthen facial muscles and increase tone for a more youthful appearance.1. Eyes: Sit with your eyes closed and relaxed. Nothing Is Impossible - What do you think of GM's diet? Google. The Vanilla Tulip: Cilantro Garlic Ranch and Fried Pickles. Y'all are in for a treat today!!!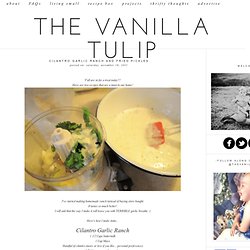 Here are two recipes that are a must in our home! I've started making homemade ranch instead of buying store bought. Cinco De Mayo. Avocado Hummus. This avocado hummus is delicious.
And I know I say that a lot, but I really rilly like this one. It's a good one! In other related news, why are avocados so expensive? I get that they're delicious, buttery, fatty (in a healthy way!) , pretty, and again, delicious. Margarita Cupcakes (From Scratch) The #3 and #4 most popular recipes on this site both came out of a box: Margarita Cupcakes and Pink Lemonade Cupcakes.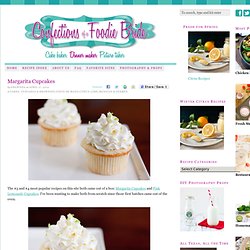 I've been wanting to make both from scratch since those first batches came out of the oven. The original Margarita Cupcakes used a boxed white cake mix mixed with a homemade margarita and were topped with an American-style buttercream. To make the scratch Margarita Cupcakes fresher, I nixed the box and used Martha Stewart's lemon cupcake recipe, swapping the lemon with lime. I topped the cupcakes with Martha's perfectly fluffy Swiss Meringue Buttercream and spiked it with fresh lime juice and tequila. Margarita Cupcakes. Happy Cinco de Mayo!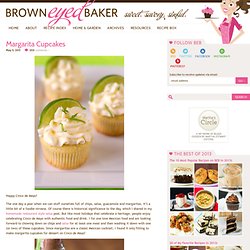 The one day a year when we can stuff ourselves full of chips, salsa, guacamole and margaritas. It's a little bit of a foodie nirvana. Stay hungry, my friends. Margarita Cupcakes. Copy Cat Recipe – Chipotle's Guacamole. Please note the triangle -- I accidently included a clove of garlic in the picture which is NOT in the recipe...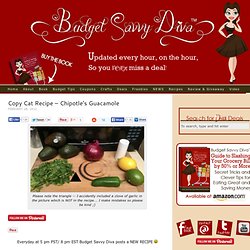 I make mistakes so please be kind ;) Everyday at 5 pm PST/ 8 pm EST Budget Savvy Diva posts a NEW RECIPE Make sure to follow Budget Savvy Diva on Facebook If you like this recipe then PIN IT on Pinterest. Strawberry Cupcake Recipe. Happy Monday!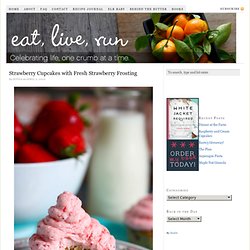 It was a rainy, wet and windy weekend around here but I spent it all inside the nice toasty yoga studio, knocking out another 15 hours of teacher training. Friends that are thinking of becoming certified: it's so much fun but SO time consuming! Be ready to be glued to your mat for six months. Bonus! Cupcake23recipesmall.jpg (JPEG Image, 800 × 400 pixels) No-Bake Thin Mint Cookie Truffles Recipe. Well, I am happy to announce that I found a Girl Scout in my area and my Girl Scout Cookie order is in!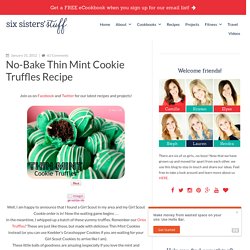 Now the waiting game begins . . . In the meantime, I whipped up a batch of these yummy truffles. How to Make Marshmallow Fondant. This time I decided to make it with those mini fruit flavored marshmallows.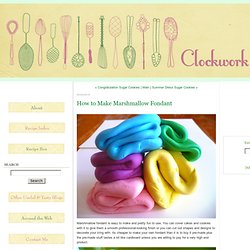 I had to sort them by colour first. I figured they would add a little bit of flavor to the fondant so I wouldn't have to add much flavoring oil. I use gel colours to dye my fondant but regular food colouring will work too. You won't be able to get really dark colours without making your fondant sticky, but for lighter colours you can just even it out with more icing sugar. Feast Your Eyes on…Flavored Water!
I've always liked drinking my water with a slice or two of lemon–that extra little touch of flavor just makes water more appealing to me.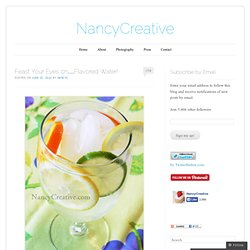 There are a lot of other ways you can flavor water naturally. You can get really creative with it!
---