Apéro
Spinach Pouch. I have been experiencing a publishing backlog lately because my ability to cook and take pictures is a lot faster than my ability to post and publish them.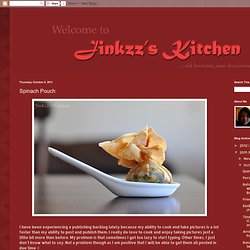 I really do love to cook and enjoy taking pictures just a little bit more than before. My problem is that sometimes I get too lazy to start typing. Other times, I just don't know what to say. Not a problem though as I am positive that I will be able to get them all posted in due time :) Fried Mozzarella Balls with Quick Tomato Sauce. I have been wanting to make those for quite a while, but since I don't like deep frying food at home, I kept postponing it.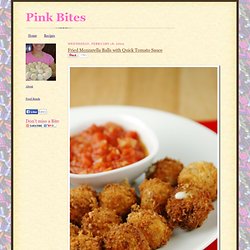 I finally made it, and my first thought was "why haven't I made this before? ". They taste great, look cute and it's a perfect party snack. Think of it as an elegant version of cheese sticks. Raspberry-Mango Sangria. Party Recipe: Bacon-Wrapped Potato Bites with Spicy Sour Cream Dipping Sauce Recipes from The Kitchn. If you can find tiny new potatoes, those would be even more aesthetically precious.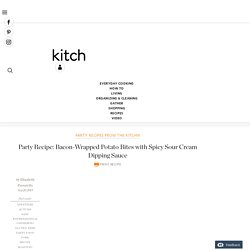 But chunks work fine, too. Just be sure to dice the potatoes smaller than you might think. Guacamole (Best) Jul 04 2008 **Happy 4th of July everyone (in the USA)!!!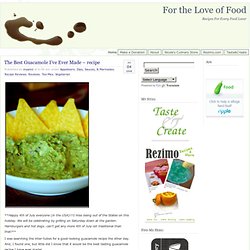 I miss being out of the States on this holiday. We will be celebrating by grilling on Saturday down at the garden. Hamburgers and hot dogs…can't get any more 4th of July-ish traditional than that! Fried Mozzarella Balls with Quick Tomato Sauce. Easy Parmesan Knots. This recipe will got great with the Mama Mia's Minestrone from yesterday or any other great Italian meal.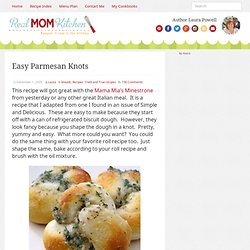 It is a recipe that I adapted from one I found in an issue of Simple and Delicious. These are easy to make because they start off with a can of refrigerated biscuit dough. However, they look fancy because you shape the dough in a knot. Pretty, yummy and easy. What more could you want? Buffalo Chicken Bites. Buffalo Chicken Bites We continue onto Week 4 of College Football, which means another delicious Football bite!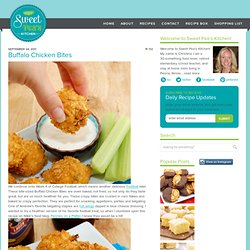 These bite-sized Buffalo Chicken Bites are oven baked, not fried, so not only do they taste great, but are so much healthier for you. These crispy bites are crusted in corn flakes and baked to crispy perfection. They are perfect for snacking, appetizers, parties and tailgating. One of Andrew's favorite tailgating staples are hot wings dipped in blue cheese dressing.
---