Personal Development
Health, Food, and Fitness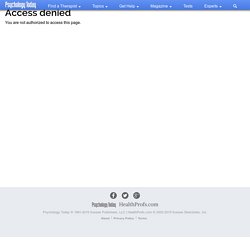 By It usually takes us much longer to change our moods than we'd like it to take. Here are ten things you can do in ten minutes or less that will have a positive emotional effect on you and those you love.
100 Ways to Unchain - Unchain Your Lifestyle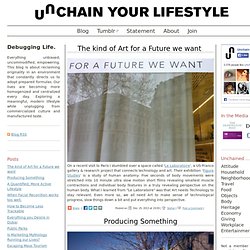 Dubai Mall BillboardIt's getting dark outside Dubai Mall, the biggest and most luxurious shopping center of the world sporting attractions such as a full size ice rink, record breaking fountains, the world's tallest building or an aquarium holding sharks. Visitors of all colors, cultures and religions are carrying their shopping bags, resting or having a final bite as the day comes to a close. Luxury seems to be a human right in Dubai and almost everywhere you look in the city there is some sign of glamour: the brass entrance, doormen, marble floor, swimming pools, large SUVs, deep-freezing air condition. Dubai has established itself as a beacon of opportunity in the middle east and beyond.
Savage Love by Dan Savage - Columns - Savage Love - Dan Savage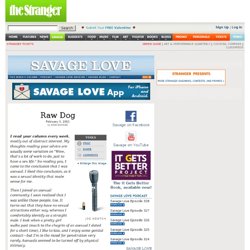 February 3, 2011 By Dan Savage I read your column every week , mostly out of abstract interest. My thoughts reading your advice are usually some variation on "Wow, that's a lot of work to do, just to have a sex life." So reading you, I came to the conclusion that I was asexual. I liked this conclusion, as it was a sexual identity that made sense for me.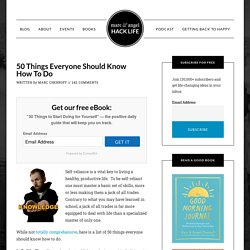 Email Self-reliance is a vital key to living a healthy, productive life. To be self-reliant one must master a basic set of skills, more or less making them a jack of all trades. Contrary to what you may have learned in school, a jack of all trades is far more equipped to deal with life than a specialized master of only one. While not totally comprehensive
post written by: Marc Chernoff Email Dale Carnegie once said, "It isn't what you have, or who you are, or where you are, or what you are doing that makes you happy or unhappy.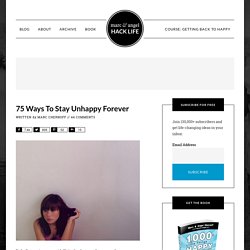 "I sustain myself with the love of family." ―Maya Angelou Last night, an old friend from high school – a hometown success story and entrepreneur who owns and operates a large publicly traded company – a man whom I have a great deal of respect for – came over to our home for dinner.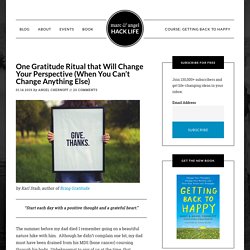 Email Somewhere Else During my competitive cross-country running days it wasn't uncommon for me to run five miles at 5AM and another ten miles at 10PM, six days a week. I was competitive.
Why We Are Weird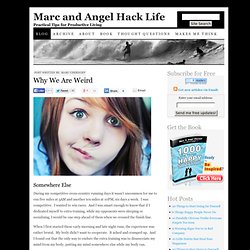 Welcome to the new homepage! To the right you can see links to the iTunes subscription page (click the logo image), the direct RSS feed, latest posts, and the archives. Soon to be added will be links to all the blog authors and their profiles along with a donation button. Please don?
Unsolicited Therapy | Therapy for the hosts, the guests, and the listeners