Research interests
"Code is not as complicated as you think, so go get started!" I disagree. It really depends what you're learning. CSS and Objective-C/C++ are in completely different leagues (and categories, actually, but they both count as "code"). Getting started is the hardest part.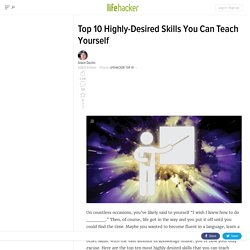 Milwaukee — Digital natives? The idea that students are superengaged finders of online learning materials once struck Glenda Morgan, e-learning strategist at the University of Illinois at Urbana-Champaign, as "a load of hooey." Students, she figured, probably stick with the textbooks and other content they're assigned in class. Not quite.
'Free-Range Learners': Study Opens Window Into How Students Hunt for Educational Content Online - Wired Campus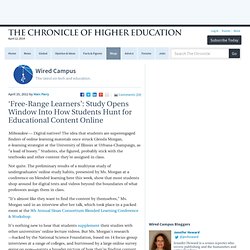 First Monday is one of the first openly accessible, peer–reviewed journals on the Internet, solely devoted to the Internet. Since its start in May 1996, First Monday has published 1,361 papers in 215 issues; these papers were written by 1,850 different authors. First Monday is indexed in Communication Abstracts, Computer & Communications Security Abstracts, DoIS, eGranary Digital Library, INSPEC, Information Science & Technology Abstracts, LISA, PAIS, and other services. Announcements A Great Cities Initiative of the University of Illinois at Chicago University Library.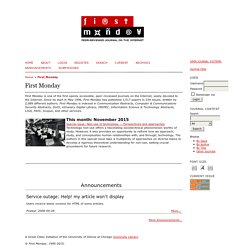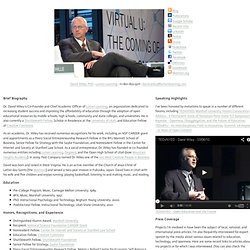 davidwiley.org
Brief Biography Dr. David Wiley is Co-Founder and Chief Academic Officer of Lumen Learning, an organization dedicated to increasing student success and improving the affordability of education through the adoption of open educational resources by middle schools, high schools, community and state colleges, and universities. He is also currently a Shuttleworth Fellow, Scholar in Residence at the University of Utah, and Education Fellow at Creative Commons. As an academic, Dr. Wiley has received numerous recognitions for his work, including an NSF CAREER grant and appointments as a Peery Social Entrepreneurship Research Fellow in the BYU Marriott School of Business, Senior Fellow for Strategy with the Saylor Foundation, and Nonresident Fellow in the Center for Internet and Society at Stanford Law School.
9-minute video explaining what open access is about Open access logo, originally designed by Public Library of Science. Whilst no official open access logo exists, organisations are free to select the logo style that best supports their visual language. Other logos are also in use.[1] On the occasion of the tenth anniversary of the Budapest Open Access Initiative in 2012, Peter Suber is interviewed about his views on past, present and future developments in open access to scholarly publications. Open access (OA) means unrestricted online access to peer-reviewed scholarly research.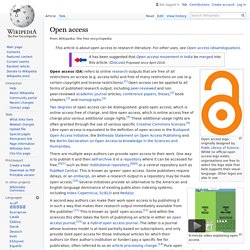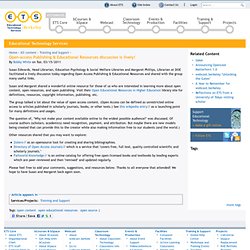 Open-access Publishing & Educational Resources discussion is lively! | Educational Technology Services
Susan Edwards, Head Librarian, Education Psychology & Social Welfare Libraries and Margaret Phillips, Librarian at DOE facilitated a lively discussion today regarding Open Access Publishing & Educational Resources and shared with the group many useful links. Susan and Margaret shared a wonderful online resource for those of us who are interested in learning more about open content, open resources, and open publishing. Visit their Open Educational Resources in Higher Education library site for definitions, resources, copyright information, publishing, etc. The group talked a lot about the value of open access content.
Silicon Valley veteran pulls in record-breaking venture capital for Ivy League-caliber online college
Posted: 05/02/2012 10:35:42 PM PDT0 Comments|Updated: about a year ago Congratulations! You found a link we goofed up on, and as a result you're here, on the article-not-found page. That said, if you happened to be looking for our daily celebrity photo gallery, you're in luck: Also, if you happened to be looking for our photo gallery of our best reader-submitted images, you're in luck: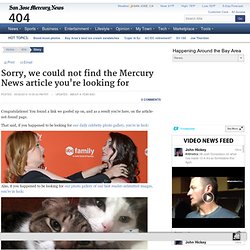 Go With The Flow
According to Mihaly Csikszentmihalyi, great Web sites are not about navigating content, but staging experience. A compelling Web site transforms a random walk into an exhilarating chase. The key, says psychologist Mihaly Csikszentmihalyi, is a finely tuned sense of rhythm, involvement, and anticipation known as "flow." Csikszentmihalyi (pronounced "CHICK-sent-me-high-ee"), a professor at the University of Chicago, has spent more than 25 years researching flow, a state of "intense emotional involvement" and timelessness that comes from immersive and challenging activities such as software coding or rock climbing.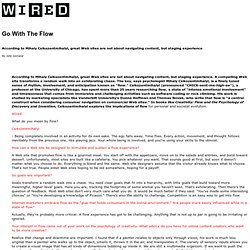 Sometimes an idea is so blindingly, obviously good that you have to wonder why it hasn't already been implemented. A few years ago, the National Institutes of Health (NIH) had an idea like that. Why not create a free, public, online archive of findings from research studies that were funded by Americans' tax dollars? That way, members of the public could keep up to date on the latest health findings by reading about discoveries that they paid for and would otherwise be unable to access. To ensure academic publishers could recoup any investment made by publishing research in traditional print journals, scientists could wait 12 months before making the research available to the public, but no more.
Putting the "Public" In Publicly-Funded Research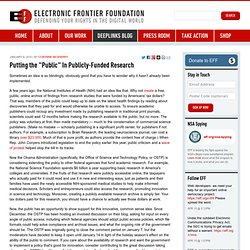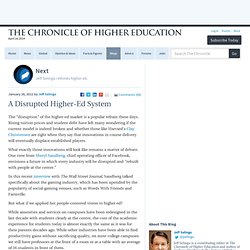 The "disruption" of the higher-ed market is a popular refrain these days. Rising tuition prices and student debt have left many wondering if the current model is indeed broken and whether those like Harvard's Clay Christensen are right when they say that innovations in course delivery will eventually displace established players. What exactly those innovations will look like remains a matter of debate.
A Disrupted Higher-Ed System - Next
In Silicon Valley, one often hears the question, "Does it scale?" What a technologist means by this is: How can a specific technological innovation be applied in a broad manner to affect a wide range of people? If Google only searched two websites it wouldn't be terribly useful. But because Google scaled effectively to search the entire Internet, it became extremely engaging. Technologists wonder the same thing about education.
Alex Peake's "Code Hero": How To Scale Education The Right Way
Considering College During a Recession? Think Again.
Culture Teaching Strategies Flickr:BradleyGee "I'm going back to school."
Home / Newsroom / Adult Degree Completion Strategies, 2010 to 2014: Grantee Abstracts National or Multi-state Focus American Association of Community Colleges (AACC), Washington, DC. Launched in 2008, the Plus 50 Initiative managed by the AACC is a three-year pilot supported by a grant from The Atlantic Philanthropies. Thirteen pilot community colleges, eight affiliate colleges, and peer-to-peer outreach between 23 colleges have developed or expanded at least two of three types of programs that engage learners 50+ years of age: workforce training, learning/enrichment, and volunteering/civic service.
Adult Degree Completion Strategies, 2010 to 2014: Grantee Abstracts – Lumina Foundation
Wars have been fought in pursuit of it. Humans have been killed in its name. We have struggled because of it. It has been the object of our desires for millennia.
Like Peter Thiel's Fellows, Sebastian Thrun Dropped Out, Hacked Education, Too
By Nick DeSantis Harsh economic realities mean trouble for college leaders. But where administrators perceive an impending crisis, investors increasingly see opportunity.
A Boom Time for Education Start-Ups - Technology
Evidence Framework | Office of Educational Technology
What's On the Horizon in Higher Education
Buck Goldstein: Academia at a Crossroads -- Can Our Great Universities Lead in a Time of Need
Venture Capital in Education: New Technology and New Solutions
Youth and Digital Media: From Credibility to Information Quality by Urs Gasser, Sandra Cortesi, Momin Malik, Ashley Lee