School
Personal Goal Setting - Goal Setting Tools from MindTools. Planning to Live Your Life Your Way Set powerful goals with James Manktelow & Amy Carlson.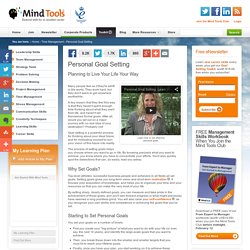 Many people feel as if they're adrift in the world. They work hard, but they don't seem to get anywhere worthwhile. Flashcard Machine - Create, Study and Share Online Flash Cards. Simple free learning tools for students and teachers | Quizlet. New Version of Blooms Taxonomy for iPad. Blooms Taxonomy is one of our topical themes in Educational Technology and Mobile Learning.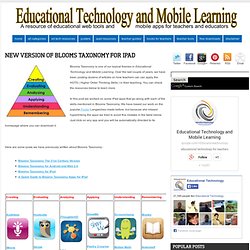 Over the last couple of years, we have been posting dozens of articles on how teachers can can apply the HOTS ( Higher Order Thinking Skills ) in their teaching. You can check the resources below to learn more. In this post we worked on some iPad apps that go along with each of the skills mentioned in Blooms Taxonomy. We have based our work on the popular Poster Langwiches made before but because she missed hyperlinking the apps we tried to avoid this mistake in the table below. Just click on any app and you will be automatically directed to its homepage where you can download it. Parent Communication Log. A List of Character Traits - Mrs. R. Teaching Digitally - Brisbane - Books a teenage boy should read. Sean Power by SEAN POWER As a young fella, no matter how much my Mum tried to convince me, reading just wasn't cool.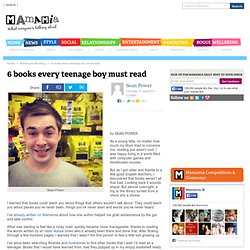 I was happy living in a world filled with computer games and blockbuster-movies. But as I got older and thanks to a few good English teachers, I discovered that books weren't all that bad. Looking back it sounds stupid. 2012 Conference, islPAL Conference, islPAL International Society on Leadership in Pedagogies and Learning. IslPAL International Society for Leadership in Pedagogies and Learning Inc.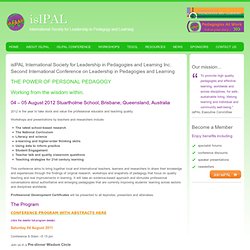 Second International Conference on Leadership in Pedagogies and Learning 04 – 05 August 2012 Stuartholme School, Brisbane, Queensland, Australia. Welcome to the ACARA update | Acara update. The Australian Curriculum, Assessment and Reporting Authority (ACARA) plans to release the draft senior secondary Australian Curriculum in 14 subjects for English, Mathematics, Science and History for public consultation from late April to early July 2012.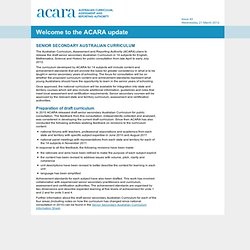 The curriculum developed by ACARA for 14 subjects will include content and achievement standards that will provide the basis for greater consistency in what is to be taught in senior secondary years of schooling. The focus for consultation will be on whether the proposed curriculum content and achievement standards represent what young Australians should have the opportunity to learn in the senior years of schooling. Once approved, the national curriculum will be available for integration into state and territory courses which will also include additional information, guidelines and rules that meet local assessment and certification requirements.
Quality Assessment design - Building an assessment design community [Qld Studies Authority] - (Private Browsing) School profile | ACARA. My School enables you to search detailed profiles of Australian schools simply by entering a school's name, suburb or postcode.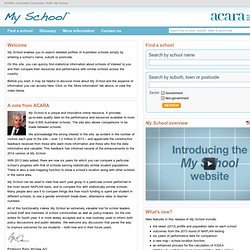 On this site, you can quickly find statistical information about schools of interest to you and then compare their resources and performance with similar schools across the country. Before you start, it may be helpful to discover more about My School and the expanse of information you can access here. Click on the 'More information' tab above, or view the video below. My School is a unique and innovative online resource. It provides up-to-date quality data on the performance and resources available to more than 9,500 Australian schools. Home - (Private Browsing) Home - (Private Browsing) Renewal of Registration - (Private Browsing) The QCT has developed the Continuing Professional Development Framework, the purpose of which is to recognise the importance of teacher engagement in continued professional development and to outline the expectations for renewal of registration.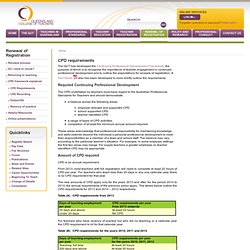 A Fact Sheet also has been developed to more briefly outline the requirements. Required Continuing Professional Development The CPD undertaken by teachers must have regard to the Australian Professional Standards for Teachers and should demonstrate: Schools holidays and term dates for Queensland schools. The Department of Education, Training and Employment sets the term and school holiday dates for all Queensland state schools.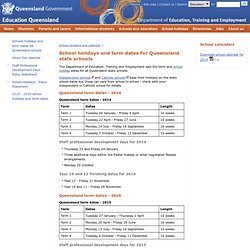 Independent schools and Catholic schools base their holidays on the state school dates but these can vary from school to school - check with your independent or Catholic school for details. ConnX.
Uni. Everything You Thought You Knew About Learning Is Wrong. Learning through osmosis didn't make the strategies list Taking notes during class?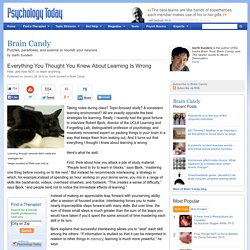 Topic-focused study? Australian School Holiday Dates and Terms 2011 2012 2013 2014 2015 by State Australian School Holidays Term Dates. Mathematics.
---