Websites on Health (Organizations)
Gaiam Life | SAVEUR.com - Authentic Recipes, Food, Drinks and Travel. Tired of Water? Read This! You already know that drinking water is key to your health.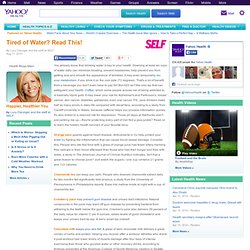 Downing at least six cups of water daily can minimize bloating, prevent headaches, help prevent you from getting sick and smooth the appearance of wrinkles. It may even temporarily rev your metabolism, if you drink it on the cool side (72 degrees). That's a lot of benefit from a beverage you don't even have to pay for! But H20 isn't the only sip that can safeguard your health. Philadelphia Magazine. Everyone Rejoice: Shoppist Says Sneakers Are Chic Shutterstock We have a web meeting every morning here at Philly Mag HQ, during which the editors of our eight (awesome, amazing) blogs get together to go over our lineups for the day ahead.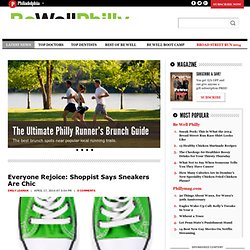 So imagine my glee when Shoppist editor Emily Goulet told the group that she was doing a post on how sneakers are the new stilettos because tennis shoes, of all things, are suddenly the hot new accessory in fashion. I think I audibly WAHOOOOED at the news. Paul Nison. MyPyramid.gov. Women's Health Magazine. Mayo Clinic medical information and tools for healthy living. Natural Products Association.
---