Research
Groups - Cosm API Documentation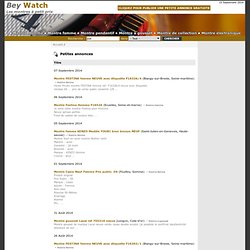 Welcome to BeyWatch
BeyWatch aims at developping an energy-aware and user-centric solution, able to provide intelligent energy monitoring/control and power demand balancing at home/building & neighbourhood level. In this purpose, the work load within BeyWatch has been logically divided in various developments which have been placed on the roadmap below. Among its outputs and along its lifetime, the BeyWatch consortium will produce a couple of public Deliverables, which can be accessed by any interested party. Click on a document title for more details and download.
Printed Sensors Could Help Save You From Spoiled Food | Gadget Lab
Whenever I pick up a package of frozen raw meat from the grocery store, I wonder, "Has this been frozen the whole time? How many times did it thaw and re-freeze?" It's a disquieting thought, especially because there's currently no easy way to tell. But it looks like the ambiguity is about to end. In partnership with PST Sensor, Thinfilm, which produces printed re-writable memory, will begin making the first fully printed temperature sensor systems to monitor perishable items like food and pharmaceuticals.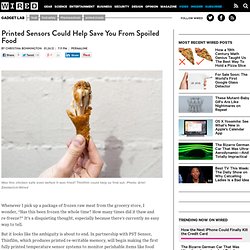 Follow us on Facebook or Twitter . Want to bridge the things in your life with the web? Maybe you want to get an alert when your friends are playing on Xbox Live, or send an SMS to your phone when someone is at your front door. Even if you're an electronics expert, or a programming prodigy, these are complex, finicky projects.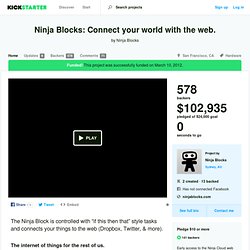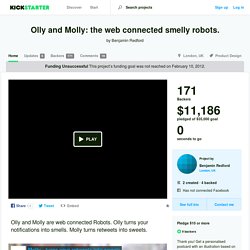 Olly and Molly: the web connected smelly robots. by Benjamin Redford
Thanks for checking out our project. With your help, we hope to get Olly and Molly out in the world! Molly is the latest addition to the Ollyfactory family.
DARPA-Funded Hacker's Tiny $50 Spy Computer Hides In Offices, Drops From Drones
Flying Drone Can Crack Wi-Fi Networks, Snoop On Cell Phones
Facebook has permeated practically every nook and cranny of the online experience. Our friends' faces appear in Facebook widgets placed on sites we visit, and "like" buttons are attached to nearly every piece of journalism we read. In fact, one's attached to the article you're reading now. Well, get ready for Facebook ubiquity to seep into the real world. A clever hardware-hacking project called LikeBelt uses near-field communication technology (NFC) to register Facebook likes as you walk down the street.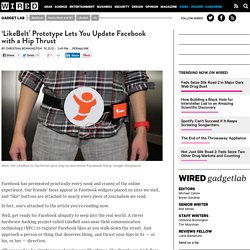 'LikeBelt' Prototype Lets You Update Facebook with a Hip Thrust | Gadget Lab
Android - a robot or a mobile OS? [shared]]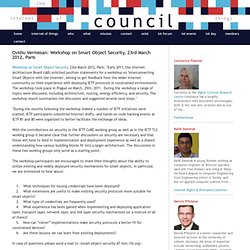 Workshop on Smart Object Security, 23rd March 2012, Paris: "Early 2011, the Internet Architecture Board (IAB) solicited position statements for a workshop on 'Interconnecting Smart Objects with the Internet', aiming to get feedback from the wider Internet community on their experience with deploying IETF protocols in constrained environments. The workshop took place in Prague on March, 25th, 2011. During the workshop a range of topics were discussed, including architecture, routing, energy efficiency, and security. The workshop report summarizes the discussion and suggested several next steps."
Ovidiu Vermesan: Workshop on Smart Object Security, 23rd March 2012, Paris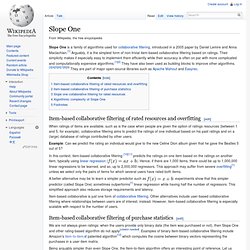 Slope One is a family of algorithms used for collaborative filtering , introduced in a 2005 paper by Daniel Lemire and Anna Maclachlan. [ 1 ] Arguably, it is the simplest form of non-trivial item-based collaborative filtering based on ratings. Their simplicity makes it especially easy to implement them efficiently while their accuracy is often on par with more complicated and computationally expensive algorithms. [ 1 ] [ 2 ] They have also been used as building blocks to improve other algorithms. [ 3 ] [ 4 ] [ 5 ] [ 6 ] [ 7 ] [ 8 ] [ edit ] Item-based collaborative filtering of rated resources and overfitting When ratings of items are available, such as is the case when people are given the option of ratings resources (between 1 and 5, for example), collaborative filtering aims to predict the ratings of one individual based on his past ratings and on a (large) database of ratings contributed by other users.
Slope One
Nanode and Pachube for the rest of us. | CalmDownPony
The Electronic Product Code ( EPC ) is designed as a universal identifier that provides a unique identity for every physical object anywhere in the world, for all time.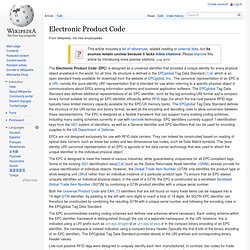 Electronic Product Code
Auto-ID Labs: Auto-ID Labs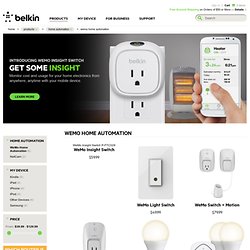 Did I turn it off? I must have turned it off. Did I go back in the bathroom after grabbing my coffee? There is no way I would forget that.
Anatomy of a Smart City Full
Best IoT Open Source Project 2011
nimbits.com