SPACE, NASA & ASTRONOMY
CST.jpg (1056×638)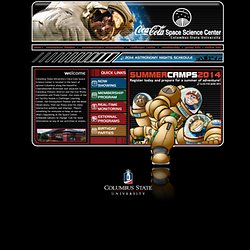 Columbus State University's Coca-Cola Space Science Center is located in the heart of uptown Columbus along the beautiful Chattahoochee Riverwalk and adjacent to the Columbus Historic District and the Iron Works Convention and Trade Center. Our state of the art facility houses a Challenger Learning Center, the Omnisphere Theater and the Mead Observatory. Visit our Plaza area for many interactive exhibits and displays.
Coca-Cola Space Science Center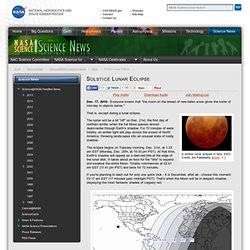 Solstice Lunar Eclipse
Solstice Lunar Eclipse Dec. 17, 2010: Everyone knows that "the moon on the breast of new-fallen snow gives the luster of mid-day to objects below." That is, except during a lunar eclipse. The luster will be a bit "off" on Dec. 21st, the first day of northern winter, when the full Moon passes almost dead-center through Earth's shadow. For 72 minutes of eerie totality, an amber light will play across the snows of North America, throwing landscapes into an unusual state of ruddy shadow.
- One full year of membership benefits - FREE limited edition CCSSC 2010 Lunar Eclipse t-shirt - Unlimited use of the CCSSC exhibit gallery - 8 All-Day passes to the Omnisphere Theater
Coca-Cola Space Science Center Webcast
Shadow & Substance Home Page
Astronomylive | Broadcast the Sky