Artesanatos
24 Cute And Incredibly Useful Gift Wrap DIYs. Travel Art Kit: Here We Goooooo. "Here we goooooooooo!!!"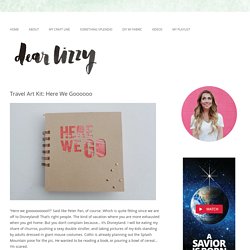 Said like Peter Pan, of course. Which is quite fitting since we are off to Disneyland! That's right people. How To Turn A Beer Bottle Into A Glass. By MH Staff - Posted on 25th August 2011 Warning: this stunt involves sharp edges, breaking glass and fire.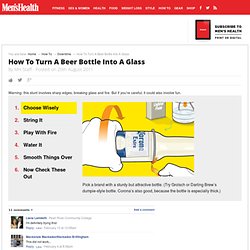 But if you're careful, it could also involve fun. Pick a brand with a sturdy but attractive bottle. (Try Grolsch or Darling Brew's dumpie-style bottle. Corona's also good, because the bottle is especially thick.) O fazer O que e FIMO? :: Técnicas FIMO. O que é FIMO (ou Polimer Clay)?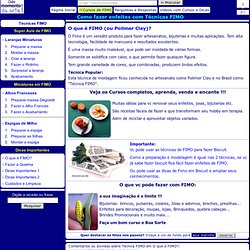 O Fimo é um versátil produto para fazer artesanatos, bijuterias e muitas aplicações. Tem alta tecnologia, facilidade de manuseio e resultados excelentes. Guest blogger - Sasha from The Guilded Bee: Here's another DIY project from our sweet friend, Sasha - from the The Gilded Bee.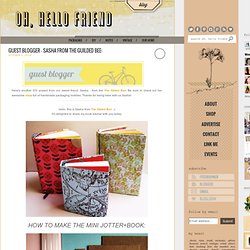 Be sure to check out her awesome shop full of handmade packaging lovelies. Thanks for being here with us Sasha! I'm delighted to share my book tutorial with you today: Academia Craft | Desenhando sua mão em 3D. Hoje o post será um tutorial de como desenhar sua mão em 3D.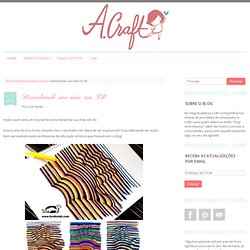 Essa é uma técnica muito simples mas o resultado não deixa de ser espetacular! Essa idéia pode ser muito bem aproveitada pelas professoras de educação artística que frequentam o blog. Aparentemente é complicado de fazer, mas veja abaixo como é fácil. How to cut glass. I posted a picture about 1 week ago on Instagram, Facebook and Twitter of me cutting glass using just string.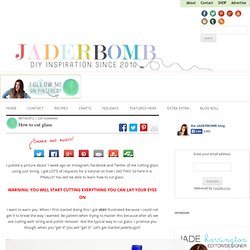 I got LOT'S of requests for a tutorial on how I DID THIS! So here it is. FINALLY! You will be able to learn how to cut glass. Paper crafts: make a panda gift candy box tutorial. Paper crafts: make a Panda Gift Candy Box tutorial Paper crafts: make a Panda Gift Candy Box tutorial In the summer times, let your kids make a special candy box, this crafts only needs paper Christmas craft ideas: paper snowflake flower tutorialChristmas craft ideas: paper snowflake flower tutorial Snowflake flower tutorial This snowflake is easy to do with the children.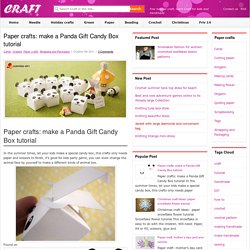 Will need: Paper, A4 or A5, scissors, glue and Christmas ornament: Paper Snowflake Tutorial Christmas ornament: Paper Snowflake Tutorial Here is a tutorial for a stunning paper snowflake that is approx. 20 inches in diameter. It's a real show stopper! Butttons art: 10 unusual ideas of buttons in interior decorationButttons art: 10 unusual ideas of buttons in interior decoration Herringbone from pearlies The real decoration of your home can be this Christmas Tree, which is made Paper craft: mother's day card and canvas Paper craft: mother's day card and canvas Whoa. 31 Insanely Easy And Clever DIY Projects. - StumbleUpon.
BLOG ::: Gecko Adesivos de Parede ::: Faça você mesmo: luminária de estrela. Fazer uma luminária de estrela belíssima usando apenas materiais básicos de papelaria.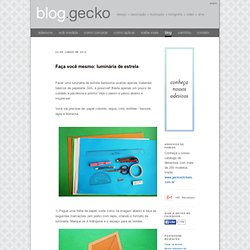 Sim, é possível! Basta apenas um pouco de cuidado e paciência e pronto! Veja o passo a passo abaixo e inspire-se! DIY Sharpie Tie Die. I love this Sharpie tie die DIY from The Art Girl Jackie blog!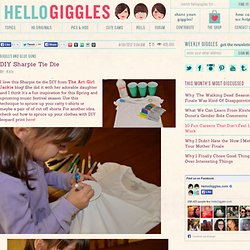 She did it with her adorable daughter and I think it's a fun inspiration for this Spring and upcoming music festival season. Use this technique to spruce up your ratty t-shirts or maybe a pair of of cut off shorts. For another idea, check out how to spruce up your clothes with DIY leopard print here! What You Need: Turn Your T-Shirts Into Tote Bags - Brit & Co. - Style. If you're still busy spring cleaning, we're guessing you've come across a lot of t-shirts that you can't quite get rid of but don't really need.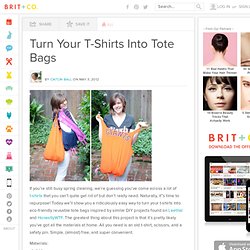 Naturally, it"s time to repurpose! Today we'll show you a ridiculously easy way to turn your t-shirts into eco-friendly reusable tote bags inspired by similar DIY projects found on Leethal and HonestlyWTF. Crème de la Craft | DIY projects made from everyday objects. I was inspired to make this DIY tote bag after I took a trip to the farmer's market and realized I needed a comfortable and lightweight bag to carry all my goodies. I love the way this DIY project turned out and, more importantly, there was no sewing involved! A pillowcase already has all the stitching you need to create this easy and stylish tote bag. The cross-body shoulder strap also makes it super comfortable to carry around all day. Just grab a pillowcase from your dresser, stamp it, give it a couple snips and you've got a custom carry-all tote for your next trip to the market!
Follow the steps below to make your very own. Cool paper toy. Holder for Charging Cell Phone (made from lotion bottle) My husband and I both have cell phones. And both of us have phone chargers. And that means lots of obnoxious cords. 25 Handmade Gifts Under $5. If your gift list is long and your budget is small here are some great Handmade Gifts that you can make. Keep in mind that handmade items are not just beautiful but special… Most gawked last 7 days. Garden therapy » Cold-Process All-Natural Handmade Soap. Or through a book: Or use a pre-weighed soap making kit like this Natural Soap Making Kit or this Shea Butter Soap Making Kit. If you are in Vancouver, you can get a great kit with all natural ingredients from Scentimental Creations. This is simply the easiest way to successfully make soap in a short amount of time.
Little guiding stars. Since the new year has started I've been trying to think of ways to be more kind to my self. Especially when that nasty gremlins try to creep in and stump me. I remembered this origami star video on You Tube and had to get them involved in my plan. I thought it would be fun to make a whole bunch with kind words and "you are…." phrases inside. I made 60 of them, enough to last me the whole year if I open one a week, plus a few extra just in case. I used 12 x 12 inch scrapbook paper and cut 1/2 x 12″ strips, then followed the video HERE*. Easy as 1 2 3.
---