Photos
Splashup
PicMagick
Effects | PhotoFunia
Sumo Paint
Scrapblog
Aviary
Picnik
FlauntR
flauntR flauntR is a free online suite of digital photoediting tools that provides a range of features that are typically only been available in expensive photoediting software. RIA Application build on Adobe Flex The FlauntR RIA (Rich Internet Application) application has been widely cited as an example of intuitive user interface design and use of cutting edge technology.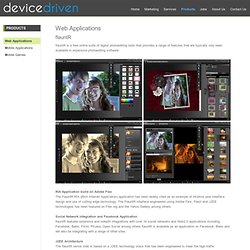 Kizoa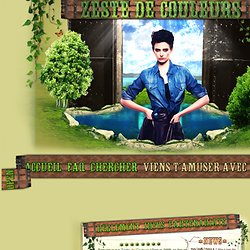 Un zeste de ciel bleu, un bout d'océan, un regard lointain... Zeste d'Azur.
Zeste de Couleurs
FotoFlexer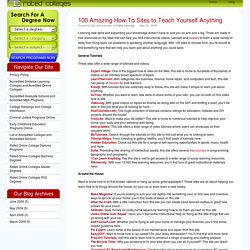 100 Amazing How-To Sites to Teach Yourself Anything | Rated Colleges - StumbleUpon
Posted by Site Administrator in Online Learning May 7th, 2009
Photoshop tutorials are one of the most popular subjects on the web, as the digital art community continues to grow and new designers bring their unique skills. However, quality Photoshop tutorials that teach you a useful effect, have a quality finished result and are well explained are harder to find, and with the large number of tutorial sites available, it can be hard to sort the quality from the mundane.
100 Best Photoshop Tutorials of All Time that Yield Professional Results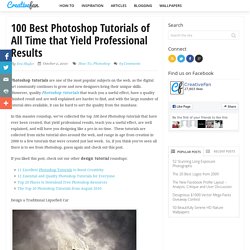 DownloadBar.com (alpha version) - Download eSSential freeware & shareware software
Pixlr