creativity
Get flash to fully experience Pearltrees
W hat's the secret creative geniuses share to come up with their remarkable ideas? Even though idea generation may look like a somewhat mysterious and random process, there is a practical, simple lesson we can all apply to increase our chances of having great ideas. Connections, Connections, Connections
T he List of 100 is a powerful technique you can use to generate ideas, clarify your thoughts, uncover hidden problems or get solutions to any specific questions you're interested in. The technique is very simple in principle: state your issue or question in the top of a blank sheet of paper and come up with a list of one hundred answers or solutions about it . "100 Ways to Generate Income", "100 Ways to be More Creative" or "100 Ways to Improve my Relationships" are some examples. " One hundred entries ? Isn't that way too many?"
If you could do one thing to transform your life, I would highly recommend it be to find something you're passionate about, and do it for a living. Now, this isn't as easy as it sounds, but it's well worth the effort. If you dread going to your job , or find yourself constantly lacking motivation, or find what you're doing dull and repetitive, you need to start looking for a new job. Staying in your current job will not only continue to make you unhappy, but you are not realizing your full potential in life.
Video of the Commencement address. I am honored to be with you today at your commencement from one of the finest universities in the world. I never graduated from college. Truth be told, this is the closest I've ever gotten to a college graduation.
Imagine: a teacher stands in front of a classroom filled with bored, listless students. As he repeatedly fills the board and erases it, fills the board and erases it, he drones out a list of names and dates, formulae and proofs, theories and evidence. His students drop one by one into a dazed stupor, drool puddling beneath their vacant faces, necks craning to catch quick glimpses of the clock, thumbs twiddling against phonepads beneath their desks. Neither teacher nor students are inspired; six months later, neither will remember what was said or done that day or, indeed, any day. Now imagine: A period later, a different teacher stands in front of a different group of students teaching her section of the same class.
"Ideas are the beginning points of all fortunes." - Napoleon Hill This guest post is by Leo from Zen Habits . If you like this post, I recommend you check out his site or subscribe to his feed . One problem that many bloggers face is the daily challenge of coming up with a good, useful post. After blogging for awhile, new ideas may be hard to come by.
When we measure the creativity of young children, virtually all of them will record as being 'highly creative'. However, only a small percentage of adults register as being 'highly creative'. What happened?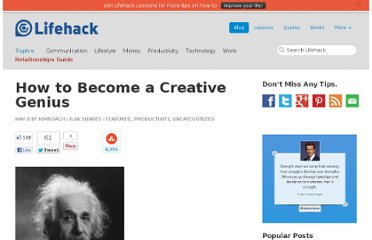 Exercise your brain. Brains, like bodies, need exercise to keep fit. If you don't exercise your brain, it will get flabby and useless. Exercise your brain by reading a lot (see above), talking to clever people and disagreeing with people - arguing can be a terrific way to give your brain cells a workout. But note, arguing about politics or film directors is good for you; bickering over who should clean the dishes is not.