Brain Food
Stanford - Philosopy. First published Fri Jun 29, 2001; substantive revision Mon Jul 15, 2013 Bento (in Hebrew, Baruch; in Latin, Benedictus) Spinoza is one of the most important philosophers—and certainly the most radical—of the early modern period.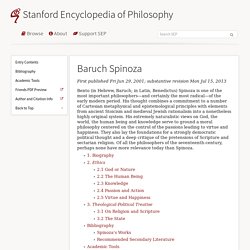 His thought combines a commitment to a number of Cartesian metaphysical and epistemological principles with elements from ancient Stoicism and medieval Jewish rationalism into a nonetheless highly original system. His extremely naturalistic views on God, the world, the human being and knowledge serve to ground a moral philosophy centered on the control of the passions leading to virtue and happiness. They also lay the foundations for a strongly democratic political thought and a deep critique of the pretensions of Scripture and sectarian religion. Khan Academy. MIT. OCW.
Management. Economics. Mathematics. Humanities.
---