Brain Food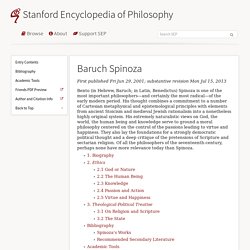 First published Fri Jun 29, 2001; substantive revision Mon Jul 15, 2013 Bento (in Hebrew, Baruch; in Latin, Benedictus) Spinoza is one of the most important philosophers—and certainly the most radical—of the early modern period. His thought combines a commitment to a number of Cartesian metaphysical and epistemological principles with elements from ancient Stoicism and medieval Jewish rationalism into a nonetheless highly original system. His extremely naturalistic views on God, the world, the human being and knowledge serve to ground a moral philosophy centered on the control of the passions leading to virtue and happiness. They also lay the foundations for a strongly democratic political thought and a deep critique of the pretensions of Scripture and sectarian religion.
MIT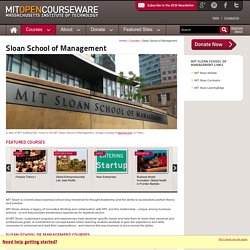 A view of MIT building E62, home to the MIT Sloan School of Management. (Image courtesy of ilamont.com on Flickr.) MIT Sloan is a world-class business school long renowned for thought leadership and the ability to successfully partner theory and practice. MIT Sloan shares a legacy of innovative thinking and collaboration with MIT, and this relationship - unique among business schools - is one that provides tremendous opportunity for students alumni.
Ingredients for sale at a Turkish spice bazaar. (Image courtesy of Tom.Blackie on Flickr.) For over a century, the Department of Economics at MIT has played a leading role in economics education, research, and public service. The Economics Department today is a vibrant collection of faculty and students. We offer a challenging and stimulating undergraduate experience.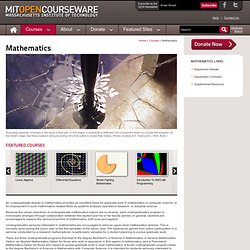 Surprising geometry emerges in the study of fluid jets. In this image, a vertical jet is deflected into a horizontal sheet by a horizontal impactor. At the sheet's edge, fluid flows outward along bounding rims that collide to create fluid chains. (Photo courtesy A.E. Hasha and J.W.M. Bush.)