History
Archaeologists unearth 5,000-year-old 'third-gender' caveman. Archaeologists investigating a 5,000-year-old Copper Age grave in the Czech Republic believe they may have unearthed the first known remains of a gay or transvestite caveman, reports the Telegraph.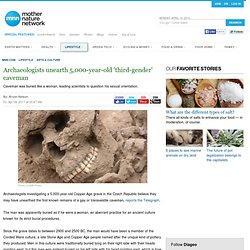 The man was apparently buried as if he were a woman, an aberrant practice for an ancient culture known for its strict burial procedures. Since the grave dates to between 2900 and 2500 BC, the man would have been a member of the Corded Ware culture, a late Stone Age and Copper Age people named after the unique kind of pottery they produced. Men in this culture were traditionally buried lying on their right side with their heads pointing west, but this man was instead buried on his left side with his head pointing east, which is how women were typically buried. 15 Fascinating Facts About Ancient Egypt. History Ever since my childhood I have been fascinated with all things relating to Ancient Egypt.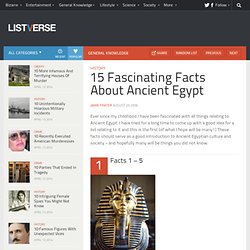 I have tried for a long time to come up with a good idea for a list relating to it and this is the first (of what I hope will be many!) These facts should serve as a good introduction to Ancient Egyptian culture and society – and hopefully many will be things you did not know. 1. Ancient underwater cities being found that are 10,000 years old. Lost city 'could rewrite history' By BBC News Online's Tom Housden The remains of what has been described as a huge lost city may force historians and archaeologists to radically reconsider their view of ancient human history.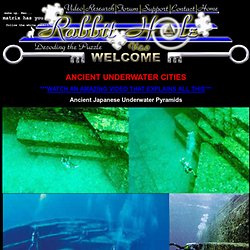 Marine scientists say archaeological remains discovered 36 meters (120 feet) underwater in the Gulf of Cambay off the western coast of India could be over 9,000 years old. The vast city - which is five miles long and two miles wide - is believed to predate the oldest known remains in the subcontinent by more than 5,000 years. Pyramid Discoveries Will Force History to be Re-Written. The world's largest and oldest pyramid has been discovered in Bosnia A pyramid has been discovered in Bosnia-Herzegovina that is larger, older and more perfectly oriented than Egypt's Great Pyramid of Giza.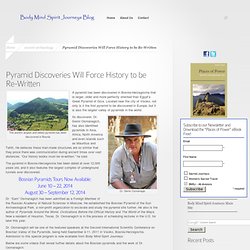 Located near the city of Visoko, not only is it the first pyramid to be discovered in Europe, but it is also the largest valley of pyramids in the world. Project Avalon - Klaus Dona: The Hidden History of the Human Race. Click here for the PDF version of this interview (20 pages) Click here for the video presentation March 2010 **Ed note: Some transcripts contain words or phrases that are inaudible or difficult to hear and are, therefore, designated in square brackets.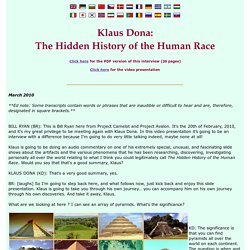 . **
---