Photo
myNclub - Partagez la passion de la photo
Minilab,Minilab d'occasion,Minilab Numérique,Noritsu,Fuji,Agfa,K
Blog Photo Obturations.com par Merwen BA | Photographe de mariag
Cyril TURLA auteur photographe
Rockens Stewart Photography - Graphic
GLENSCOLAN PORTFOLIO
Antoine GRASSET - Photographe -
Focus On It | Home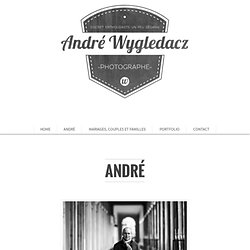 Simple. Discret. Enthousiaste. Un peu dégarni. Simple mais pas simplet, ok ?
Maz Studios
Catseize
Galerie de LOOK IT'S G!
Paysage marin au moule , Guadeloupe. C'est alors que je fis appel à un ancien collègue de forum pour qu'il m'éclaire de sa science sur la question. Mon camarade, de son expertise perché, me tint à peu près ce langage :
Julien Dorol photos blog
Photographe à Lausanne, Suisse - Nicolas Jutzi
http://www.dapastudio.net
Sébastien Santarelli - Photographie
Haristobald Photography
Annual Report Photographer David Tejada "The f-Stops Here"
A great way to start off the year! We got a check for the use of one of my pictures, evidently a photo of a "man using laptop computer." Awesome!