Beauty
Recipe Index. Water Marble Tutorial. Supplies: orange stick or... Water Marble Tutorial.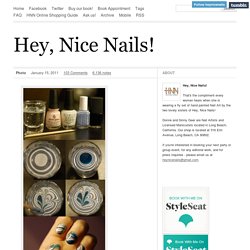 Supplies: orange stick or toothpick, shot glass or cup (the smaller the circumference, the less polish you end up wasting), room temp. water, nail polish, tape (optional, but it helps with the clean up) I like to begin by prepping my nails with base coat and one coat of polish. Beauty Tips, Hairstyles, Makeup Tutorials and Reviews - Beautylish.
Polyvore. Wonder How To » How To Videos & How-To Articles. Sephora: Beauty, Skin Care, Makeup, Hair, & Fragrance. Hair Romance. Cupcakes and Cashmere. Blogger: Create your free Blog. GOOD Home Page.
Healthy Recipes and Relationship Advice to Live Well Every Day. Indian Vanity Case. Thebeautydepartment.com - Makeup Savvy.
---