Food
Hummus made easy, multiple recipes. (X-post r/CookingForBeginners) MOZZARELLA STICKS WITH BUTTERMILK DIP. When I told my friends I was planning on making homemade mozzarella sticks for a guy's weekend out of town the idea was met with a profound lack of enthusiasm.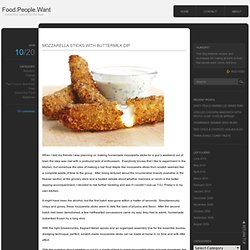 Everybody knows that I like to experiment in the kitchen, but somehow the idea of making a bar food staple like mozzarella sticks from scratch seemed like a complete waste of time to the group. After being lectured about the innumerable brands available in the freezer section at the grocery store and a heated debate about whether marinara or ranch is the better dipping accompaniment, I decided to risk further heckling and see if I couldn't one-up T.G.I. All-Sold-Out Chicken Pot Pie. "I cannot make enough chicken pot pies.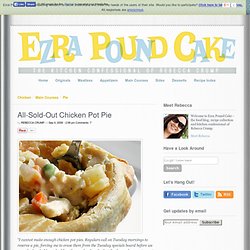 Regulars call on Tuesday mornings to reserve a pie, forcing me to erase them from the Tuesday specials board before we open for lunch. I keep doubling the number I make, but the demand grows to meet the expanded supply. 100 Of The Best Restaurant Copycat Recipes. You love to eat out?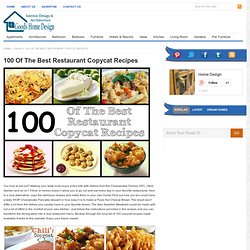 Making your taste buds enjoy every bite with dishes from the Cheesecake Factory, KFC, Olive Garden and so on? If time or money doesn't allow you to go out and eat every day in your favorite restaurants, here is a nice alternative: copy the delicious recipes and make them in your own home! Find out how you too could have a tasty IHOP Cheesecake Pancake dessert or how easy it is to make a Pizza Hut Cheese Bread. The result won't differ a lot from the dishes you usually have in your favorite diners. The Ikea Swedish Meatballs could be made with not a lot of effort in the comfort of your own kitchen. This Cookbook Teaches You How to Eat on $4 A Day | Brit + Co. What if we were to tell you that you could eat good, healthy meals for $4?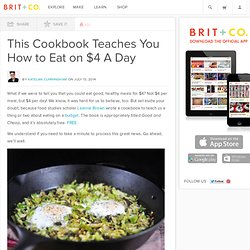 Not $4 per meal, but $4 per day! We know, it was hard for us to believe, too. 27 Delicious Camping Recipes You Have To Try On Your Next Trip To The Great Outdoors. Celebrate summer with these awesome outdoor treats 1.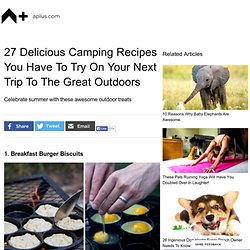 Breakfast Burger Biscuits recipe at www.jellytoastblog.com. Greek Orzo Pasta Salad. If you saw Ole's Greek burger post, you may have been left wondering what kind of summer salad you'd pair that with.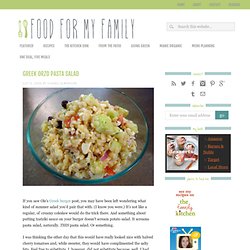 (I know you were.) It's not like a regular, ol' creamy coleslaw would do the trick there. Cook This Tonight: Cucumber-Buttermilk Soup. Bacon, Pineapple, Chicken Kabobs - The Daring Gourmet. Bacon Pineapple Chicken Kabobs with a sweet and sticky Hawaiian sauce.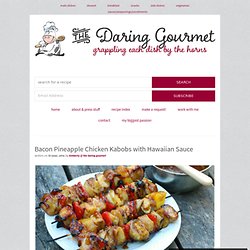 The perfect Summer grilling recipe! Oh, dearest, loveliest, beautiful bacon. How do I love thee? Chicken Cordon Bleu Casserole ~ Allrecipecenter. I love making casseroles, and this one's so simple.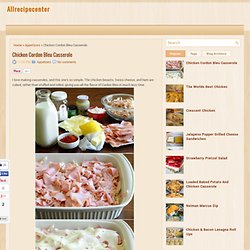 The chicken breasts, Swiss cheese, and ham are cubed, rather than stuffed and rolled, giving you all the flavor of Cordon Bleu in much less time. Ingredients:FOR THE CASSEROLE:1 whole Cooked Chicken, Bones Removed, Meat Diced Or Shredded (rotisserie Chicken Is Excellent, Should Be 5-6 Cups Of Chicken½ pounds Very Thinly Sliced Deli-style Honey Ham, Rough Chopped¼ pounds Thin Sliced Baby Swiss CheeseFOR THE SAUCE:4 Tablespoons Butter4 Tablespoons Flour3-¼ cups Milk (I Used Whole Milk)2 Tablespoons Fresh Squeezed Lemon Juice1 Tablespoon Dijon Mustard1-½ teaspoon Salt½ teaspoons Smoked Paprika¼ teaspoons White PepperFOR THE TOPPING:6 Tablespoons Butter1-½ cup Panko Bread Crumbs¾ teaspoons Seasoning Salt1-½ teaspoon Crushed Dried ParsleyInstructionsRead full directions on tastykitchen.com.
Outback Steakhouse Bloomin Onion Recipe. If you have ever been to the Outback Steakhouse then you have probably seen the very hard to miss bloomin onion appetizer.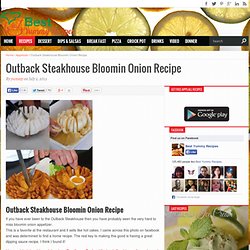 This is a favorite at the restaurant and it sells like hot cakes. I came across this photo on facebook and was determined to find a home recipe. The real key to making this good is having a great dipping sauce recipe. I think I found it! I have added the video of the show Top Secret Recipe "Outback-Steakhouse" see the end of the recipe. The 20 Most Over-the-Top Brownie Recipes. Chocolate — it's a beautiful, magical, valuable thing.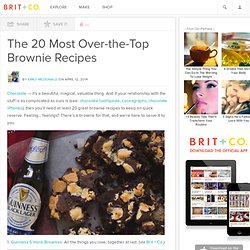 And if your relationship with the stuff is as complicated as ours is (see: chocolate toothpaste, cocoagraphs, chocolate iPhones), then you'll need at least 20 great brownie recipes to keep on quick reserve. Feeling… feelings? Crispy Cheddar Chicken. Photo by: Jamiecookupsite.net Description You''ll make this twice a week :) How To Cook Any Stir-Fry in Six Easy Steps. Restaurant Style Orange Chicken. Alright you guys, seriously, this orange chicken tastes exactly like the best orange chicken you've ever had at any restaurant.
I was very, very, very skeptical at first because I've never fried meat before and I was afraid it would turn out terribly. Kramer was adamant about having me make orange chicken that would remind me him Chinese take-out, though, and I couldn't let him down! It was perfectly crispy and crunchy and the sauce was right on point; sweet and tangy and with a little bit of heat. I honestly can't emphasize how good this orange chicken is. You won't be able to stop eating it, and it heats up great in the microwave as leftovers the next day. Mongolian Beef Recipe. 33 Genius Three-Ingredient Recipes | Building A Better Big Mac. [Photographs: Kenji Lopez-Alt] So yeah, the Big Mac is an undeniable American icon, inextricably tied with our image, but that doesn't make it a good thing—after all, so are poor foreign policy and the Kardashians, right?
That said, in concept, the McDonald's Big Mac is a pretty beautiful thing. I mean, who could really say no to two all-beef patties, special sauce, lettuce, cheese, pickles, and onions, all on a sesame seed bun? And there are certain things the clown does very well—the proportions, for example. There's just the right amount of beef to cheese to sauce to onion. Orange Chicken Recipe. Today I'm back with yet another Chinese-American dish – Orange Chicken.
It seems as though you can find orange chicken almost anywhere you want to eat these days. It is most commonly found at fast food restaurants, but don't worry, this is so much better than anything you will find there. Pesto Chicken Lasagna Rolls. ~Creamy Crock-Pot Potatoes. Oven Roasted Smoked Sausage and Potatoes. German Pancakes. Mongolian Beef. Chinese Chicken Fried Rice Recipe from Grandmother. Red Wine Marinated Flank Steak Recipe Tender, Easy Anytime Of Year. How to Make Ahead and Freeze Steel Cut Oatmeal. Meat. Oven Roasted Smoked Sausage and Potatoes. Better than Chicken Nuggets. 40 Creative Food Hacks That Will Change The Way You Cook. Easy Slow Cooker French Dip Recipe. Slow Cooker Creamed Corn. PF Chang's Mongolian Beef Copycat Recipe. Chinese Orange Chicken. Christmas Apps. Sour Cream Noodle Bake. Easy Chicken Shepherd's Pie Recipe. Ham and Cheese Puff Pastry Pie.
Satisfying Slow Cooker Soups to Warm Your Belly. Just Cook It. Paula Deen Butterscotch Pie Recipe. Bacon Fried Rice. Easy Cream Puffs Recipe from Grandmother. Paleo-Friendly Meals: Orange Chicken | Sun Sand Saltwater. Copy Cat Chick-fil-A Nuggets Recipe. Loaded Chicken and Potatoes - Singing through the Rain. 2 Ingredient ICE CREAM without an ice cream maker! Just Cook It. Homemade Girl Scout Cookies: Samoas Bars. Loaded Baked Potato and Buffalo Chicken Casserole. Make a Quick Cream Cheese Apple Braid - A Hen's Nest - NW PA Mom Blog. Zipzicle|Ice pop|Freezer pop|Popsicle|Home. 50 Mac & Cheese Recipes : Recipes and Cooking. Homemade Hamburger Helper - Farmgirl Gourmet. Classic Hearty Italian Meat Sauce - Homemade Spaghetti Recipe. How to Make Caramel. Wonderbag Eco Slow Cooker. Sesame Chicken Recipe. Calzone! That Chocolate Cake [recipe] – Winner of the Scharffen Berger Chocoholic's Overdose.
Something-new. Bacon and Cheddar Macaroni & Cheese. Chicken with 40 Cloves of Garlic. Chilli Seaweed Walnuts « voraciousveg. Cheesecake Stuffed Strawberries. What? Yes! - SugarBlog - SugarDerby. Funnel Cake. Caramel Apple Pull-Apart Bread. Banana Bread Recipe. Buffalo Chicken Bites. Scalloped Potatoes Recipe. Pizza Braid. Chicken and Cheese Lasagna Roll-Ups. Skinny Mashed Potatoes. Banana Bread Recipe.
---