Cooking
A Tutorial: How to Cook Dried Beans to Freeze - A Little Bit of Spain in Iowa. Sensational Slow Cooked Beef Brisket Recipe. Modern day food foraging. Our ancestors were hunters, gatherers, fishers, and farmers.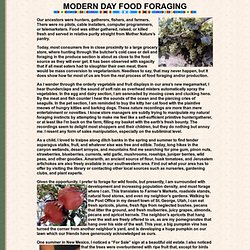 There were no pilots, cable installers, computer programmers, or telemarketers. Banana Banana Bread Recipe. Baked coconut chicken strips. « Dinner « Meals « back to her roots. Babyface has a "thing" for sweet foods.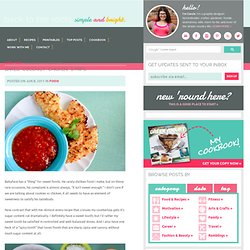 He rarely dislikes food I make, but on those rare occasions, his complaint is almost always, "it isn't sweet enough." I don't care if we are talking about cookies or chicken, it all needs to have an element of sweetness to satisfy his tastebuds. Now contrast that with me. Almost every recipe that crosses my countertop gets it's sugar content cut dramatically. I definitely have a sweet tooth, but I'd rather my sweet tooth be satisfied in controlled and well-balanced doses. 14 Things to Know About Cooking Beans - A Mighty Appetite. 14 Things to Know About Cooking Beans It's taken a long time, but a few years ago, I finally got to a place where cooking a pot of dried beans didn't make me run for the hills.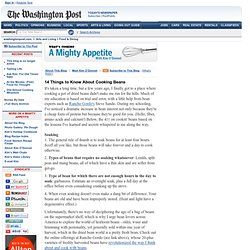 Much of my education is based on trial and error, with a little help from bean experts such as Rancho Gordo's Steve Sando. During my schooling, I've noticed a dramatic increase in bean interest not only because they're a cheap form of protein but because they're good for you. (Hello, fiber, amino acids and calcium!) Varieties of Dried Beans for Pressure Cookers. Lentils, Green, French, Spanish Brown, Dal Lentils, Black Beluga Lentils Colors Range From Green, Brown, White, Yellow, Red, Coral, Black.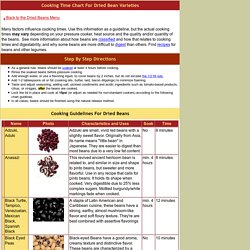 Very versatile Lentils have a mild, often earthy flavor, and they're best if cooked with assertive flavorings or other foods in combination with robust, zesty sauces. Unlike dried beans and peas, there's no need to soak them. mild and simple lentils and rice Dal is an Indian word referring to all dried legumes and also the dishes made from them. Southern Great Northern Beans Crock Pot Version) Recipe - Food.com - 195011.
Why Do I Have to Soak Dry Beans? Slow Cooker Italian White Beans. 1 16 oz. pkg dry beans white bean (Great Northern) 4-6 garlic cloves, peeled and minced or pressed 6 cups water or low sodium vegetable broth 1 large onion, chopped 2 large bay leaves 1 1/2 tsp. dried basil or 1 tablespoon fresh, minced 1/4 tsp. dried oregano 1/2 tsp. fresh Rosemary, minced 1/3 tsp. cracked black pepper or coarsely ground 1 cup sun dried tomatoes in oil, finely chopped 1 cup cured black olives in oil, pitted 1 tablespoon extra virgin olive oil Cooks Note: Broth may be added to water to make six cups if the full amount is not available.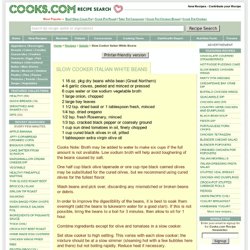 Low sodium broth will help avoid toughening of the beans caused by salt. One half cup black olive tapenade or one cup ripe black canned olives may be substituted for the cured olives, but we recommend using cured olives for the fullest flavor. Dinner: Tonkatsu | I made a lovely dinner last night- I was going to bento the leftovers- only there weren't any.
After spending two hours playing football (or soccer), we were sweaty, sore all over, and HUNGRY. Well, actually I wasn't all that hungry, but Joseph was. All Butter Crust for Sweet and Savory Pies (Pâte Brisée) Recipe. 1 The minute you even think you might want to make a pie crust, cut up a stick of butter into smallish (about 1/2-inch) cubes, and put it into the freezer.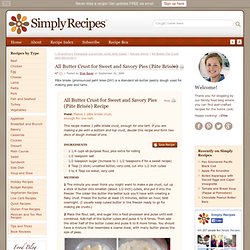 The colder the butter the better luck you'll have with creating a flaky crust. Freeze the butter at least 15 minutes, better an hour, best overnight. (I usually keep cubed butter in the freezer ready to go for making pie crusts.) Blueberry Pie Recipe. Method 1 Prepare the crust.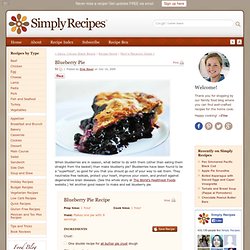 Roll out half of the dough to 1/8-inch-thick circle on a lightly floured work surface, about 13 inches in diameter. Fit the dough over a 9-inch pie pan, and trim the edges to a 1/2 inch over the edge all around the pan. Put into the refrigerator to chill for about 30 minutes. Chocolate Peanut Butter Cream Pie.
1 (9 inch) pie shell or graham cracker crust 1/2 c. sugar 2 tbsp. butter 1 egg 3/4 c. chocolate chips (melted) 3/4 tsp. vanilla 1/2 c. chopped nuts or peanuts (optional) In a small bowl, beat butter and sugar until light and fluffy.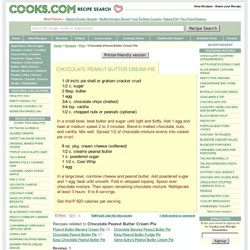 Add 1 egg and beat at medium speed 2 to 3 minutes.
Fish
---