Travel
» Comment utilise-t-on les moteurs de recherche pour planifier son voyage? Selon EyeforTravel, la recherche organique est le canal le plus influent pour la commercialisation de voyages en ligne, suivie par l'achat de mots clés.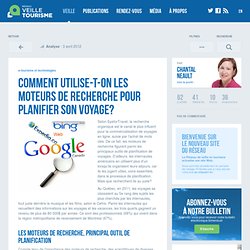 De ce fait, les moteurs de recherche figurent parmi les principaux outils de planification de voyages. D'ailleurs, les internautes américains en utilisent plus d'un lorsqu'ils organisent leurs séjours, car ils les jugent utiles, voire essentiels, dans le processus de planification. Mais que recherchent-ils au juste? Au Québec, en 2011, les voyages se classaient au 5e rang des sujets les plus cherchés par les internautes, tout juste derrière la musique et les films, selon le Cefrio.
In Madrid, iPads loaded with tourist friendly apps available for hire. Triptrotting Raises $1M To Combat Clueless Tourism. Triptrotting, a startup that connects travelers with hosts, has raised $1 million in a Series A round of funding.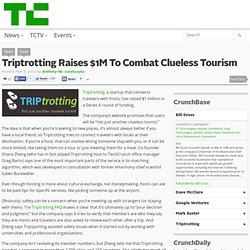 The company's website promises that users will be "not just another clueless tourist." The idea is that when you're traveling to new places, it's almost always better if you have a local friend, so Triptrotting tries to connect travelers with locals at their destination. If you're a host, that can involve letting someone stay with you, or it can be more limited, like taking them on a tour or just meeting them for a meal. Co-founder Shana Zheng (who has in fact played Triptrotting host to TechCrunch office manager Greg Barto) says one of the most important parts of the service is its matching algorithm, which was developed in consultation with former eHarmony chief scientist Galen Buckwalter.
Even though hosting is more about cultural exchange, not moneymaking, hosts can ask to be paid tips for specific services, like picking someone up at the airport. CouchSurfing Gets More Cash As Point Nine Capital Becomes Its First European Investor.
---