Customers advices
TripAdvisor lance une nouvelle fonctionnalité sur son site Internet permettant à sa communauté de voyageurs d'accéder aux avis "d'ami d'un ami" Facebook, que ce soit sur une destination ou un hôtel. Ce nouvel outil doit aider les internautes à personnaliser davantage leur voyage.Concrètement, lorsqu'une personne recherche un hôtel, un restaurant ou une attraction sur TripAdvisor, elle accède dans un premier temps aux avis de ses amis Facebook. Ensuite, ce sont les opinions des amis de ses amis qui apparaissent.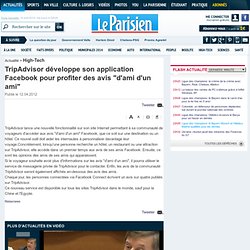 TripAdvisor développe son application Facebook pour profiter des avis "d'ami d'un ami"
L'explosion des avis utilisateurs portée par l'usage des applications SoLoMo (Etude Nomao)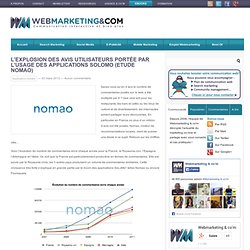 Savez vous qu'en 4 ans le nombre de commentaires postés sur le web a été multiplié par 8 ? Que cela soit pour les restaurants, les bars et cafés ou les lieux de culture et de divertissement, les internautes aiment partager leurs découvertes.
Dennis Crowley wants you to know that Foursquare is about more than just check-ins. In a keynote at Mobile World Congress today, the co-founder and CEO hinted that he hopes to make the world's most popular location-based social network into the world's most powerful recommendation engine for places.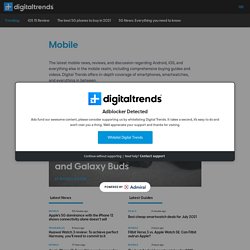 Foursquare CEO plans to take on Yelp with new social recommendations
Yelp shares soar more than 60% in IPO - Mar. 2
NEW YORK (CNNMoney) -- Shares of reviews site Yelp soared more than 64% Friday, in its initial public offering.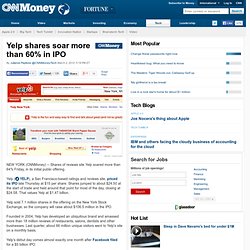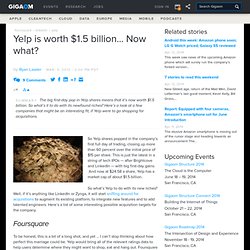 Yelp is worth $1.5 billion… Now what?
So Yelp shares popped in the company's first full day of trading, closing up more than 60 percent over the initial price of $15 per share.
How Yelp's Business Works
Yelp Closes 5-Star IPO Day With $1.47 Billion Valuation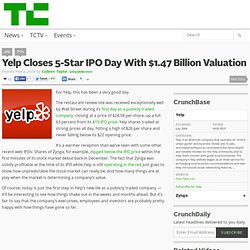 For Yelp, this has been a very good day.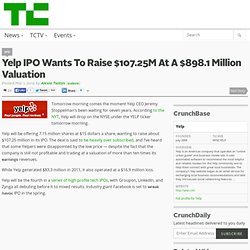 Tomorrow morning comes the moment Yelp CEO Jeremy Stoppelman's been waiting for seven years. According to the NYT , Yelp will drop on the NYSE under the YELP ticker tomorrow morning. Yelp will be offering 7.15 million shares at $15 dollars a share, wanting to raise about $107.25 million in its IPO.
Yelp IPO Wants To Raise $107.25M At A $898.1 Million Valuation
jan 4 2012
Une norme pour authentifier les avis de consommateurs en France d'ici fin 2012