Customers advices
TripAdvisor développe son application Facebook pour profiter des avis "d'ami d'un ami" Read It Later : [CRM] Civiliz, l'outil de dialogue instore qui a séduit la SocGen et Quick. L'explosion des avis utilisateurs portée par l'usage des applications SoLoMo (Etude Nomao) Savez vous qu'en 4 ans le nombre de commentaires postés sur le web a été multiplié par 8 ?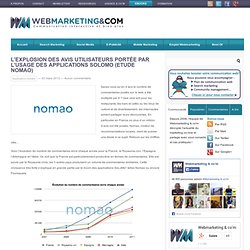 Que cela soit pour les restaurants, les bars et cafés ou les lieux de culture et de divertissement, les internautes aiment partager leurs découvertes. En particulier en France où plus d'un million d'avis ont été postés. Nomao, moteur de recommandations locales, vient de publier une étude à ce sujet. Retours sur les chiffres clés… Voici l'évolution du nombre de commentaires écris chaque année pour la France, le Royaume-Uni, l'Espagne, l'Allemagne et l'Italie. Foursquare CEO plans to take on Yelp with new social recommendations. Yelp shares soar more than 60% in IPO - Mar. 2. NEW YORK (CNNMoney) -- Shares of reviews site Yelp soared more than 64% Friday, in its initial public offering.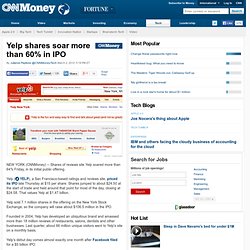 Yelp (YELP), a San Francisco-based ratings and reviews site, priced its IPO late Thursday at $15 per share. Shares jumped to about $24.50 at the start of trade and held around that point for most of the day, closing at $24.58. That values Yelp at $1.47 billion. Yelp sold 7.1 million shares in the offering on the New York Stock Exchange, so the company will raise about $106.5 million in the IPO.
Yelp is worth $1.5 billion… Now what? So Yelp shares popped in the company's first full day of trading, closing up more than 60 percent over the initial price of $15 per share.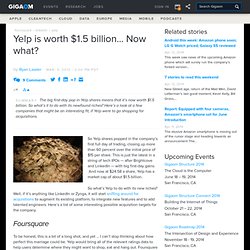 This is just the latest in a string of tech IPOs — after Brightcove and LinkedIn — with big first-day gains. And now at $24.58 a share, Yelp has a market cap of about $1.5 billion. So what's Yelp to do with its new riches? Well, if it's anything like LinkedIn or Zynga, it will start sniffing around for acquisitions to augment its existing platform, to integrate new features and to add talented engineers. How Yelp's Business Works. Yelp Closes 5-Star IPO Day With $1.47 Billion Valuation.
For Yelp, this has been a very good day.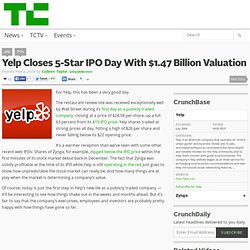 The restaurant review site was received exceptionally well by Wall Street during its first day as a publicly traded company, closing at a price of $24.58 per share, up a full 63 percent from its $15 IPO price. Yelp shares traded at strong prices all day, hitting a high of $26 per share and never falling below its $22 opening price. It's a warmer reception than we've seen with some other recent web IPOs: Shares of Zynga, for example, dipped below the IPO price within the first minutes of its stock market debut back in December.
Yelp IPO Wants To Raise $107.25M At A $898.1 Million Valuation.
---