Searching & Shopping
Craigslist. Wikipedia. Domesticated silver fox. The result of over 50 years of experiments in the Soviet Union and Russia, the breeding project was set up in 1959[1] by Soviet scientist Dmitri Belyaev.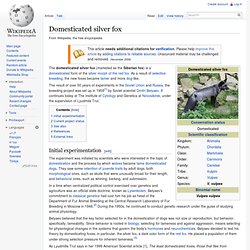 It continues today at The Institute of Cytology and Genetics at Novosibirsk, under the supervision of Lyudmila Trut. Initial experimentation[edit] In a time when centralized political control exercised over genetics and agriculture was an official state doctrine, known as Lysenkoism, Belyaev's commitment to classical genetics had cost him his job as head of the Department of Fur Animal Breeding at the Central Research Laboratory of Fur Breeding in Moscow in 1948.[2] During the 1950s, he continued to conduct genetic research under the guise of studying animal physiology.
Belyaev believed that the key factor selected for in the domestication of dogs was not size or reproduction, but behavior; specifically, tameability. Folk culture. Dancing Hungarians, 1816 Folk culture refers to a culture traditionally practiced by a small, homogeneous, rural group living in relative isolation from other groups.[1] Historically, handed down through oral tradition, it relates to a sense of community.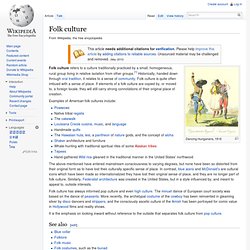 Folk culture is quite often imbued with a sense of place. If elements of a folk culture are copied by, or moved to, a foreign locale, they will still carry strong connotations of their original place of creation. Folklore. A magic carpet - a carpet that can allegedly transport persons instantaneously or swiftly to a destination.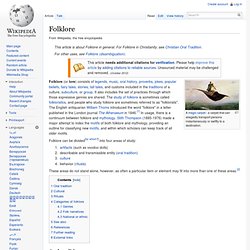 Folklore can be divided[by whom?] Into four areas of study: artifacts (such as voodoo dolls)describable and transmissible entity (oral tradition)culturebehavior (rituals) These areas do not stand alone, however, as often a particular item or element may fit into more than one of these areas.[2] Superstition. Clay hamsa on a wall, believed to protect the inhabitants of the house from harm Superstition is the belief in supernatural causality—that one event leads to the cause of another without any natural process linking the two events—such as astrology, religion, omens, witchcraft, etc., that contradicts natural science.[1] The word superstition is sometimes used to refer to religious practices (e.g., Voodoo) other than the one prevailing in a given society (e.g., Christianity in western culture), although the prevailing religion may contain just as many superstitious beliefs.[1] It is also commonly applied to beliefs and practices surrounding luck, prophecy and spiritual beings, particularly the belief that future events can be foretold by specific (apparently) unrelated prior events.[3] Etymology[edit] Black cats are considered bad luck in some cultures The word superstition is first used in English in the 15th century, modelled after an earlier French superstition.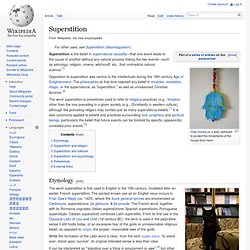 Household deity. A household deity is a deity or spirit that protects the home, looking after the entire household or certain key members.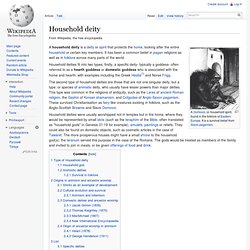 It has been a common belief in pagan religions as well as in folklore across many parts of the world. Household deities fit into two types; firstly, a specific deity- typically a goddess- often referred to as a hearth goddess or domestic goddess who is associated with the home and hearth, with examples including the Greek Hestia[1] and Norse Frigg. Household deities were usually worshipped not in temples but in the home, where they would be represented by small idols (such as the teraphim of the Bible, often translated as "household gods" in Genesis 31:19 for example), amulets, paintings or reliefs. Rosenhan experiment. Rosenhan's study was done in two parts.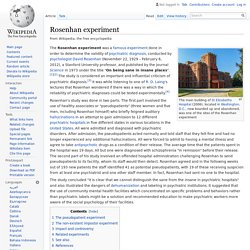 The first part involved the use of healthy associates or "pseudopatients" (three women and five men) who briefly feigned auditory hallucinations in an attempt to gain admission to 12 different psychiatric hospitals in five different States in various locations in the United States. All were admitted and diagnosed with psychiatric disorders. Amazon.com.
---