Writing Resources
by Maria Popova On the value of unconscious association, or why the best advice is no advice. If this is indeed the year of reading more and writing better, we've been right on course with David Ogilvy's 10 no-bullshit tips, Henry Miller's 11 commandments, and various invaluable advice from other great writers. Now comes John Steinbeck — Pulitzer Prize winner, Nobel laureate, love guru — with six tips on writing, culled from his altogether excellent interview it the Fall 1975 issue of The Paris Review. Abandon the idea that you are ever going to finish.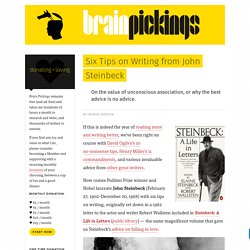 The Obvious Secret to Getting Published in a Magazine
I'm not sure how to open this post. I thought about playing the simile card and saying something about how becoming a better writer is a lot like becoming a better other thing – a better architect, a better juggler, a better OPI color namer, a better human. That would have been entirely true.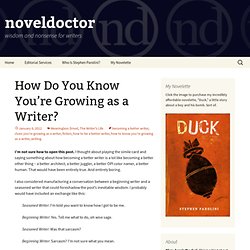 How Do You Know You're Growing as a Writer? | noveldoctor
13 Weird Ways to Work Through Creative Blocks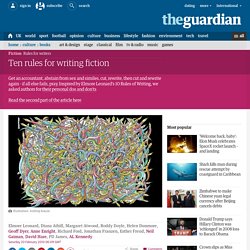 Elmore Leonard: Using adverbs is a mortal sin 1 Never open a book with weather. If it's only to create atmosphere, and not a charac­ter's reaction to the weather, you don't want to go on too long. The reader is apt to leaf ahead look­ing for people. There are exceptions. If you happen to be Barry Lopez, who has more ways than an Eskimo to describe ice and snow in his book Arctic Dreams, you can do all the weather reporting you want.
When George Plimpton asked Ernest Hemingway what the best training for an aspiring writer would be in a 1954 interview, Hem replied, "Let's say that he should go out and hang himself because he finds that writing well is impossibly difficult. Then he should be cut down without mercy and forced by his own self to write as well as he can for the rest of his life. At least he will have the story of the hanging to commence with." Today, writing well is more important than ever. Far from being the province of a select few as it was in Hemingway's day, writing is a daily occupation for all of us — in email, on blogs, and through social media.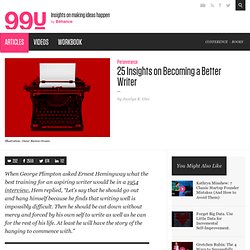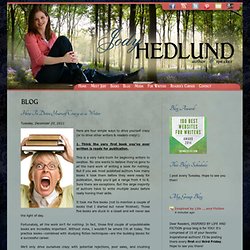 How To Drive Yourself Crazy as a Writer
Here are four simple ways to drive yourself crazy (or to drive other writers & readers crazy!): 1.
Content marketing services for businesses & brands from experienced industry experts: Helium Content Source offers a range of solutions from editorial strategy to creating blogs, advertorials, white papers and newsletters, as well as search engine optimization and web usability consulting. Resources and publishing opportunities for writers as well as forums to network with peers, and enhance skills: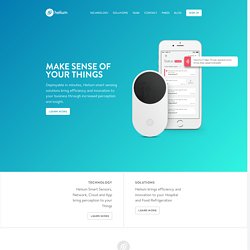 Independent Publishing with CreateSpace Free and Easy Tools Do-it-yourself and finish fast with tools like Interior Reviewer, Cover Creator, Preview, and Image Gallery. Higher Royalties Place more in your pocket with some of the best economics in the industry. View Earning Royalties video. Comprehensive Book Services Get the help you need to complete your book with our affordable design, editing, and marketing services.