DIY's
UpCycled Window Shutters - DIY Inspiration. Posted by ScrapHacker.com on fredag, mars 16, 2012 · 6 Comments Open your eyes to the possibilities of upcycling old shutters into new awesome creations.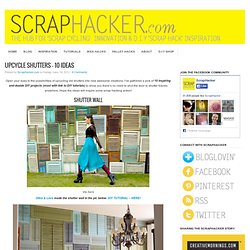 I've gathered a pick of 10 inspiring and doable DIY projects (most with link to DIY tutorials) to show you there's no need to shut the door to shutter futures anywhere. Hope the ideas will inspire some scrap hacking action! Shutter Wall. Anthro-Inspired Mirror. You all know we love a good Anthropologie knockoff around here – so a couple of days ago when I was browsing online I came across this mirror.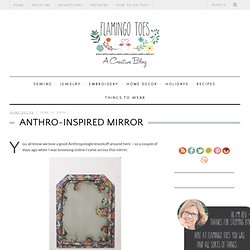 Oh I definitely need that. Hold the presses – did that say $498??? Huh. We can do better than that. :) Rose iPhone 4/4S Case - Silicone Rose Embossing Cover. Flip-Flop Refashion: Part 1 (Braided Straps) Summer is great.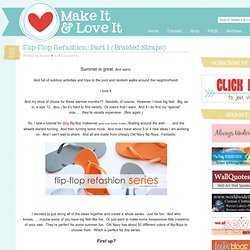 And warm. And full of outdoor activities and trips to the pool and random walks around the neighborhood. Lyxig småförvaring | Pysselbolaget. Burkar till smink och ansiktskrämer är ofta påkostade och det känns tråkigt att bara slänga dem när de är tomma.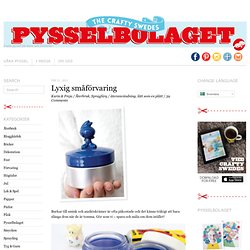 Gör som vi – spara och måla om dem istället! Ni behöver tomma och diskade sminkburkar, leksaker att dekorera med, klister och sprayfärg. Kolla att burkarna är ordentligt diskade innan ni sätter igång. Dekorera sedan burkarna med leksaker och eller annat roligt. 1. Enameled Vintage Keys DIY.
When I was a kid my mom used red fingernail polish and painted the first initial of our last name to identify things we had, especially on stuff we took camping or our Tupperware and Corningware dishes.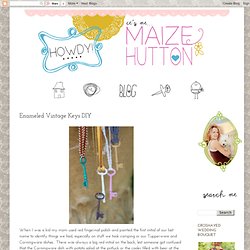 There was always a big red initial on the back, lest someone got confused that the Corningware dish with potato salad at the potluck or the cooler filled with beer at the picnic was OURS not theirs! She also used fingernail polish to identify keys. Pallet reading bed for the nursery. UPDATE: For those following a link directly to this post, you can find pictures of the entire nursery HERE UPDATE: I recently found out the owner of the bed that inspired mine, check out her incredible site HERE When we began planning the nursery I really wanted a spot I could read with our kids and snuggle with them.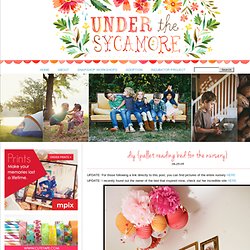 Since I won't be working as much, I have great hopes that maybe every once and a while I could cuddle down for a nap with one of them. So in working on the nursery, I began working on a 'reading bed' for us. Granted this will be a great bed for naps and for kids, but it is not designed to be an adult bed. I was inspired by this picture and then made it my own. 9 Amazing Lockets from Etsy. Lockets are probably the most romantic type of jewelry.
It is not only decoration but also storage for photos or other relics. It is believed that the lockets was invented in ancient Rome, it was a round disk, which was the award to the military commander at the time of triumph. Holder for Charging Cell Phone (made from lotion bottle) My husband and I both have cell phones.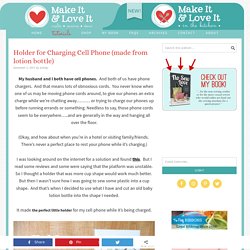 And both of us have phone chargers. And that means lots of obnoxious cords. You never know when one of us may be moving phone cords around, to give our phones an extra charge while we're chatting away……… or trying to charge our phones up before running errands or something. Needless to say, those phone cords seem to be everywhere…..and are generally in the way and hanging all over the floor. (Okay, and how about when you're in a hotel or visiting family/friends. The Burlap Bag - High Quality Handmade Goods Shop - Austin Texas. March 1, 2012 by Lauren I saw a "trick" online and thought "Weird!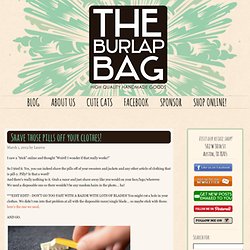 I wonder if that really works! " So I tried it. The Knot So Hard Flip Flip Flop Diy. Oh I am so excited about this project!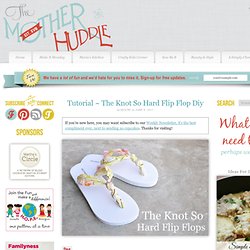 Any DIY that takes less than 30 minutes is worth getting excited about, no? These flip flops are so easy, and so so comfortable. DIY Zipper Headband. I guess this is a week of headbands. ;) Have you ever stopped to think about what a cool gadget the zipper is? You can close things with one hand, they make a funny noise, they have "teeth"... Zippers are such a fun material to use in crafty things, and I can't believe that I never thought to wear one as a headband before. (I did make shoe flowers out of zippers a couple years ago, but then I've also tried to make everything into a flower.) :) What you need to make a zipper headband: BoxLightBox Ink Cartridge Lamps. These creative lamps came to be when one artist couldn't bare to see all of the old ink cartridges from their job end up in the trash. The translucent plastic of ink cartridges and colored labels make them perfect colorful little lamps for your desk.
For something a bit grander, the Ink-Cartridge Chandelier makes a fun and unique light fixture with an assortment of 8 large K3 cartridges in the order they belong in inside of the printer. Fold Out Convertible Desk. Urbancase The Ledge Optional Shelf. Bedpack. When You Run Out Of Room In Your Night Table Get A Bedpack. My night table has become extremely crowded. I keep an eReader, a water bottle, an MP3 player, a case for my glasses, and several other necessities next to the bed, all of which have cluttered my night table to the point where I can't fit anything else on it. That's where the Bedpack comes in. This handy little pack hangs off the side of the bed giving you more storage for notebooks, medicine, or anything else you might need to keep next to the bed. Between the Bedpack and your night table, you should finally be able to keep everything you need next to the bed. Integral fashion helmet Leopardo - HelmetDress Helmet covers.
RX Flask. Totally unique handmade panties by BunnyJump. Pretty Paper Eyelash Extensions. DREAM BANK | Wooden Piggy Bank, Photo, Glass. Home Office Storage Solutions. Wriggling Snake Wreath. Repurposed Etched Glass Spice Jars... Make a Cat Bed from a Computer Monitor. Shrink plastic ring tutorial. How to Make Leaf Skeletons. Boden Boulevard Necklace Knockoff. High Functioning Coat Hooks.
How To Make A Stylish Photo Frame For Several Photos. Wipe Off Weekly Menu Board. Mason Jar Key Hook. Little guiding stars. Something Special Card + Envelope Tutorial.
Woodworking plans. Outdoor Movie Screen, Movie Screen & Backyard Movie. Kodachrome Curtains - Updated! Now with lampy goodness! Video. _louyx5z37Y1qcz682o1_500.jpg (JPEG Image, 500x375 pixels) How To Make a Secret Hollow Book: Cassette tape tutorial | Chezlin. Recyclable Crafts: Carton Wallet | Recycled Crafts - Recyclable Crafts for Kids - Recycling Craft Ideas. Google Map Envelopes.
Liquor Lamp. DIY Ribbon + Chain Bracelets from #MAGICLV. Realistic Duct Tape Rose. DIY Washi Tape Laptop Keyboard | her new leaf.
---