COMIX
COMICS TOOLS. Milo Manara - Bolero. 20031204.jpg (JPEG Image, 458×850 pixels) - Scaled (98%) Art of Stanley Lau | Gods of Art. Stanley Lau or Artgerm, as some people know him, is an amazing digital artist from Hong Kong, currently living in Singapore.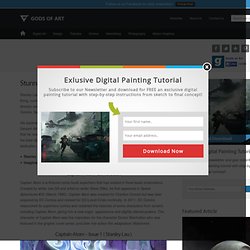 He is an illustrator, designer, concept artist, creative director and co-founder of Imaginary Friends, a digital art studio with clients like Capcom, DC Comics, Square Enix and other heavy names in the entertainment and gaming industry. His ascension on the realm of design is one worth following. He started very humble on Deviant Art where he was soon recognized as a fast growing talent. Just Say AH! :: The Official Adam Hughes Website. E-merl.com ~ New Experiments In Fiction. The best comics of the '00s | Best Of The Decade | Comics Panel | ... The '00s were a turbulent time for the comic-book business, as mainstream publishers like DC and Marvel suffered the sales declines affecting nearly all print-purveyors, while publishers of what used to be known as "alternative" comics saw some of their products hitting bestseller lists and turning up on the front page of The New York Times Book Review.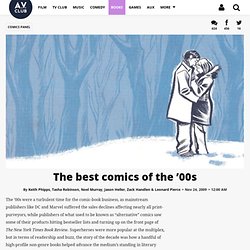 Superheroes were more popular at the multiplex, but in terms of readership and buzz, the story of the decade was how a handful of high-profile non-genre books helped advance the medium's standing in literary society. And there were other big stories over the past 10 years: the inroads made by online comics, the ascendancy of writers at "the big two," the proliferation of outstanding archival collections of classic comics, and so on. Below, The A.V. 27 Amazing Graphic Novels For Readers New To The Genre. So, you want to try comics, but are turned off by the history?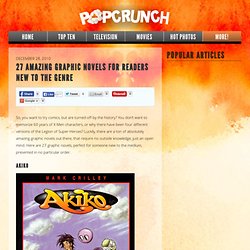 You don't want to memorize 60 years of X-Men characters, or why there have been four different versions of the Legion of Super-Heroes? Luckily, there are a ton of absolutely amazing graphic novels out there, that require no outside knowledge, just an open mind. Here are 27 graphic novels, perfect for someone new to the medium, presented in no particular order. Akiko. Horror Fairytales | Crystal Kiss - Strange News and more... Fairy tales, we all grew up with them, read to us by parents as bedtime stories, and we enjoyed them so much that we can compare with the main characters.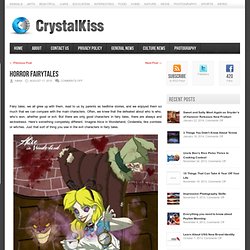 Often, we knew that the defeated about who is who, who's won, whether good or evil. But there are only good characters in fairy tales, there are always and wickedness. Here's something completely different. Imagine Alice in Wonderland, Cinderella, like zombies or witches. HorrorSleazeTrash and Ben Newman | Erotica. Indie - ComicsAlliance.com. In 2012, the first volume of Smut Peddler, the "ladycentric, sex-positive erotic comics" anthology with a roster of female creators ,was crowd-funded on Kickstarter, racking up a grand total of $83,000 after a month of funding.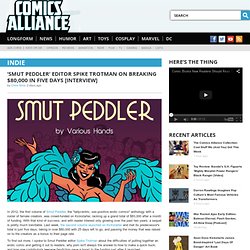 With that kind of success, and with reader interest only growing over the past two years, a sequel is pretty much inevitable. Last week, the second volume launched on Kickstarter and met its predecessor's total in just five days, taking in over $80,000 with 25 days left to go, and passing the money that was raised on to the creators as a bonus to their page rate. To find out more, I spoke to Smut Peddler editor Spike Trotman about the difficulties of putting together an erotic comic and getting it out to readers, why porn isn't always the answer to how to make a quick buck, and how one contributor's teenage fan-fiction gave a boost to the funding just after it launched.
Read More. StumbleUpon. ThreeA Toys. Ashley Wood: Part Comics Artist Part Machine | Septagon Studios Comic Blog:... Are you looking for inspiration?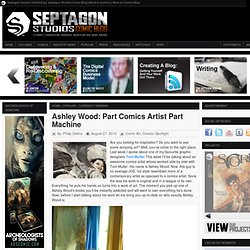 Do you want to see some amazing art? Well, you've come to the right place. Last week I spoke about one of my favourite graphic designers Tom Muller This week I'll be talking about an awesome comics artist whose worked side by side with Tom Muller. His name is Ashley Wood. Now, this guy is no average JOE, his style resembles more of a contemporary artist as opposed to a comics artist. Tattoos//Luis Royo/R/ Comic Art Community GALLERY OF COMIC ART - StumbleUpon. Luis-royo-dream-in-year-2000-and-2000-dreams.jpg (JPEG Image, 335×450 pixels)
Luis royo gallery. Fantasy Art Gallery. Hajime Sorayama Official | Robots + Gynoids. Sorayama started his illustration career in Tokyo painting Sexy Robotic forms, objects and pin-up.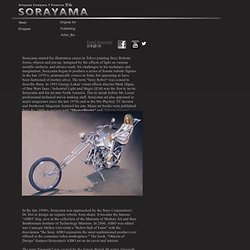 Intrigued by the effects of light on various metallic surfaces, and always ready for challenges to his technique and imagination, Sorayama began to produce a series of female robotic figures in the late 1970¹s; anatomically correct in form, but appearing to have been fashioned of molten silver. The term "Sexy Robot" was coined to describe them. In 1993 George Lukas' visual effects director Mark Dippe, of Star Wars fame / Industrial Light and Magic (ILM) was the first to invite Sorayama and his art into North America. This to speak before Mr. Lucas' professional technical movie making staff. OLIVIA_img_01.jpg (JPEG Image, 466×584 pixels) Posts tagged SexyComics2012 at ComicsAlliance | Comic book culture, news, humor, commentary, and reviews. Guido Crepax is the name that first popped into my mind when I was told, "Hey, we wouldn't mind too terribly if you wrote a little bit about comics for us.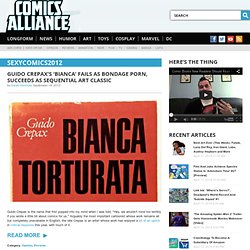 " Arguably the most important cartoonist whose work remains all but completely unavailable in English, the late Crepax is an artist whose work has enjoyed a bit of an uptick in critical response this year, with much of it Read More While his name may forever be associated with one of the most infamous images in DC Comics history, depicting Catwoman and Batman having masks-on sex on a rooftop on the final page of Catwoman #1 (2011), it would be unjust to deny artist Guillem March the credit he plainly deserves for his excellent pinup art.
Stanley lau. Andreas-Englund_web. CBR Image Preview. Most dangerous comic. Online Comics at OnlineComics.net. RIDING WITH STRANGERS.
---