Self improvement
Top 10 Tips To Radically Improve Your Social Skills. PositivityBlog.com "The ideas I stand for are not mine.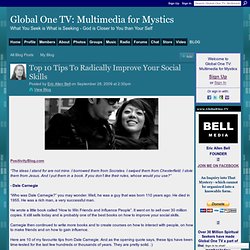 I borrowed them from Socrates. I swiped them from Chesterfield. I stole them from Jesus. And I put them in a book. Start the Day Right with a Morning Routine That Feeds Your Mind. Life Hacks. Tumblr_lviaemh2ET1r2n011o1_500.jpg (474×700) How to Become an Early Riser. It is well to be up before daybreak, for such habits contribute to health, wealth, and wisdom. - Aristotle Are morning people born or made?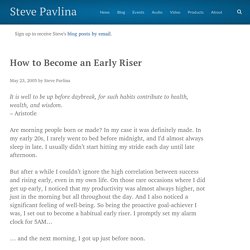 In my case it was definitely made. In my early 20s, I rarely went to bed before midnight, and I'd almost always sleep in late. 30 Things to Stop Doing to Yourself. Post written by: Marc Chernoff Email When you stop chasing the wrong things you give the right things a chance to catch you.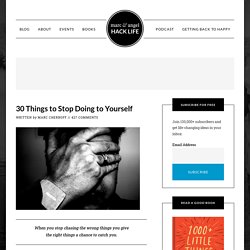 As Maria Robinson once said, "Nobody can go back and start a new beginning, but anyone can start today and make a new ending." Nothing could be closer to the truth. Smile Into Your Organs: "A smile is an inexpensive way to improve your looks" Charles Gordy I love the idea that smiling is used as a healing and meditation practice by many ancient cultures.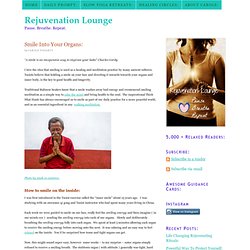 Taoists believe that holding a smile on your face and directing it inwards towards your organs and inner body, is the key to good health and longevity. Traditional Balinese healers know that a smile washes away bad energy and recommend smiling meditation as a simple way to calm the mind and bring health to the soul. Makes you think – The way you think about time has a big effect on your behavior.
By Marshall Brain | June 23, 2010 This is a fascinating video that looks at the different ways that human beings perceive time and the effects that these perceptions have on our behavior: The video starts by identifying six ways to perceive time: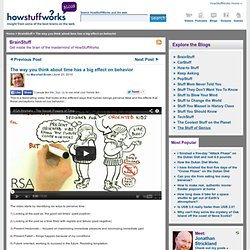 SLCC - Learning Handouts. Skip navigation links ugs : life and learning in sync Sanger Learning Center is UT Austin's main resource for academic support.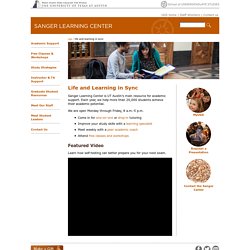 Each year, we help more than 20,000 students achieve their academic potential.
---