Bradtastic
bradtastic
I write, design, brand, build & destroy, devour & offend. Msg me. Approved.
Futurecity
Design. Apps. Web. Scumbags. Says Brad. Work. Watch. Kink. MSNBC's Selectively Edited Romney Video, Andrea Mitchell's Non-Apology Illustrate Network's Dishonesty. Skip to main content Free email alerts!
Home » Blogs » Brent Bozell's blog MSNBC's Selectively Edited Romney Video, Andrea Mitchell's Non-Apology Illustrate Network's Dishonesty By Brent Bozell | June 19, 2012 | 13:41 Barack Obama's adoring cheerleaders at NBC are back in the editing room distorting the truth, and, not surprisingly, Andrea Mitchell has the gall to make no apologies for it. YOLO -70 Facts President Obama Doesn't Want You To Know. Why is the economy going to collapse?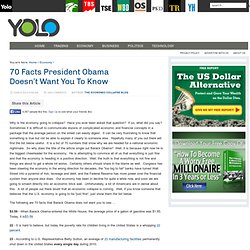 Have you ever been asked that question? If so, what did you say? Sometimes it is difficult to communicate dozens of complicated economic and financial concepts in a package that the average person on the street can easily digest. It can be very frustrating to know that something is true but not be able to explain it clearly to someone else. Hopefully many of you out there will find the list below useful.
Obama losing support with voters over his gun control proposals. President Obama is continuing to lose support among the American voters over his gun control proposals, says a new study by Rasmussen Reports.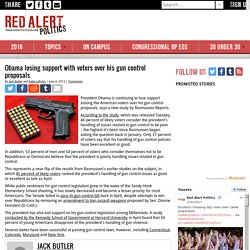 According to the study , which was released Tuesday, 46 percent of likely voters consider the president's handling of issues related to gun control to be poor – the highest it's been since Rasmussen began asking the question back in January. Only 37 percent of voters say that his handling of gun control policies have been excellent or good. Detective recounts somber Zimmerman citing his faith after Martin shooting. The Sanford police detective who questioned George Zimmerman the night he shot Trayvon Martin became the latest prosecution witness to appear to do more harm than good to the state's case, recalling a somber conversation that touched on Zimmerman's faith and the fear he said he felt when Martin told him "You're going to die tonight.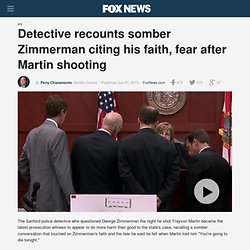 " Detective Doris Singleton testified Monday that Zimmerman seemed somber and conflicted as she interviewed him after the February 2012 shooting. She said Zimmerman asked her about the crucifix around her neck and buried his head in his hands upon learning Martin had died. "I had a silver cross on and he asked me if I was Catholic," Singleton said during testimony. "I said, 'No. I'm Christian.
Government. Products. oStylus. Looking for gift. Social. Alltop, all the top stories. Says Brad. Should angry Verizon subscribers ditch Big Red? | Mobile. Talk about kicking up a dog doo-doo storm.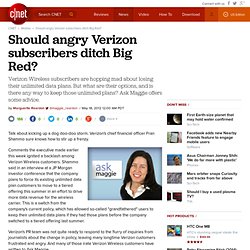 Verizon's chief financial officer Fran Shammo sure knows how to stir up a frenzy. Comments the executive made earlier this week ignited a backlash among Verizon Wireless customers. Shammo said in an interview at a JP Morgan investor conference that the company plans to force its existing unlimited data plan customers to move to a tiered offering this summer in an effort to drive more data revenue for the wireless carrier. This is a switch from the company's current policy, which has allowed so-called "grandfathered" users to keep their unlimited data plans if they had those plans before the company switched to a tiered offering last summer.
Brad Chin - Zurker. Gaming. XBOX 360 Bundle, Forza 4 + Skyrim | amazon. Art. Memorial Day Lafayette, CA. Shop.
---