CCSS
What-everyone-needs-to-know-about-the-common-core-state-standards_519691e75aeef.png 800×4,684 pixels. 3 Digital Tools For Common Core Academic Vocabulary - 3 Digital Tools For Common Core Academic Vocabulary by Susan Oxnevad first appeared on gettingsmart.com The Common Core identifies six instructional shifts needed to effectively implement the standards in ELA/Literacy.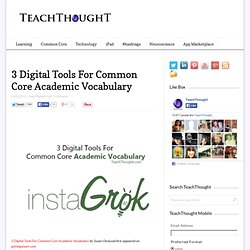 Shift 6 suggests an instructional change in the teaching of Academic Vocabulary. While there are many specific vocabulary standards in the K-12 Language strand, it's helpful and important to look at Academic Vocabulary from the big picture view known as Shift 6. Shift 6 Academic Vocabulary. Templates, Tools, and Resources - Achievement Strategies, Inc. - Dr. Bobb Darnell.
Email: Dr.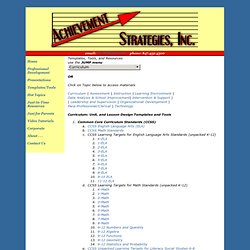 Bobb Darnell phone: 847.452.4300 Home Professional Development Presentations Templates/Tools. Technology Integration within the ELA Common Core State Standards. While developing my school's Technology Plan, much conversation has been centered on the Common Core State Standards and their linkage with technology.
So, I took it upon myself to go through all of the ELA Standards to find every Standard that deals with Technology. Below is a compilation of the results. Throughout the course of the next several months, I plan to provide posts that aid fellow teachers in ways in which Technology Tools can be integrated to properly meet the Common Core State Standards. EduCore - Tools for Teaching the Common Core - ASCD. Common Core: 5 Technology Tools To Measure Text Complexity. By Kellie Ady, District Instructional Technology Coordinator, Cherry Creek Schools I posted some time ago about finding accessible online text, but a recent blog post from Eye on Education ("How to Select Complex Text to Increase Rigor") made me think about revisiting the topic.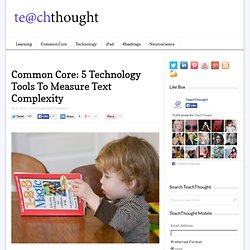 My original post was more about finding reading passages for differentiation purposes, but the Common Core's approach to measuring text complexity has now elevated that need to a whole new level. This post specifically addresses one aspect of text complexity — what the Common Core terms "quantitative evaluation." It's important to recognize from the onset that other measures must be in place to adequately explore complexity.
The Common Core Toolkit equips teachers with the tools and resources to needed to implement the CCSS Standards. Click on the links below to download your free resources.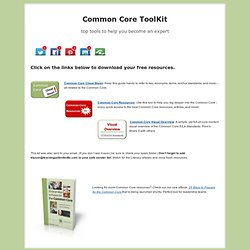 Common Core Cheat Sheet: Keep this guide handy to refer to key acronyms, terms, anchor standards, and more – all related to the Common Core. Common Core Resources: Use this tool to help you dig deeper into the Common Core – enjoy quick access to the best Common Core resources, articles, and more! Common Core Visual Overview: A simple, yet full-of-core-content visual overview of the Common Core E/LA Standards. ELA Common Core State Standards Resources. Www.corestandards.org/assets/Math_Publishers_Criteria_K-8_Summer 2012_FINAL.pdf.
Common Core Toolkit. 6 Free Common Core Resources for Teachers Always Prepped Blog. The Common Core is here.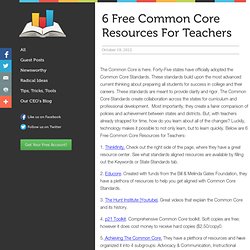 Forty-Five states have officially adopted the Common Core Standards. These standards build upon the most advanced current thinking about preparing all students for success in college and their careers. These standards are meant to provide clarity and rigor. The Common Core Standards create collaboration across the states for curriculum and professional development. Most importantly, they create a fairer comparison of policies and achievement between states and districts. Core Upgrades - Home. Common Core Resources | katm.org. KATM Supports the Implementation of the Common Core State Mathematics Standards NCSM position paper Kansas Common Core Myths and Facts Websites, files, and discussion related to the Common Core State Standards: PPTX VIEWER for Windows.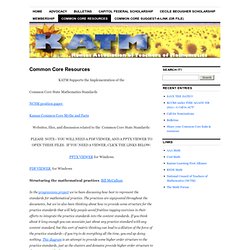 S²TEM Centers SC - Home - S²TEM Centers SC. Mathematics K-5. · CCGPS Mathematics Grades K-5 · CCGPS Mathematics Glossary Third grade teachers working on unit revisions at GaDOE (June 2013)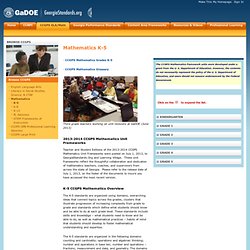 17 Free Tools for Creating Screen Capture Images and Videos. When you're trying to teach people how to do something new on their computers having screencast videos or annotated screen capture images can be invaluable to you and the people you're trying to help.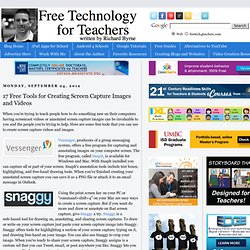 Here are some free tools that you can use to create screen capture videos and images. Vessenger, producers of a group messaging system, offers a free program for capturing and annotating images on your computer screen. The free program, called Snaplr, is available for Windows and Mac. Home - Big6. Resources for Understanding the Common Core State Standards.
An educator's guide to websites, organizations, articles, and other resources looking at the new system of standards and how they will be assessed.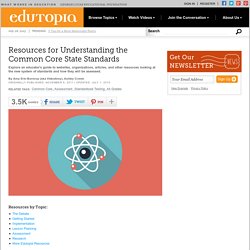 (Updated 11/2013) The Debate Debate and controversy continue over the CCSS and associated changes to assessments. Some supporters argue a common set of rigorous national standards will transform American education, prepare students for college and careers, and allow our nation to maintain international competitiveness. Some opponents assert the standards represent a flawed, untested, "one-size-fits-all" approach—an overreach into matters best left up to local control. The State of State Standards—and the Common Core—in 2010. Smarter Balanced Assessments. The Smarter Balanced Assessment Consortium is developing a system of valid, reliable, and fair next-generation assessments aligned to the Common Core State Standards (CCSS) in English language arts/literacy (ELA/literacy) and mathematics for grades 3-8 and 11.
The system—which includes both summative assessments for accountability purposes and optional interim assessments for instructional use—will use computer adaptive testing technologies to the greatest extent possible to provide meaningful feedback and actionable data that teachers and other educators can use to help students succeed. Smarter Balanced assessments will go beyond multiple-choice questions to include extended response and technology enhanced items, as well as performance tasks that allow students to demonstrate critical-thinking and problem-solving skills. Performance tasks challenge students to apply their knowledge and skills to respond to complex real-world problems.
Smarter Balanced Assessment Consortium. Common Core - South Carolina Department of Education. Common Core State Standards The Common Core State Standards (CCSS) for English Language Arts and for Mathematics were adopted by South Carolina as its standards in English Language Arts and Mathematics in July of 2010. The standards will be fully implemented in school year 2014-15 as outlined in the following table: School Year Implementation Plan. Common Core State Standards At-a-Glance Transitional Documents - Common Core State Standards - S²TEM Centers SC.
Published Date Hits: 10970 The S²TEM Centers SC At-a-Glance Transition Documents were created in Spring 2011 in response to a request by district leaders for a quick overview of the magnitude of the changes as South Carolina moves from the 2007 SC Academic Standards for Mathematics to the Common Core State Standards for Mathematics (CCSSM). S²TEM Centers SC At-a-Glance Transition Documents are currently available for K-8 mathematics. High School transition documents coming soon! Home.
---