MobileDevelopment
Install Android 4.2.1 Jelly Bean on Galaxy Tab 7 P1000/ P1010 via CyanogenMod 10.1 ROM [GUIDE]
Install Android 4.2.1 Jelly Bean on Galaxy Tab 7 via CyanogenMod 10.1 ROM Galaxy Tab 7 users can now rejoice over the release of the unofficial build of Android 4.2.1 Jelly Bean update via CyanogenMod 10.1 (CM10.1) ROM, with due credit to Android developers. Samsung had earlier announced the end of the software release cycle for the 7in Galaxy tablet, and invariably dashed all hopes of official future upgrades for the ageing device. The tablet had last received an official update through the Android 2.3 Gingerbread firmware, despite flaunting the necessary hardware to support all the latest Android platforms - Android 4.0.4 ICS, Android 4.1 Jelly Bean and Android 4.2 Jelly Bean.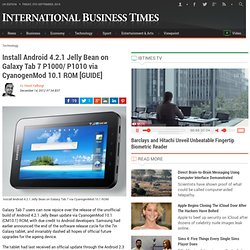 Game of Flex on tablets | Flex Developer Center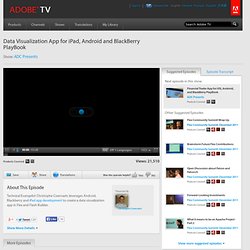 Share this Episode Adjust your embed size below, then copy and paste the embed code above Community Translation Episode available in 1 languages Available Translations:
Data Visualization App for iPad, Android and BlackBerry PlayBook | ADC Presents
Flex and .NET
Using Flash Builder 4 to build a Flex application that consumes a .NET-based web service written in C#
Developing Flex applications in Microsoft Visual Studio with Ensemble Tofino
Flex 4.6 * Developing Mobile Applications with Adobe Flex and Adobe Flash Builder 4.6
Flex and ASP.NET
This training course will help you understand how you can leverage the open source Flex framework to build RIAs. To make it easier for you to learn Flex, you will use the Eclipse-based Flash Builder 4.5 development tool, which includes the Flex framework and provides features such as intelligent coding, interactive step-through debugging, and visual design of the user layout. Note: To make the most of this training, be sure to watch the videos and complete the accompanying exercises in order.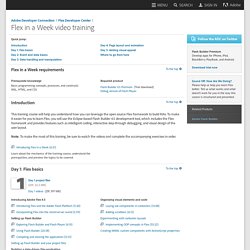 Features
Exadel respects your right to privacy and your right to limit information exchanges to only those you initiate. We do acquire certain personal information from private individuals in the course of business, but we do not share this personal information with third parties. We do use this information to better serve you and facilitate your use of our web site. Exadel may acquire a private individual's personal information from registration forms, product order information, or e-mail messages sent to us.
Server Side For Apps