MobileDevelopment
Mobile phone emulator (by COWEMO) AppsBuilder - Create cross-platform apps - Do-it-yourself Mobile App Maker for iPhone, iPad, Android, Windows, BlackBerry 10, Chrome Web Store and HTML 5 WebApp. Install Android 4.2.1 Jelly Bean on Galaxy Tab 7 P1000/ P1010 via CyanogenMod 10.1 ROM [GUIDE] Install Android 4.2.1 Jelly Bean on Galaxy Tab 7 via CyanogenMod 10.1 ROM Galaxy Tab 7 users can now rejoice over the release of the unofficial build of Android 4.2.1 Jelly Bean update via CyanogenMod 10.1 (CM10.1) ROM, with due credit to Android developers.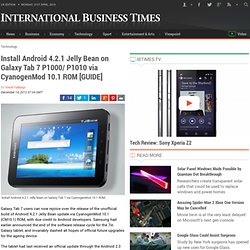 Samsung had earlier announced the end of the software release cycle for the 7in Galaxy tablet, and invariably dashed all hopes of official future upgrades for the ageing device. The tablet had last received an official update through the Android 2.3 Gingerbread firmware, despite flaunting the necessary hardware to support all the latest Android platforms - Android 4.0.4 ICS, Android 4.1 Jelly Bean and Android 4.2 Jelly Bean.
Game of Flex on tablets | Flex Developer Center. Data Visualization App for iPad, Android and BlackBerry PlayBook | ADC Presents. Share this Episode Please select a language: Autoplay End of Video Show End Screen.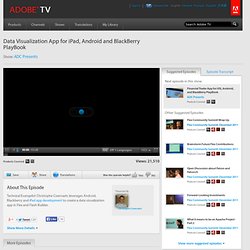 Flex and .NET. Using Flash Builder 4 to build a Flex application that consumes a .NET-based web service written in C# Creating the web service To access the data from the Centre table, you can use the sample files included with this tutorial, which implement a simple web service in C#.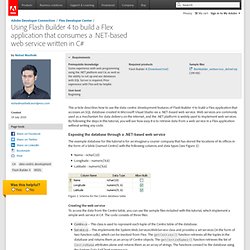 The code consists of three files: Centre.cs – This class is used to represent each tuple of the Centre table of the database. Developing Flex applications in Microsoft Visual Studio with Ensemble Tofino. Tofino is free and can be downloaded from Ensemble.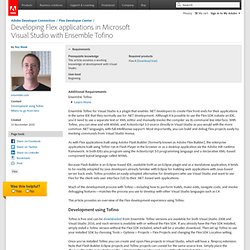 Tofino versions are available for both Visual Studio 2008 and Visual Studio 2010, and each version is available with or without the Flex SDK. If you already have the Flex SDK installed, simply install a Tofino version without the Flex SDK included, which will be a smaller download. Flex 4.6 * Developing Mobile Applications with Adobe Flex and Adobe Flash Builder 4.6. Flex and ASP.NET. Flex in a Week video training. This training course will help you understand how you can leverage the open source Flex framework to build RIAs.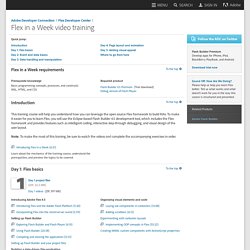 To make it easier for you to learn Flex, you will use the Eclipse-based Flash Builder 4.5 development tool, which includes the Flex framework and provides features such as intelligent coding, interactive step-through debugging, and visual design of the user layout. Note: To make the most of this training, be sure to watch the videos and complete the accompanying exercises in order. Yahoo! Developer Network. Site Directory - Google Code. Apps Builder: Create your app for Android , Iphone, Windows Phone and Ipad Online. Features.
---