House stuff
Brilliant Stairs. Bunk Bed Rooms. Whether you have a large family or a busy summer house, a bunk room is an ideal solution for accommodating lots of guests.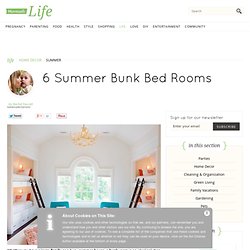 Here are some of our favorites. This nautical-inspired bunk room in a Hamptons home by Steven Gambrel features lots of room for storage with built-ins and under-bed drawers. Custom netting provides safety for the top bunks. An absolutely gorgeous bunk room from the Lerer House in Park City, Utah. Love the barrel ceiling! Unique ways to display Fire. Staircase at the Musée national Gustave Moreau. The Floating House. Built literally on Lake Huron in Ontario, Canada, by MOS Architects, Floating House is a private dwelling produced in such a way that it is unaffected by the lakes' drastically varying water levels.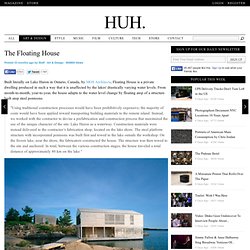 From month-to-month, year-to-year, the house adapts to the water level change by floating atop of a structure built atop steel pontoons. "Using traditional construction processes would have been prohibitively expensive; the majority of costs would have been applied toward transporting building materials to the remote island. Instead, we worked with the contractor to devise a prefabrication and construction process that maximized the use of the unique character of the site: Lake Huron as a waterway. Construction materials were instead delivered to the contractor's fabrication shop, located on the lake shore. The steel platform structure with incorporated pontoons was built first and towed to the lake outside the workshop. Wall Murals. Dream Bathtubs. This is the photo that got me busy writing this ideabook.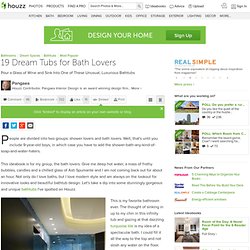 I had never before seen a glass-sided bathtub, and this one completely appeals to my minimalist tendencies. The architect, David Stern, says the client wanted this custom made tub for the kids bathroom and wanted it to feel fresh and fun. Furniture Makeovers. I'm obsessed with making-over old, worn out furniture.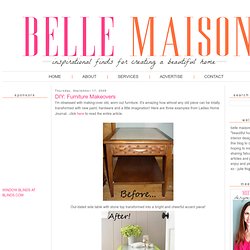 It's amazing how almost any old piece can be totally transformed with new paint, hardware and a little imagination! Here are three examples from Ladies Home Journal...click here to read the entire article. Out-dated side table with stone top transformed into a bright and cheerful accent piece! *First they removed the hardware and stone top, sanded the table all over, and applied a coat of primer. Inner Child Home designs.
If kids could design and build whole homes, what would they look like?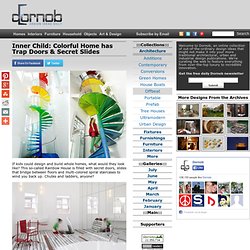 This so-called Rainbow House is filled with secret doors, slides that bridge between floors and multi-colored spiral staircases to wind you back up. Chutes and ladders, anyone? Dubbed a "magical oasis' by its creators (AB Rogers and DA Studio, the busy and noisy road next to the building is matched by equally rambunctious and interactive interior decor.
Stepping in off the street is a lot like walking into a fantasy looking glass or wardrobe portal. Bedroom Designs: Modern. Do you prefer plush padding a minimalist pillow, a decked-out design or toned-down interior?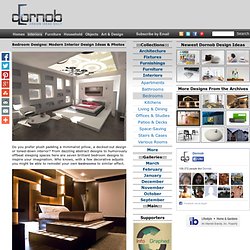 From dazzling abstract designs to humorously offbeat sleeping spaces here are seven brilliant bedroom designs to inspire your imagination. Who knows, with a few decorative adjusts you might be able to remodel your own bedrooms to similar effect. If you love soft illumination and hate to sacrifice privacy, this bedroom interior has a brilliant combination of strategies from uplighting around the bed itself to wall panels that block direct views and sunlight but let light in around them. If you are more of a minimalist, this simple bedroom space has a rhythmic modularity and combines soft white walls and ceiling with variegated wood furniture and furnishings for a pleasantly mixed aesthetic experience.
---