Monde libre
Creative Commons France. Welcome! - Free Software Foundation. Owner's Manifesto. Android.com - Android at GDC. Android, site francophone de référence - Point GPhone. Top 10 des applications incontournables de l'Android Market. L'Android Market propose aujourd'hui plus de 5000 applications de qualités diverses et variées si bien qu'il est parfois difficile de s'y retrouver.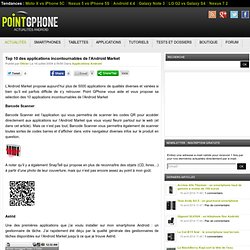 Point GPhone vous aide et vous propose sa sélection des 10 applications incontournables de l'Android Market Barcode Scanner Barcode Scanner est l'application qui vous permettra de scanner les codes QR pour accéder directement aux applications sur l'Android Market que vous voyez fleurir partout sur le web (et dans cet article). Mais ce n'est pas tout, Barcode Scanner vous permettra également de scanner toutes sortes de codes barres et d'afficher dans votre navigateur diverses infos sur le produit en question.
A noter qu'il y a également SnapTell qui propose en plus de reconnaître des objets (CD, livres…) à partir d'une photo de leur couverture, mais qui n'est pas encore assez au point à mon goût. FrAndroid - LA communauté francophone Android. FAQ: Why You Shouldn't Be Using a Task Killer with Android « Gee. I see this come up over and over again.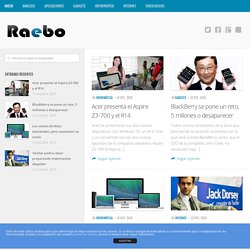 People saying that a task is running in the background and they think it is killing their battery or hogging all of their memory. So their natural reaction is to download a program made to kill tasks. Android-Software.
---