Toread
Guide Pratique de l'Écohabitat - Passerelle Eco - Ecologie
Présentation d'un livre de plus de 800 pages sur l'écoconstruction : des explications, de la théorie sur les écomatériaux et toutes les étapes de construction de la maison, mais aussi des adresses : les contacts utiles, où que vous soyez, pour trouver des professionnels, des associations spécialisées, des autoconstructeurs, et les matériaux dont vous aurez besoin pour construire. Passerelle Eco a participé pour quelques pages de cet ouvrage encyclopédique ! Notre santé ne dépend pas seulement de notre alimentation. Elle dépend aussi de ce qui nous entoure. Parmi les choses auxquelles nous sommes confrontés le plus souvent, il y a tout simplement notre habitat, dont l'influence n'est pas négligeable.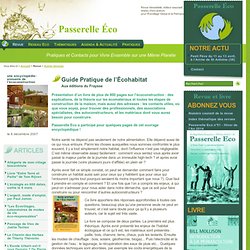 Taking Science on Faith
PLANETE TERRA - Giec : Le "contre-rapport" du WWF
1. The Need for Heretics In the modern world, science and society often interact in a perverse way. We live in a technological society, and technology causes political problems.
HERETICAL THOUGHTS ABOUT SCIENCE AND SOCIETY By Freeman D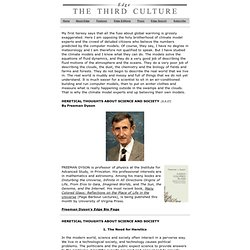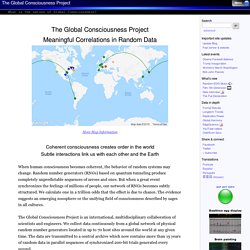 When human consciousness becomes coherent, the behavior of random systems may change. Random number generators (RNGs) based on quantum tunneling produce completely unpredictable sequences of zeroes and ones. But when a great event synchronizes the feelings of millions of people, our network of RNGs becomes subtly structured. We calculate one in a trillion odds that the effect is due to chance.
STEWART BRAND MEETS THE CYBERNETIC COUNTERCULTURE By Fred
When I first met Stewart Brand in 1965, he was sporting a button on which was printed: "America Needs Indians." We were at the headquarters of USCO ("US" company), an anonymous group of artists whose installations and events combined multiple audio and visual inputs, including film, slides, video, lighting, music, and random sounds. We were both wearing remnants of our US Army uniforms. We hit it off immediately and have been in touch consistently for the past forty-one years.