Toread
Wired News - AP News
Guide Pratique de l'Écohabitat - Passerelle Eco - Ecologie
Présentation d'un livre de plus de 800 pages sur l'écoconstruction : des explications, de la théorie sur les écomatériaux et toutes les étapes de construction de la maison, mais aussi des adresses : les contacts utiles, où que vous soyez, pour trouver des professionnels, des associations spécialisées, des autoconstructeurs, et les matériaux dont vous aurez besoin pour construire.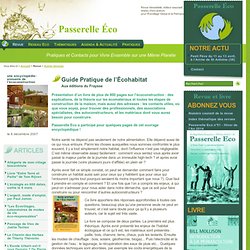 Taking Science on Faith
PLANETE TERRA - Giec : Le "contre-rapport" du WWF
1. The Need for Heretics In the modern world, science and society often interact in a perverse way.
HERETICAL THOUGHTS ABOUT SCIENCE AND SOCIETY By Freeman D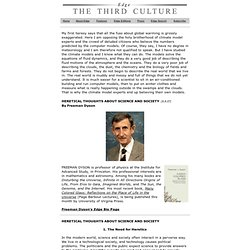 STEWART BRAND MEETS THE CYBERNETIC COUNTERCULTURE By Fred
When I first met Stewart Brand in 1965, he was sporting a button on which was printed: "America Needs Indians."